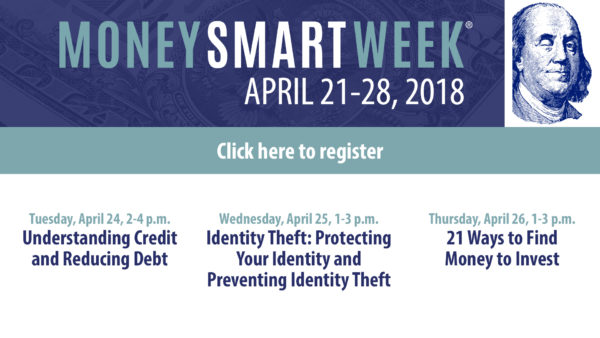 Free programs teach how to manage credit, reduce debt, prevent identity theft and invest money
Throughout every stage of your life, it's important to understand your personal finances. During Money Smart Week, which runs from April 21-28, 2018, University of Delaware Library, Museums and Press will help you explore how to plan for the future by learning how to be fiscally responsible today.
On April 24, April 25 and April 26, join a series of financial experts for programming that highlights valuable lessons, including how to reduce debt, how to manage credit, how to protect yourself from identity theft and how to invest money with your budget in mind.
All programs are free and open to the public. They will be held in the Class of 1941 Lecture Room in Morris Library. Registration is encouraged, but not required.
Learn more and find links to register below.
Understanding Credit and Reducing Debt
On Tuesday, April 24, from 2-4 p.m., discover tools to help you reduce your debt. Learn the importance of weaning yourself off credit, understanding credit reports and establishing a credit history with Maria Pippidis, county director and extension educator, Family and Consumer Sciences.
By the end of the program, you'll have a basic understanding of where to begin to gain control of debt and how to use credit wisely.
Identity Theft: Ways to Protect Your Identity and Prevent Identity Theft
Explore ways to safeguard your personal information with Det. Gregory Rash of the Delaware State Police on Wednesday, April 25, from 1-3 p.m. Learn how to identify, prevent and mitigate identity theft and financial crimes.
21 Ways to Find Money to Invest
It's a common misconception that investing requires a lot of money, leading many to postpone the process. On Thursday, April 26, from 1-3 p.m., discover 21 ways you can find money within your current budget to start investing and building wealth today with Rod Hausmann, regional vice president of Primerica Inc.
Money Smart Week is a national public awareness campaign promoting financial education for all ages. The programming from UD Library, Museums and Press was organized by the Library Diversity Committee.