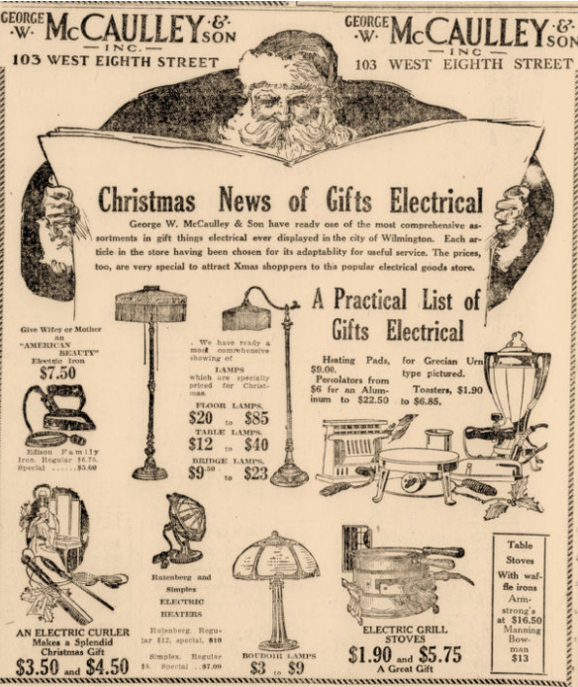 by David Cardillo, DDNP Staff

It's December, and that means we're at the largest gift-giving season of the year.  Pandemics notwithstanding, advertisements for gifts abound, outlets for remote purchasing of gifts remain via catalog or by the internet, with delivery by post office or private courier.

The idea for this blog comes, again, from #ChronAmParty, wherein we all try to blog or otherwise post on the same topic via different states and projects.  Also, as I have been dealing with the pandemic as much as anyone, and it has been a long year, forgive me if I break the fourth wall in this post to end the year on a good note.

Our first contestant for Christmas advertising is the Friday, December 8, 1922 edition of The Evening Journal.

Not much has changed in 98 years.  Whether it's Barbie or Han Solo, Elsa or Elmo, Betsy Wetsy or Iron Man, dolls of all sizes, materials, genders, monsters, and aliens remain available with the caveat that boys call them "action figures."  Toy telephones remain a popular item for toddlers, including imitating the technology.  My niece has toy Fisher Price smartphones that light up, count, and sing the alphabet, much like the cradle, rotary toy phones my generation grew up with.  I have an uncle and a stepfather that demonstrate that one does not necessarily outgrow toy trains.

This next advertisement is a little…odd…

Seriously?  A full line of safety razors and blades advertised with Christmas Toys and Novelties?  Last time I saw something like this was in MAD Magazine… This is more "classic gifts" than "timeless toys," but decorative lamps and kitchen appliances are basically the timeless toys for adults.  Okay, people may not be looking for electric grill stoves so much this year as an insta-pot, but the trend of an appliance that will prepare dinner quickly remains a constant.

Last but certainly not least is the homemade gift.  While not a toy nor even something adults give to children, the homemade gift deserves some recognition in the types of gifts that have withstood the tests of time.

In particular, the Evening Journal of December 17, 1921 includes instructions on making two homemade gifts.  The first is a toothbrush holder; the second is a "bed table" set with a hangar for a pocket watch and sandpaper for finger nail care.

Please have a safe and healthy holiday this year, and we'll provide more content for you in the new year!