Everyday we send and receive text messages that continuously pile up in our inboxes. Those with an iphone know how time consuming and frustrating it is to dig through all of these imessages if you're trying to find just one specific text. Whether it be that banana pancake recipe your bestie sent you back in August, or the laundry instructions your mom sent you for a third time last week, there is a quick solution to find it all.
Low and behold, Apple has come up with a search bar that can filter through all your messages in 2 short steps.
Step 1: Swipe to the right to get to your spotlight search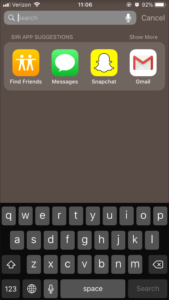 Step 2: Type a keyword that relates to the conversation you are trying to find.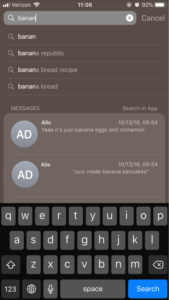 And voila, there you have your pancake recipe in seconds!
Not only does it search through messages, but it also has the capabilities to search through other apps such as your contacts, music, and even safari. This allows you to find just about any piece of information you may have sitting deep in the storage of your phone. Nonetheless, this is a game changing trick, and I highly recommend it for any and all iphone users.