UD jumps in research libraries ranking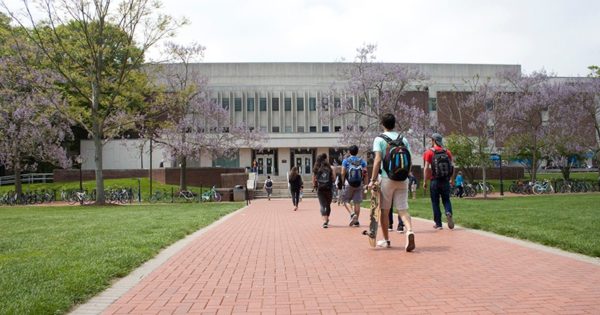 UD Library, Museums and Press moves up 12 spots in Association of Research Libraries list
The University of Delaware Library, Museums and Press made a significant jump in rank for the Association of Research Libraries (ARL) Library Investment Index. For the 2015-16 academic year, the Library moved from 81st to 69th position in a ranking of university research libraries in the United States.
Published in The Chronicle of Higher Education, the rankings provide a quick overview of the size of each library's collections alongside its ability to provide services to students, faculty, staff and visitors.
"Our library is truly the heart of our institution, and its resources are invaluable to our students, faculty, staff and community members," said Interim Provost Robin W. Morgan. "This rise in the rankings reflects the commitment and hard work of our entire library team, and I thank them for their dedication to our campus community."
The improved ranking aligns with the exciting year of change the Library experienced during the 2015-16 academic calendar. After welcoming Trevor A. Dawes, the new and nationally known vice provost for libraries and museums, the Library merged with University Museums. The organization was renamed the UD Library, Museums and Press to reflect the merging of resources dedicated to supporting and streamlining student success.
As the newly merged organization shaped its strategic directions for the years ahead, it strengthened several of its core commitments.
To ensure a continued concentration on student success, it strengthened its commitment to scholarship and pedagogy. As such, the UD Library, Museums and Press:
Increased its multimedia literacy and overall Library instruction, including the growth of the workshop series that occurs throughout each semester;
Initiated a merger between Special Collections and Museums, so that primary source material is more readily and widely available;
Received its largest donation to date — Mark Samuels Lasner's collection of unique British literature of the 19th and early 20th centuries, significantly expanding available areas of research.
Hired a first-year experience librarian, emphasizing its desire to support the learning experiences of new Blue Hens.
Continued to increase speed, convenience and reach of materials not within the immediate collection through the Interlibrary Loan service, so that students can still have easy access to material they may need for further research.
It also renewed its commitment to space, safety and ensuring it remains an inclusive and welcoming environment.
During the 2015-16 academic year, several space improvements occurred, including the addition of new group study rooms and the graduate student research room in Morris Library. With strong drivers for improvement, conceptual plans for a larger renovation and proposed addition have been completed.
The Student Multimedia Design Center on the lower level provided an even greater variety of multimedia options with the creation of its One-Button Studio, where users can record audio and video at the simple touch of a button. At the start of the semester, a virtual reality studio brought this newer and student-demanded technology into the same Library space.
Morris Library increased its safety and greatly reduced the number of thefts through the installation of entry turnstiles. All users now enter with their UD ONEcards or official state-licensed photo IDs.
Morris Library has been recognized as one of a handful of multicultural centers on campus.
Morris Library continued to encourage excitement for discovery and exploration through annual programming, such as Stress Less events during finals and International Games Day in November.
While the UD Library, Museums and Press is dedicated to improving all methods of student success, it also is committed to its role as a community resource. As such, it makes collaboration and community engagement a priority.
Since 1997, librarians from UD have served as training coordinators and staff for UDLib/SEARCH, a program that provides online access to encyclopedias and full-text periodical databases to all students and educators in K-12 public schools in Delaware.
As part of the National Digital Newspaper Program, the UD Library, Museums and Press continues its work on the Delaware Digital Newspaper Project (DDNP). Funded by a grant from the National Endowment for Humanities (NEH), DDNP is an ongoing effort to digitize and preserve historic Delaware newspapers. Once digitized, these newspapers are made freely accessible to the general public on Chronicling America, a searchable, full-text database.
Recently named one of NEH's 50 essential projects from past and present, the Colored Conventions Project has been a successful collaboration with the UD Library, Museums and Press. It preserves, digitizes and makes accessible the history and records of free and fugitive Blacks who came together in state and national political "Colored Conventions" from 1830 to post-Civil War. Until now, the documents have not been collected in one place for convenient use in research.
The merged organization continues to focus on these core commitments while redefining the modern research library, with a particular focus on technology and digital scholarship. With a foundation of inclusive excellence, organizational effectiveness and enhanced user experience, the UD Library, Museums and Press focuses on the future through the lenses of student success and learning; research, scholarship and discovery; Library as place; and partnership and collaboration.
"It is wonderful to see the Library recognized through this ranking for its work to support the students, faculty, staff and greater community in teaching, research, service and learning," said Dawes. "As an intercultural space on campus, the UD Library, Museums and Press is integral to developing a sense of community for the University and supporting the efforts of all those within it."