Tools for creating engaging multimedia content
Library workshops focus on video editing, poster design, virtual reality and more
Content comes in all shapes, sizes and file formats. The best practices for creating videos might not hold true when editing images. Understanding how to craft the best content in a given medium is essential to create a multimedia masterpiece.
To ensure UD students, faculty and staff are comfortable and familiar with the various types of content they will create and encounter in scholarly and personal projects, the UD Library, Museums & Press offers a slate of workshops this semester focused around content creation.
There are workshops that focus on particular software, including iMovie, Final Cut Pro X and Adobe Photoshop, and other workshops that build on specific skill sets, such as photographic storytelling, poster design and virtual reality experiences.
Learn more and find links to register below: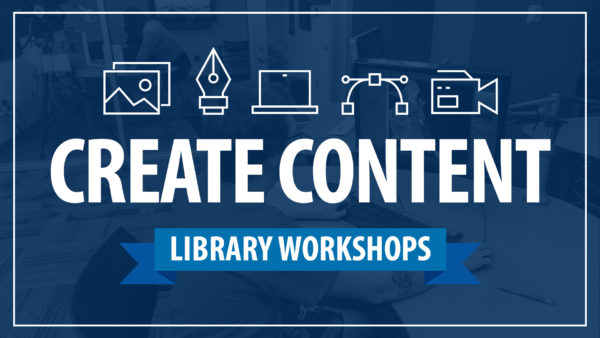 iMovie: The Essentials
Whether you've been inspired by the buzz of awards season or are just after a good grade on your upcoming video project, learn the basics of video editing with iMovie during this workshop on Tuesday, Feb. 13, from 2-3:30 p.m.
Throughout the workshop, discover the capabilities of the video editing software for Mac, learning how to import, trim, move and delete video clips; add and work with still photos; and adjust audio.
Final Cut Pro X: The Basics
There is more to making a video than simply shooting the footage. Discover how to take your filmmaking to the next level by learning the ins-and-outs of the video editing software Final Cut Pro X, available for Mac only, during this workshop on Tuesday, Feb. 20, from 2-4 p.m.
Explore editing techniques, such as audio mixing, cutaways and time re-mapping; as well as how to apply and adjust effects, like Color Correction. Familiarity with iMovie (or another video editor) is helpful, but not required. This workshop will build on what attendees learn in the iMovie workshop.
Adobe Photoshop: The Basics
Everyone has heard of Photoshop, but do you know how to use the graphics editing software? Those with little or no experience with Photoshop who want to learn the basics should attend this workshop that occurs twice: on Monday, March 5, from 7-9 p.m.; and Tuesday, March 6, (https://udel.libcal.com/event/3885960) from 3-5 p.m.
Throughout the workshop, you will learn how to crop, resize and combine images; use layers and layer masks; adjust curves, saturation and color; and export projects for the web or print.
Study Abroad Storytelling
Imagine trying to capture the transformative experience of studying abroad in a photo. It is a tall task, isn't it? Get a leg up on the competition for the 2018 Study Abroad Photo & Video Contest by joining this workshop on Tuesday, March 13, from 5:30-7 p.m.
Even if you are not entering the contest, this workshop will provide you with great ideas, skills and resources for how to edit your photos and video from your study abroad experience using the Student Multimedia Design Center. This workshop is co-sponsored by UD's Institute for Global Studies.
Designing Effective Posters
Posters make a statement—for better or worse. Explore how to make the most of your poster designs during this workshop that occurs twice: on Monday, March 19, from 1-2:30 p.m.; and Tuesday, April 10, from 2-3:30 p.m.
Learn how to design a correctly sized poster using PowerPoint, find and use images for a poster design, and gain an understanding of printing and resolution. The workshop will cover templates, printing, design principles, and the use of images and logos for both research posters and more graphic posters, like those used for marketing.
Getting Started with Virtual Reality Projects
Have you tried out the new Virtual Reality (VR) Studio in the Student Multimedia Design Center (SMDC)? Explore the VR world for the first time or discover new ways to engage with the platform during this workshop on Wednesday, April 25, from 3-5 p.m.
Get a basic understanding of the different types of VR projects, as well as the types of tools and programs—like the HTC Vive headset, and software including Google Blocks, Tilt Brush and Unity—available to you at Morris Library. You can also join an open discussion on 3-D design and prototyping, game design, and 360-degree photo and video.
---
While workshops are free of charge, registration is required as seating is limited. These workshops are open to all UD students, faculty and staff.
If you have questions regarding workshops, please call 302-831-2432 or email lib-workshops@udel.edu.
Note: All Morris Library visitors need photo identification to enter. Visitors with UD ONEcards can use those at the turnstiles for easy access to the Library. If you do not have a UD ONEcard, you will need a state-issued ID (a driver's license, a government-issued or school-issued photo ID, etc.) to enter.