Navigating the research process
Library workshops provide techniques for efficient research
The research process extends well beyond finding a reputable source. After you've narrowed in on your topic and found the source material to work with, you still need to synthesize that information, cite it and develop an argument. As a research scholar, you may also want to publish or share your work, which is another link in the process.
This semester, the University of Delaware Library, Museums and Press is hosting workshops that will help scholars successfully maneuver through various stages and aspects involved in the research process.
Whether you want to discover an easier way to create citations and bibliographies, explore how to craft and control your online research presence or learn how to access scholarly literature through Google Scholar, you will find new techniques to help you research more efficiently.
Learn more and find links to register below: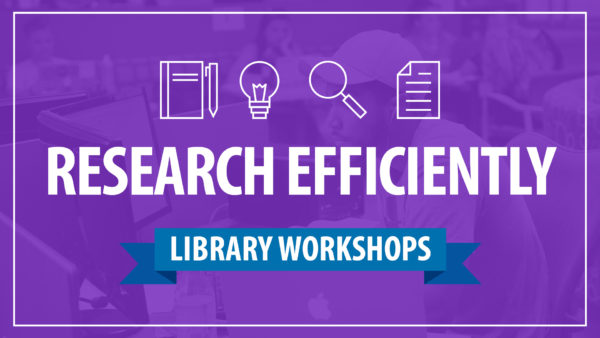 Save Time with RefWorks: Your Personal Bibliography Tool
If you are looking for an easier way to handle writing citations, reference lists and bibliographies, turn to RefWorks. Learn how this citation manager can save you considerable time and frustration during this workshop, which occurs three times throughout the semester: on Tuesday, Feb. 20; Wednesday, March 7; and Tuesday, March 20. Each workshop will take place from 2-3:30 p.m.
During the workshop, discover how to import and organize references, attach and annotate PDFs, collaborate on research, generate a bibliography and create in-text citations. By exploring this tool now, you will have more time to dedicate to research and less concern about how to create proper citations.
Developing Your Scholarly Research Presence Online
In today's digital world, it's important to consider, control and make the most of your online presence, both personally and professionally. Explore how to tell the story of your research career during this workshop from 2-3 p.m., Thursday, April 12.
Discover which social networks researchers should be aware of as they build their own research presences, identify a variety of platforms used by researchers to share information about their work, discuss issues related to open access and sharing research publications in online environments and learn how to leverage an ORCID ID to reliably link your identity to all of your publications.
Advanced Research Techniques Using Google Scholar
Have you taken advantage of Google Scholar, the free search engine that features full text or metadata of scholarly literature? Explore how Google Scholar can help to further the research process during this workshop at 2:30 p.m., Tuesday, April 17.
During the workshop, you will conduct an effective search in Google Scholar, identify how citation searching can be facilitated by the search engine and create a search alert. You will also discover key features of the search engine, such as citation counts, related articles and advanced search; and the benefits of Google Scholar's Profile, Alerts and Metrics tools.
---
While workshops are free of charge, registration is required as seating is limited. These workshops are open to all UD students, faculty and staff. The "Developing Your Scholarly Research Presence Online" workshop is also open to the public.
If you are interested in a workshop but can't attend, check out the selection of recorded workshops from recent semesters to see if a similar topic is available. For research scholars, the "Publishing and Career Advancement" recording may be of particular interest.
If you have questions regarding workshops, please call 302-831-2432 or email lib-workshops@udel.edu.
Note: All Morris Library visitors need photo identification to enter. Visitors with UD ONEcards can use those at the turnstiles for easy access to the Library. If you do not have a UD ONEcard, you will need a state-issued ID (a driver's license, a government-issued or school-issued photo ID, etc.) to enter.