March 16: Art+Feminism Wikipedia Edit-a-thon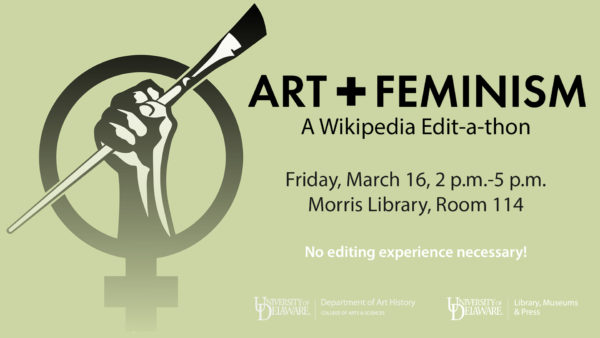 Improve information accuracy for feminism and the arts
Wikipedia often is the first stop for many when searching for information. But what happens when information in a Wikipedia entry is incorrect or unverifiable? Or when an entry on an important topic or individual doesn't exist?
Ensure people have access to accurate and proven facts by updating and creating Wikipedia entries during the Art+Feminism Wikipedia Edit-a-thon from 2-5 p.m., Friday, March 16, in Room 114 of the University of Delaware's Morris Library.
No previous Wikipedia editing experience is necessary; simply drop in with your laptop and power cord to get started. The Library has a limited number of laptops available for those who don't have one.
Participants can bring their own ideas for specific art- or feminism-related entries to update or create, or they can get inspired by the long list of women artists of color who are represented in the collections of the UD Library, Museums and Press.
Mary Mark Ockerbloom, the Wikipedian in residence at the Science History Institute in Philadelphia, will provide tutorials for beginner Wikipedians throughout the afternoon. Librarians will be present to assist with citations and materials.
Hosted by the Department of Art History and the UD Library, Museums and Press, this edit-a-thon is one of hundreds happening in museums and universities throughout the world in March. Refreshments, snacks and reference materials will be provided.
To continue raising awareness of women in the arts during Women's History Month, the Library is participating in the #5WomenArtists social media campaign established last year by the National Museum of Women in the Arts. The campaign asks: Can you name five women artists? If so, how many of those are women of color? Throughout the month, the Library will highlight female artists in the Museums collections on Twitter and Facebook to help expand knowledge and awareness of women artists.