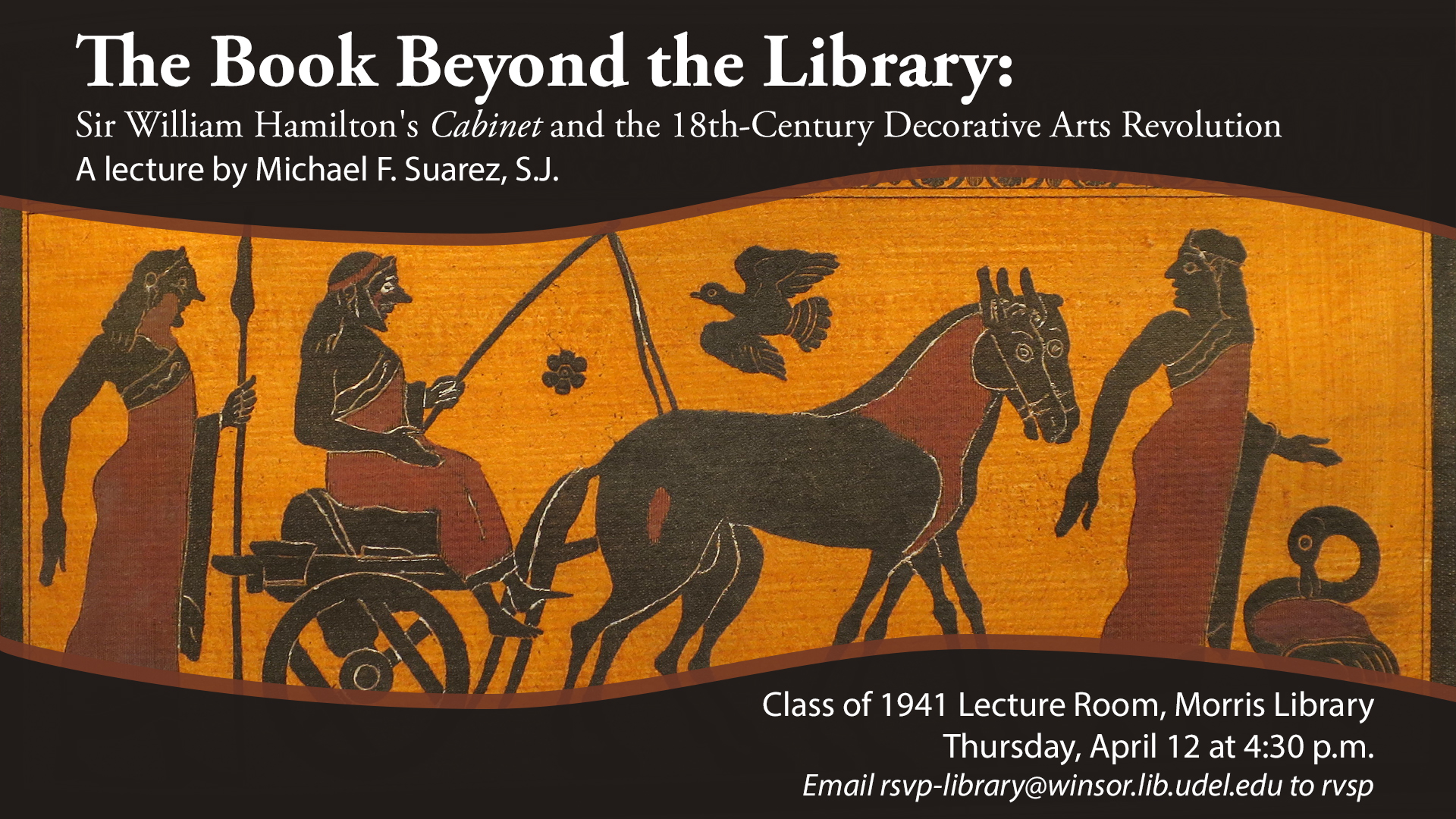 April 12: Presentation by Rare Book School director
Discuss 18th century decorative arts revolution with Michael Suarez
There are many ways to experience art—creating it, observing it in person or viewing a print of an original, for instance. But what impact can a reproduction have on our understanding of the original work?
That topic will be explored in a talk by rare book expert Michael F. Suarez, S.J., in his lecture, "The Book Beyond the Library: Sir William Hamilton's Cabinet and the 18th Century Decorative Arts Revolution," scheduled at 4:30 p.m., Thursday, April 12, in the University of Delaware Morris Library's Class of 1941 Lecture Room.
About the lecture
In The Complete Collection of Antiquities from the Cabinet of Sir William Hamilton by Pierre-François Hugues D'Hancarville, readers explore Sir Hamilton's collection of Greek vases through precise, black, hand-painted illustrations.
These illustrations are two-dimensional reproductions of the original designs on the three-dimensional vases. These illustrations of vases, not the physical vases, inspired a decorative arts revolution.
So, how do these illustrations depict and distort the vases they catalog? Do they shape our understanding of the vases in different ways? Why did they inspire the revolution instead of the original vases? Do they inspire different art than the original vases? Do they impact the way libraries and museums can collect and display artifacts? These questions will be explored in Suarez's talk.
About the speaker
Suarez is University Professor and director of Rare Book School at the University of Virginia—the world's premier institute for teaching the history of stewardship of manuscripts, books and digital materials.
He is a Distinguished Presidential Fellow of the Council on Library and Information Resources in Washington, D.C., and was nominated to the National Council on the Humanities by President Obama.
A Jesuit priest, he is also a lifetime trustee of Yale University's Lewis Walpole Library and editor-in-chief of Oxford Scholarly Editions Online, one of the most comprehensive digital projects in the digital humanities today.
This lecture is offered in conjunction with the exhibition 60 at 60 in the Special Collections Gallery in Morris Library. The exhibition, curated by Head of Special Collections Tim Murray for UD Library, Museums and Press, celebrates the 60th anniversary of the University of Delaware Library Associates (UDLA) by presenting 60 books acquired between 2008 and 2018 through UDLA's generous support.
Preceding the lecture, Murray will offer a tour of the 60 at 60 exhibition at 3:30 p.m.
The lecture and preceding exhibition tour are free and open to the public. RSVPs are requested, but not required. Those interested in attending are asked to email rsvp-library@winsor.lib.udel.edu.