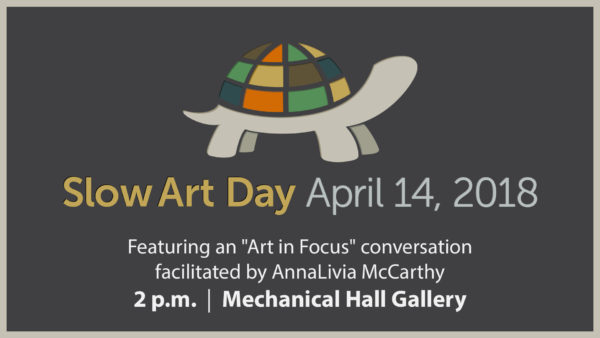 Discover the value of looking at art slowly in Mechanical Hall Gallery
When at museums, people often breeze by a work of art after a short look. One study suggests that "short look" averages merely 17 seconds per artwork, hardly enough time to find a connection with the piece on display. Discover how much more you can notice and take away from a work of art when you slow down to focus on it. Join us for Slow Art Day at the University of Delaware's Mechanical Hall Gallery on Saturday, April 14, from 12 to 5 p.m.
Stop by for a self-guided tour of five selected artworks from the exhibition Problem Solving: Highlights from the Experimental Printmaking Institute and spend 10 minutes looking at each one. Take a step closer, take a step back, look at the colors, look at the lines, consider the subject, observe the entire piece or narrow in on a particular detail — give yourself the opportunity to find something in the artwork that resonates with you.
At 2 p.m., Museums Intern AnnaLivia McCarthy will lead an "Art in Focus" conversation about Willie Cole's 2012 print The Ogun Sisters. McCarthy will facilitate the 30-minute discussion where participants will discover the new insights that emerge from experiencing and discussing a work of art for an extended period of time.
Additional "Art in Focus" conversations will take place throughout the spring, each focusing on a single artwork. They will take place on Wednesday, April 18, from 12:30 to 1 p.m., and Thursday, May 10, from 4:30 to 5 p.m. For more information, see library.udel.edu/special/events.
Slow Art Day is a global event that encourages all museumgoers to establish a more meaningful experience with art. Join the UD Library, Museums and Press on Saturday to make that connection with materials from the collections here on campus.
Both Slow Art Day and Art in Focus are free and open to the public.