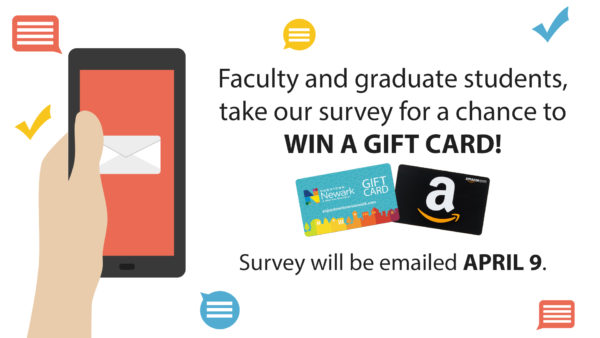 Faculty and graduate student survey
Please take UD Library, Museums and Press surveys on research and teaching practices
The University of Delaware Library, Museums and Press has partnered with Ithaka S+R, a national research organization, to launch the UD Faculty and Graduate Student surveys. The goal is to better understand the research, teaching, space use and publishing needs of faculty members and graduate students.
All faculty members and graduate students are encouraged to take the online survey, which was emailed on Monday, April 9. It should take approximately 20 minutes to complete.
All survey respondents will be eligible to win a $25 or $50 gift card to Amazon or businesses on Main Street. The survey is completely anonymous with results reported in the aggregate. Email addresses will not be linked to the responses.
The responses provided by faculty and graduate students will help shape the future of research and teaching at UD by informing library planning and decision-making. By understanding how faculty members and graduate students work in today's rapidly changing academic environment, the library will develop strategies that support the research, information and teaching needs of these valued members of the community.
The survey will be open through Friday, May 4.