Scholar in the Library Series
In this series, University of Delaware scholars discuss their research and how they use the resources of the UD Library, Museums and Press in their work. The purpose of the series is threefold: to provide UD scholars an opportunity to share their research with a wider audience; to bring attention to the UD Library and it's resources; and to present UD Library stakeholders with current examples of research methodology and showcase how libraries are integral to the research process.
---
Unlocking the Black Box of Microbial Epigenetics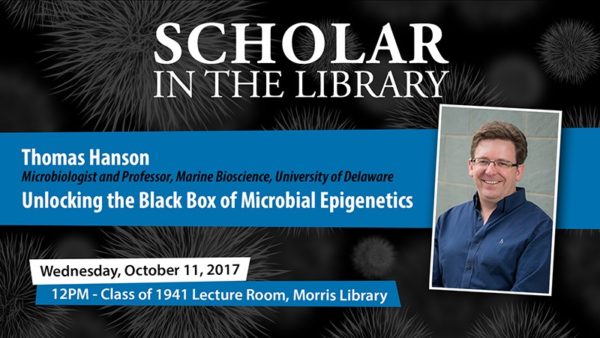 October 11, 2017
12:00 p.m.-1:00 p.m.
Class of 1941 Lecture Room, Morris Library
About this Event
Thomas Hanson, microbiologist and professor of marine bioscience at the University of Delaware, will lead "Unlocking the Black Box of Microbial Epigenetics" from noon to 1 p.m. on Wednesday, October 11. It will be held in the Class of 1941 Lecture Room in Morris Library.
Hanson will discuss his research and speak about the $1 million W.M. Keck Foundation grant his team recently won. Along with Hanson, the team includes the grant's principal investigator Jennifer Biddle and Adam Marsh, also faculty members in the College of Earth, Ocean, and Environment.
The W.M. Keck Foundation supports pioneering efforts in science, engineering and medical research. Hanson, Biddle and Marsh are focusing on microbial research.
Microbes harvest energy and materials from their environment to reproduce. In the course of acquiring energy and materials, microbes catalyze lots of chemical transformations. With the grant, the team is working to understand what microbes do when the energy and materials are scarce.
Since microbes are among the most abundant forms of biomass on the planet, these chemical transformations have global significance. Just think, half of the oxygen you breathe is produced by marine microbes. Better understanding how microbes control gene expression under conditions of scarcity may enable advances in medicine, industry and environmental science.
Hanson received his bachelor's degree in bacteriology from the University of Wisconsin, Madison; his doctorate in microbiology from the University of California Davis; and his postdoctoral degree in microbiology from The Ohio State University.