Reception: Faces in Black and White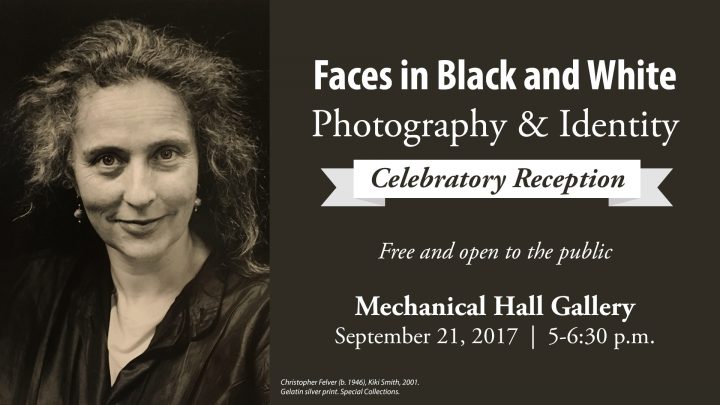 Mechanical Hall
30 North College Ave.
Newark, DE 19716
About this Event
Opening Reception
To celebrate the Mechanical Hall exhibition, "Faces in Black and White: Photography and Identity," featured photographer Christopher Felver will discuss his photography and share stories of the people in his portraits.
Nearly an entire wall of the exhibition is devoted to 14 of Felver's portraits of cultural figures, such as important poets, writers and artists—many of whom are also activists, committed to a vision of human liberation and social justice. These portraits may appear simple, but are penetrating studies of the faces on display.
In his portraits, Felver said he celebrates his subjects' "myriad nuances in the voice of their human faces: sometimes humans in trouble, sometimes in delight."
One of those portraits is of Afrocentric jazz poet, trumpeter and painter Ted Joans, who also understood the power of the face. In 1969, Joans wrote, "I want to see faces/of all races … freedom faces/faces of one nation and that nation is the human being congregation of faces."
Other Felver portraits on display feature writer and public intellectual Gore Vidal; poet and punk rocker Jim Carroll; Nobel Prize winner for poetry Derek Walcott; artist Kiki Smith; and novelist Christopher Isherwood.
Felver will speak at 5:15 p.m., and the gallery will remain open for visitors until 8 p.m.
This event is free and open to the public. RSVPs are requested: universitymuseums@udel.edu or 302-831-8037.