Problem Solving: Highlights from the Experimental Printmaking Institute
Problem Solving: Highlights from the Experimental Printmaking Institute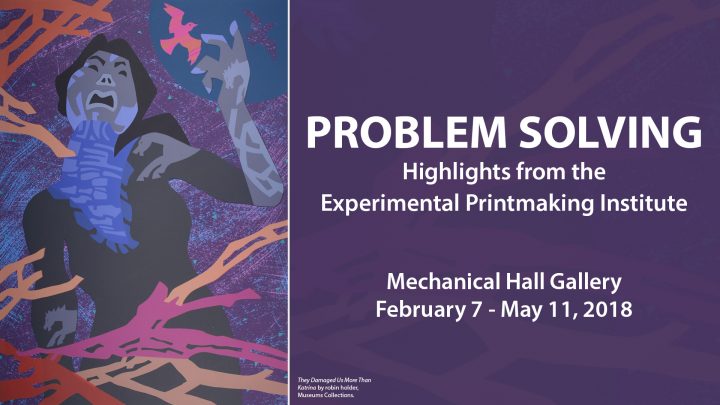 This exhibit has ended.
Mechanical Hall
30 North College Ave.
Newark, DE 19716
About this Exhibit
Past Event
"Experimentation in the printmaking studio has a lot to do with problem solving," Curlee Raven Holton, founder and emeritus director of the Experimental Printmaking Institute (EPI) at Lafayette College, explained in a 2014 interview. This exhibition celebrates a gift of prints from the EPI that Holton presented to the University of Delaware. To showcase the EPI's role as a leading center for innovative experiments in printmaking across a variety of media and techniques, the exhibition puts selections from the EPI gift in conversation with significant works from the University's extensive permanent collection of African American art. PROGRAMMING: Exhibition Reception March 5, 2018 Mechanical Hall Gallery 5-7 p.m. Includes a conversation between Curlee Holton, EPI founder, and Robin Holder, an EPI-affiliated artist whose work is featured in the exhibition
Exhibition-Inspired Poetry Reading
April 4, 2018 Mechanical Hall Gallery 6:30-8 p.m.
Art in Focus conversation
April 14, 2018 Mechanical Hall Gallery 2-2:30 p.m.
Curator's Tour
April 26, 2018 Mechanical Hall Gallery 12:15-1 p.m.