Fashion on All Fronts: Stories from the Wardrobe, 1914-1918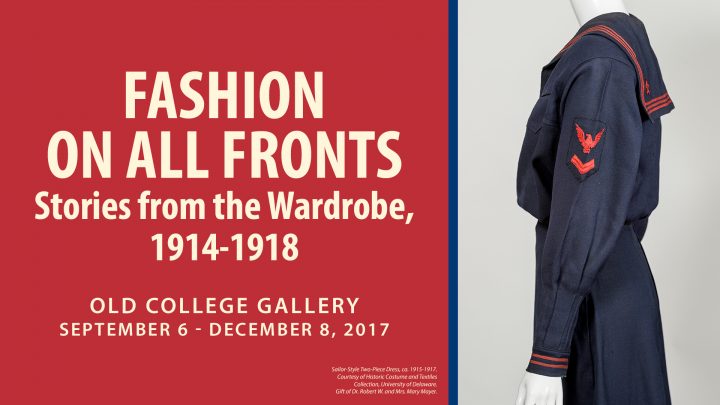 September 6, 2017 –
December 8, 2017 *
Old College Hall
18 East Main St.
Newark, DE 19716
* This exhibit has ended.
About this Exhibit
Drawing from the Historic Costume and Textiles Collection in the Department of Fashion and Apparel Studies, Special Collections in Morris Library, and private lenders, this exhibition provides an in-depth look at World War I through the lens of what people wore. During the war years, fashions changed by necessity and by invention. Everyday fashions echoing military styles gained popularity, and some garments, footwear, and accessories created to answer wartime needs remain in vogue today. The exhibition highlights the stories behind the garments, focusing on the personal accounts of the people who wore them.
See the UDaily article on this exhibition for more information.
Related Programming:
Wednesday, September 13 – Reception with curator-led tours
Wednesday, October 4 – Women and Fashion in the Great War
Saturday, October 21 – Wearing WWI
Tuesday, October 31 – Stories from the Wardrobe: A Conversation
Wednesday, November 15 – World War I Posters: A Curator's Perspective