Four Poets: Brooks, Rich, Brown, Trethewey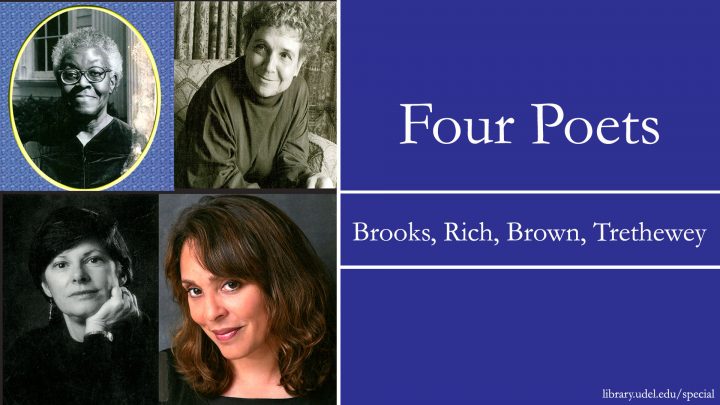 February 9, 2018 –
March 30, 2018 *
Morris Library
181 South College Ave.
Newark, DE, 19717
* This exhibit has ended.
About this Exhibit
This exhibition features four women who have had a major impact on American poetry.
Chicagoan Gwendolyn Brooks (1917-2000) was the first African American to receive a Pulitzer Prize for her poetry collection "Annie Allen" (1949). She also was a leader in the Black Arts Movement of the 1960s and 1970s. Brooks' work is noteworthy for its sensitive and dignified portrayals of African-American life and for its demonstration of formal mastery.
Adrienne Rich (1929-2012) was a hugely influential lesbian feminist poet. Beginning with her collection "Diving into the Wreck: Poems" (1973), Rich's work explores the effects of sexism and other forms of oppression in the world and in her own life.
Poet Laureate of Delaware from 2001 to 2007, Fleda Jackson Brown (b. 1944) began teaching in the English Department at University of Delaware in 1978. She has authored several collections—her most recent volume is entitled "The Woods Are on Fire: New & Selected Poems" (2017). Many of Jackson's poems take observations from nature as the basis for reflection on aspects of human experience.
Natasha Trethewey (b. 1966) was named United States Poet Laureate in 2012. Combining free verse and traditional forms, such as the sonnet and the ballad, her work tells stories of African-American and mixed-race people from the era of slavery to the present. Her third book, Native Guard, won the 2007 Pulitzer Prize in poetry.
The exhibition includes various works by the four poets, including Brooks' "Annie Allen" (1949), Rich's "Diving into the Wreck: Poems" (1973), Brown's "The Women Who Loved Elvis All Their Lives" (2004), and Trethewey's "Bellocq's Ophelia" (2002).
It is curated by Curtis Small, senior assistant librarian in Special Collections and Museums.