The Menagerie of Fonts: Specimen Books in the University of Delaware Library
The Menagerie of Fonts: Specimen Books in the University of Delaware Library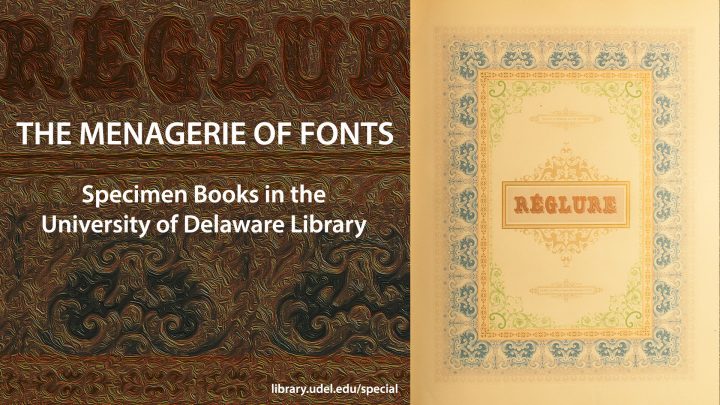 This exhibit has ended.
Morris Library
181 South College Ave.
Newark, DE, 19717
About this Exhibit
You are probably already aware that University of Delaware has a reputation for being one of the nation's premiere institutions for the study of material culture. You might even know about the rich collection of books and journals on the subject of printing history held within the UD Library, Museums & Press. But did you know the Library's Special Collections and Museums has well over a hundred type specimen books in support of this area of research? If not, then take the opportunity to look at two of the most visually stunning examples of these works in our collection. Type specimen books have been around since the earliest years of printing history. For centuries, this unique genre of commercial publishing has been used as a vital marketing tool for print shops and type foundries alike. In the pages of these books, one encounters a wide array of typefaces and fonts, making them interesting artifacts of the material history of texts. One of the most compelling items in the exhibition is a volume from the journal "Specimen Exchange," which ran from 1880 to 1889. A trade journal rather than a specimen book proper, this series was born out of a transnational correspondence between British and American printers. Eventually the journal would publish samples of the typography of Africa, the Near East, East Asia and Oceania. The famous "Spécimen-album" from Parisian type founder Charles Derriey (1808-1877) is also on display in this exhibition. This specimen book, first published in 1862, is still highly regarded for its attractive typographic ornaments and borders, printed in a beautifully rendered color format. The exhibition is curated by Jesse Erickson, postdoctoral researcher in Special Collections and Digital Humanities.