Things Aren't What They Seem: Forgeries and Deceptions From the University of Delaware Collections
Things Aren't What They Seem: Forgeries and Deceptions From the University of Delaware Collections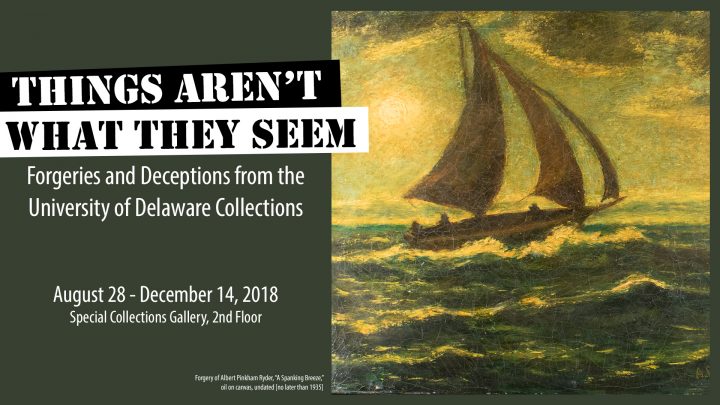 This exhibit has ended.
Morris Library
181 South College Ave.
Newark, DE 19717
About this Exhibit
Past Event
Forgeries—false works claimed to be genuine—that were once deemed as worthless frauds and criminal acts can serve as valuable artifacts today. In this exhibition, discover the history and value of outright forgeries, historic practical jokes and cases of mistaken identity within Special Collections and Museums by exploring how and why these forgeries were made, and how they were debunked. With fraudulent manuscripts, forged artworks, imitation minerals and "modern" antiquities that imitate ancient artifacts, the exhibition features objects that span centuries and cover a variety of media. Literary forgeries include pirated editions, books with false authorship and historic hoaxes. "Creative forgeries" are also on view, including those created by T. J. Wise, a formerly respected bibliographer who used his standing to create and sell unrecorded, so-called first editions of popular English authors.