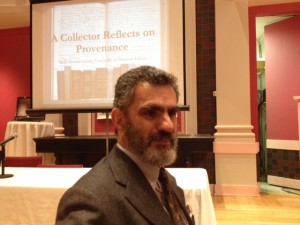 Mark Samuels Lasner at the Grolier Club, November 7, 2015.
Photo courtesy of Margaret Stetz.
Mark Samuels Lasner, senior research fellow at the University of Delaware Library, discussed the importance of provenance at the Grolier Club in New York City on Saturday, November 7th as part of a symposium titled "Mind the Gap: Recent Provenance and Antiquarian Material," sponsored by the Bibliographical Society of America, the oldest scholarly society in North America dedicated to the study of books and manuscripts as physical objects.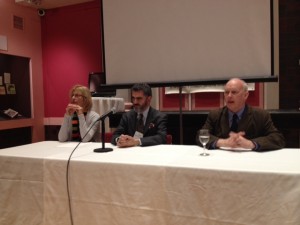 Mark Samuels Lasner (center) sits on a panel at the Grolier Club, November 7, 2015.
Photo courtesy of Margaret Stetz.
Provenance, or information about the past ownership of a book, manuscript, or other collector item, is a hot topic in bookish academic and collector circles. Samuels Lasner's afternoon talk comprised part of a three-person panel that explored the theme of "Provenance, Collectors, and the Book Trade." Other panelists were John Crichton of the Brick Row Book Shop and Nina Musinsky of Musinsky Rare Books, Inc. Samuels Lasner's remarks were titled "A Collector Reflects on Provenance." Samuels Lasner organized his presentation around four objects in his Collection of late Victorian British literature, each of which illuminated a form of provenance of interest to the antiquarian book collector. For example, Samuels Lasner highlighted an autographed copy of Oscar Wilde's The Sphinx and contrasted the piece with a forged Wilde autograph to discuss the importance of detecting spurious provenance.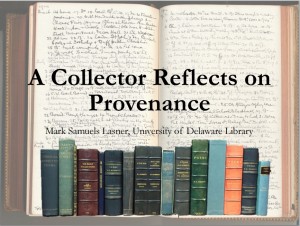 Title slide of Mark Samuels Lasner's November 7, 2015 presentation at the Bibliographical
Society of America's "Mind the Gap" symposium, Grolier Club, New York City.
Other themes discussed in the remarks include associational provenance (which documents connections between a book's author and his or her friends and associates), collector provenance (which traces the book collectors who have previously owned the piece in question), and obscure provenance (ownership by non-famous individuals). Collector provenance was highlighted by means of a book featuring five bookplates—including that of famed author Thomas Hardy, as well as Samuels Lasner himself. Samuels Lasner highlighted a particularly pretty volume of Maxell Gray's Westminster Chimes to discuss obscure provenance, as the volume features an inscription from the author to a book collector who is relatively unknown today. The volume, however, was originally Gray's personal copy and features original artwork by the author, which lends considerable visual beauty to the literary work.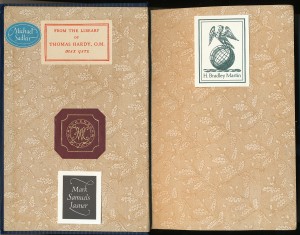 John Meade Falkner, The Lost Stradivarius. Edinburgh: William Blackwood, 1895. Provenance: Thomas
Hardy-Hugh Walpole-Michael Sadleir-H. Bradley Martin-Mark Samuels Lasner Collection.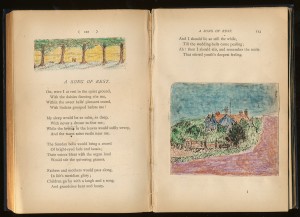 Maxwell Gray, Westminster Chimes: And Other Poems London: Kegan Paul, Trench, Trèubner, 1890.
Mark Samuels Lasner Collection, on loan to the University of Delaware Library.
"It is the general ambition of the [book collector] class to find value where there seems to be none," wrote renowned bibliophile John Hill Burton. Provenance figures prominently in the effort to attach meaning to books. Samuels Lasner's remarks at the Grolier Club demonstrate how collectors use provenance to shape and inform their libraries. Recent provenance—ownership information from the last several decades—merits greater attention from scholars, collectors, and librarians.
Samuels Lasner was one of many presenters at this landmark gathering; the well-attended symposium featured lecturers from around the nation and, indeed, the world. Scholars from as far away as Germany and Italy, as well as American institutions including Harvard, the Folger Library, UCLA, the University of Virginia and the University of Pennsylvania, all reflected on the significance of recent provenance to bibliophilic collecting and scholarship.
The program for the symposium may be found here: http://www.grolierclub.org/files/2015.BSA_MindTheGapProgramFINAL.pdf.  For more information on the Bibliographical Society of America, visit http://bibsocamer.org. To learn more about the Grolier Club, click the following link: http://www.grolierclub.org.  A PDF of Samuels Lasner's PowerPoint presentation, including more images of objects from the Mark Samuels Lasner Collection, is available here: MSL_Provenance_Talk_11-07-15.