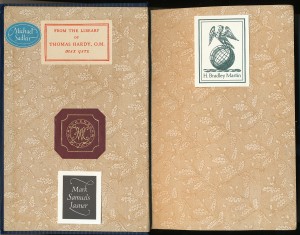 John Meade Falkner, The Lost Stradivarius. Edinburgh: William Blackwood, 1895. Provenance: Thomas
Hardy-Hugh Walpole-Michael Sadleir-H. Bradley Martin-Mark Samuels Lasner Collection.  
Mark Samuels Lasner, senior research fellow at the University of Delaware Library, will present at "Mind the Gap: Recent Provenance and Antiquarian Material," a symposium to be held at the Grolier Club in New York City, on Saturday, November 7, 2015.
Sponsored by the Bibliographical Society of America, "Mind the Gap" will offer perspective on understanding and interpreting the recent ownership history of rare books, manuscripts, artworks, and ephemera.  Samuels Lasner will feature in a panel session titled "Provenance, Collectors, and the Trade."
"Mind the Gap" is open to the public.  Tickets are $75 ($25 for students), and seating is limited to 150. Please contact Michele Randall, Executive Director of the Bibliographical Society of America, for reservations and payment: bibliographicalsociety@gmail.com.
The program for the symposium may be found here: http://www.grolierclub.org/files/2015.BSA_MindTheGapProgramFINAL.pdf.  For more information on the Bibliographical Society of America, visit http://bibsocamer.org.  A full listing of the Grolier Club's programs may be viewed here.
Library of the Grolier Club, New York City.
Courtesy of the Grolier Club.