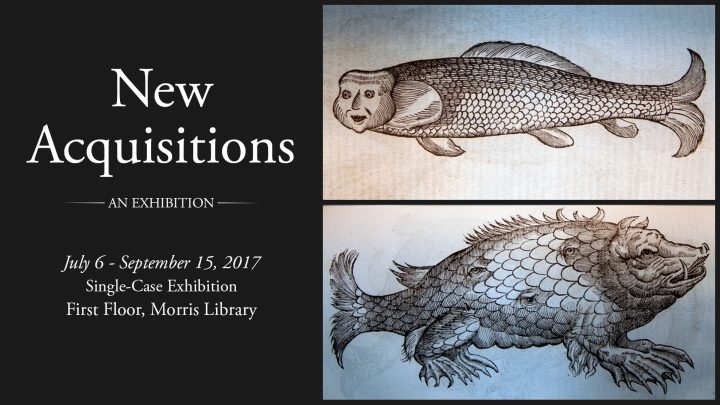 This exhibit has ended.
Special Collections Gallery
Morris Library
181 South College Ave.
Newark, DE 19717
About this Exhibit
Within the vaults of the Special Collections Department in the University of Delaware Library are an estimated 200,000 rare books and other printed materials along with more than 1,000 manuscript collections — and resources are continually being added. On view in the first floor exhibition area of Morris Library from July 6 through Sept. 15, the one-case exhibition "New Acquisitions" will feature a selection of recent additions to the growing collections of these rare and unique materials. Curated by Alexander C. Johnston, associate librarian in the Special Collections Department, the exhibition will highlight materials such as Ulisse Aldrovandi's Monstrorum Historia, a treatise on monsters and abnormalities, which includes woodcut illustrations of fantastical sea monsters that may be exaggerated versions of real animals or entirely fabricated creatures. Also on display, Trattato Delle Piante, an architectural work from 1620 written by Amico di Gallipoli and illustrated by Jacques Callot, features detailed engravings of ancient buildings in Jerusalem, which allow the reader to see how the structures have changed since then. The items on display in the "New Acquisitions" exhibition represent just a small fraction of the works acquired by Special Collections throughout the past year. Librarians in Special Collections regularly add new materials to the collections, both through purchase and donation. These unique materials are made available for use by students, faculty and other researchers, and are often integrated into the classroom curriculum.