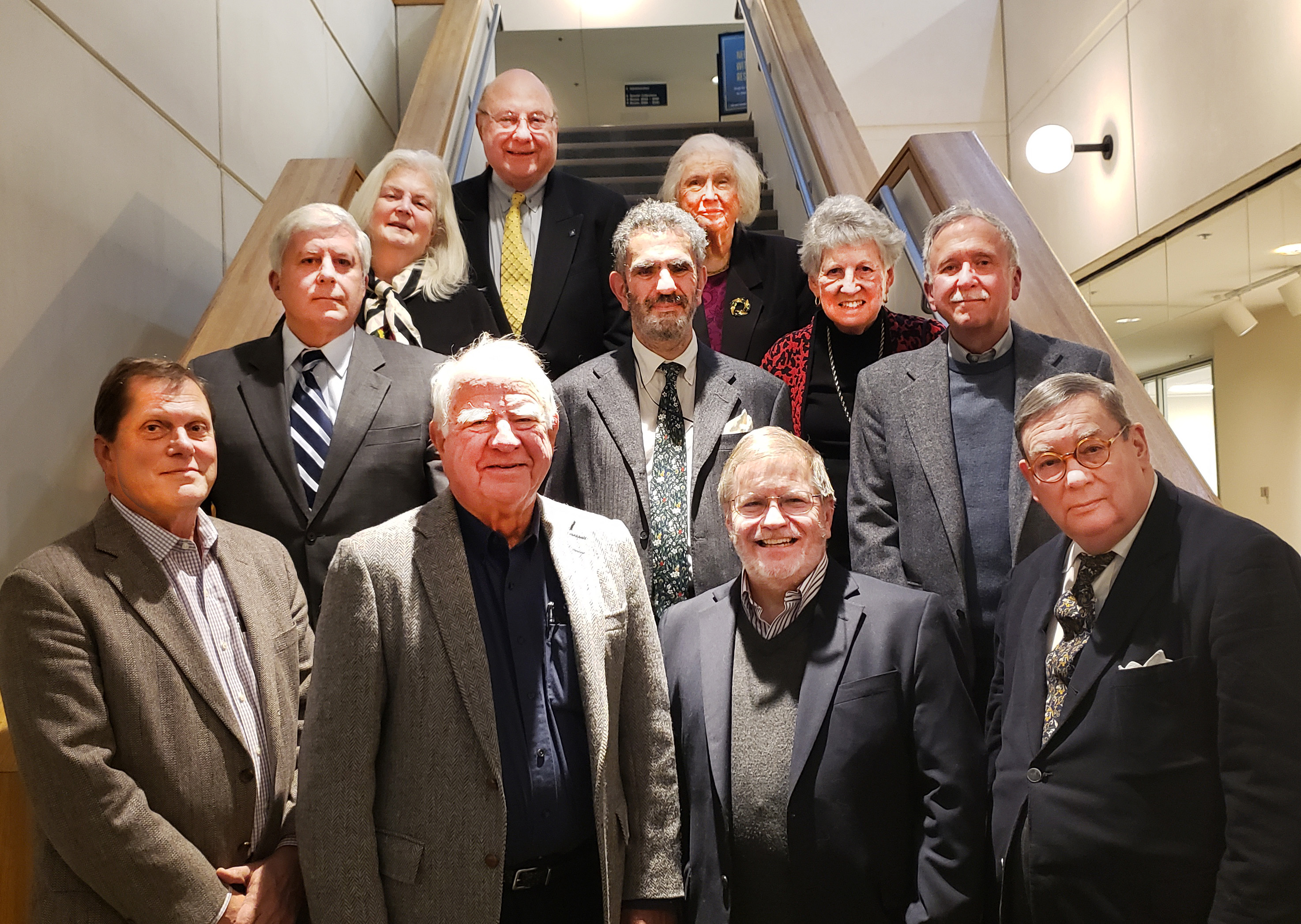 Friends of the University of Delaware Library Board of Directors, November 15, 2022
For more than 60 years, the Friends of the University of Delaware Library (formerly the University of Delaware Library Associates), through its dedicated members, has provided more than $1 million in financial support to the University of Delaware Library, mainly its Special Collections. The generosity of these members, coupled with the hard work of Library staff, have resulted in an extraordinary selection of highly admired rare materials, books and artifacts. These materials serve as an invaluable resource for academic study and scholarly research by which University students, faculty and the general public use and benefit greatly.
Friends of the UD Library Executive Committee
The Friends are led by a committed group of officers who make up the Executive Committee.  The 2023 Executive Committee is as follows:
President
Mr. James P. Dalle Pazze
Senior Vice-President
Interim Treasurer
Dr. John A. Quintus
Vice-President
Dr. Marilyn Kay Lynam-Jewett
Secretary
Dr. George H. Watson Jr.
Director-at-Large
Mr. Mark Samuels Lasner
Ex-Officio
Mr. Theodore F. Killheffer
The business and affairs of the Friends are managed by its Board of Directors. They are as follows:
Marsha Barnett
Katherine H. Betterly
Susan Brynteson
James P. Dalle Pazze
Ronald M. Finch
Anthony G. Flynn
David Ley Hamilton
Robert L. Hampel
John R. Jungck
Theodore F. Killheffer
Edmond L. Lincoln
Marilyn Kay Lynam-Jewett
Elizabeth M. McGeever
John A. Quintus
David P. Redlawsk
Mark Samuels Lasner
John B. Tepe, Jr.
George H. Watson, Jr.
Matthew S. Weinert
The Honorable Bernard Balick
Lammot Copeland, Jr.
Louise Roselle
Richard L. Sutton
Become a Member of the Friends of the UD Library
The Friends group eagerly invites others to join as members of the organization. If you have interest in becoming a member of the Friends group, feel free to view our brochure for additional information. Afterwards, visit our gift page to make a donation of at least $50 today. Your thoughtful gift will further the richness, strength and depth of the Library's Special Collections and comes with a host of benefits such as invitations to the Friends' annual dinner and annual faculty lecture.
Contact the Friends of the UD Library
For more information or to become a member, please contact:
Tywanda Cuffy
Director of External Relations, Communications and Development Initiatives
(302-831-1719)
TJ Cournoyer
Senior Director of Development
(302-831-7459)
Join the Friends Mailing List
View/Print a Membership Brochure