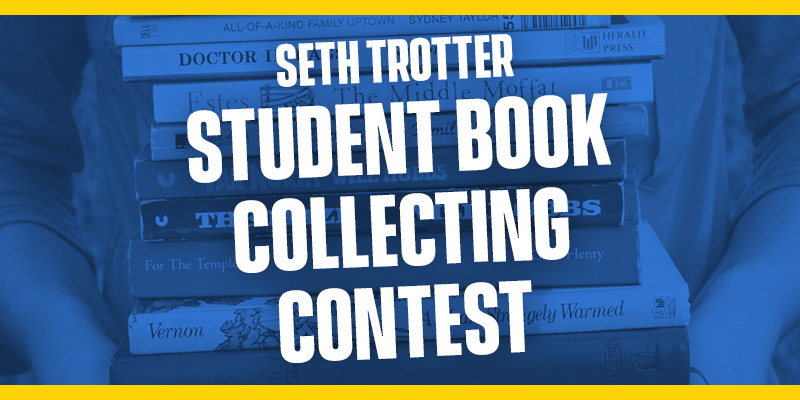 Do you love books? Do countless editions of the Harry Potter series fill your shelves? Do you have a growing number of carefully preserved comic books? Have you amassed a collection of Irish travel books, books on Delaware history or a number of entries on the banned books list?
You may be a book collector without realizing it.
This annual book-collecting contest, sponsored by the Friends of the University of Delaware Library, seeks to encourage reading and research, the creation of personal libraries, and the appreciation of printed or illustrated works for pleasure and scholarship.
A collection shares a central focus between its many items and can be based on any number of aspects—author, genre, aesthetic, subject, cover art, etc. Share your collection and enter for a chance to win a cash prize (first place $1,000, second place, $500, third place, $500).
The contest is open to all University of Delaware students.
Prize winners will be entered in the National Collegiate Student Book Collecting Contest, which has a top award of $5,000.
Applications are due June 15, 2023.
Guidelines
Collections can be on any subject.
Hardbacks and paperbacks can be included, along with other types of material, such as ephemera, photographs, artworks, manuscripts or playbills.
The collection does not have to include rare books.
Collections will be judged on their purpose, meaning, intellectual content, personal connection, coherence and creativity, as well as the submitted application.
Applications
To apply, please submit:
Cover sheet with the title of the collection, your name and your contact details.
An essay—no more than 3,000 words—exploring the theme, development, personal meaning and contents of the collection.
List of all items in the collection, written in a consistent bibliographical style. The list should include descriptions (1-2 sentences) of representative items, indicating points of interest and why each is included in the collection.
A "want list" of 5-10 items you would like to acquire for the collection.Annotated descriptions (1-2 sentences in length) should explain how the item would enhance the collection.
Digital images of selected items are welcome.
Finalists will be asked to show items from their collections to the judges and make a brief oral presentation.
Please send all questions and application materials to Mark Samuels Lasner, senior research fellow at the UD Library, Museums and Press, at marksl@udel.edu.
2022 Winners
First Prize: Nora Ellen Carleson, A Dedication to Decorative Arts and Design
Second Prize: Anne Laurilliard van Zelst, Brace new girl: A Jehanne d'Arc Book Collection. "Je n'ai pas peur." I am not afraid. Because I was born for this.
Third Prize: Kelsey Bianca, Mind Matters: A Psychology Stash
2021 Winners
First Prize: Katrina Anderson, Uncovering the Hidden Lives of Women of African Descent within the Atlantic World, 1600-1865
Second Prize: Margaret O'Neil, Historical Fashion, Textile, and Fiber Arts Book and Archival Collection
Third Prize: Logan Gerber-Chavez, Once Upon a Tornado: A Disaster Book Collection
2020 Winners
First Prize: Edward Benner, Written Reverence, Making Memories Making memories, gaining inspiration, and collecting the works and influences of Patti Smith
Second Prize: Lucia O'Neill, Enigmas and Experience
Third Prize: Eileen Symons, Dismantling the Patriarchy One Page at a Time
2019 Winners
---
A Word about Seth Trotter '94
Seth Trotter, who passed away suddenly on November 7, 1995, graduated from the University of Delaware in 1994. While a student at UD, Seth was heavily involved with the Friends of the UD Library. As a member of the Friends, he readily enjoyed visiting the Library's Special Collections exhibitions, attending Library lectures and going to the Friends' Annual Dinner.
To honor his legacy, Seth's parents created the Seth M. Trotter Memorial Fund in 1995 to keep alive not only his memory, but the values of scholarship and intellectual excitement that the Friends of the UD Library kindled within him.
In the summer of 2019, Joseph Trotter, Seth's father, gave his blessing to the Friends of the UD Library to name its Book Collecting Contest and Special Collections Essay Contest after his son. The Friends are honored to pay tribute to Seth in such a meaningful way. To directly support this fund, please specify the "Seth M. Trotter Memorial Fund" when making a gift.