Article DELivery Service
For Faculty, Staff, Graduate Students, and Undergraduate Students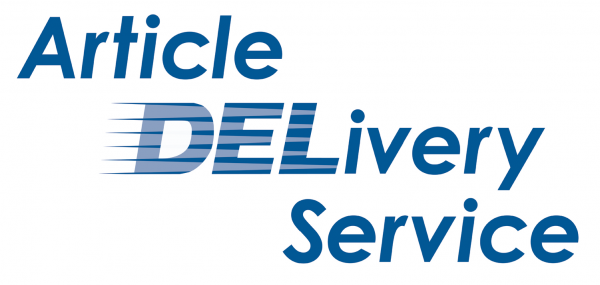 Through the University of Delaware Article DELivery Service, University of Delaware faculty, staff, graduate students, and undergraduate students may request copies of articles and book chapters from materials available in University of Delaware Library print and microform collections. Interlibrary Loan (ILL) staff will copy articles or book chapters and deliver them electronically to users' ILL accounts.
This service is offered free of charge.
Eligibility
Currently, the Article DELivery Service is available only to users who have a valid University of Delaware ID card, are eligible to register for a University of Delaware Interlibrary Loan account, and are also:
University of Delaware students formally enrolled in distance learning programs
University of Delaware employees (current and retired faculty and staff)
University of Delaware undergraduate and graduate students
University of Delaware students, faculty and staff with disabilities*
*These users need to contact the ILL Office to identify eligibility for this service.
In the future, this service may be expanded to include other groups who are eligible for traditional Interlibrary Loan services. At this time, these users are not eligible for this service due to staffing constraints.
Placing Article DELivery Service Requests
After logging in to the ILL system, choose the "Article DELivery Service" link to place a request. Please note that this link only appears in the ILL accounts of those users who are eligible to use this service.
A separate request must be placed for each article or chapter to be scanned.
What can be requested on Article DELivery Service?
Book chapters and articles from the Morris Library main stacks, the Library Annex, and all Branch Libraries.
Book chapters and articles from University of Delaware Library microform collections.
Are there limits on what can be copied through the Article DELivery Service?
The Library has established copyright guidelines for the Article DELivery Service based on the copyright law of the United States and current practices in other academic libraries. The Library will not scan:
More than one chapter from a book
More than one article from a journal issue
This service may not be used as a substitute for required class visits to the University of Delaware Library.
Users who wish to view more than one chapter from a book or article from a journal issue are encouraged to visit the Library to use these materials in person.
Items available electronically in a University of Delaware Library collection will not be delivered through this service. Requests for electronically-available materials will be cancelled. ILL staff will provide instructions by email for retrieving the requested item.
How long does it take?
Items requested through the Article DELivery Service are usually available in 2 business days.
How will articles be delivered?
All requested articles will be delivered in PDF format to requestors' ILL accounts. Users will receive an email notification when an article has been scanned and delivered to their account. Once delivered, articles will be stored for 30 days. These scanned copies will not include OCR functionality.
Copyright Restrictions
The copyright law of the United States (Title 17, United States Code) governs the making of photocopies or other reproductions of copyrighted material. Under certain conditions specified in the law, libraries and archives are authorized to furnish a photocopy or other reproduction. One of these specified conditions is that the photocopy or reproduction is not to be "used for any purpose other than private study, scholarship, or research." If a user makes a request for, or later uses, a photocopy or reproduction in excess of "fair use," that user may be liable for copyright infringement. This institution reserves the right to refuse to accept a copying order if, in its judgment, fulfillment of the order would involve violation of copyright law.