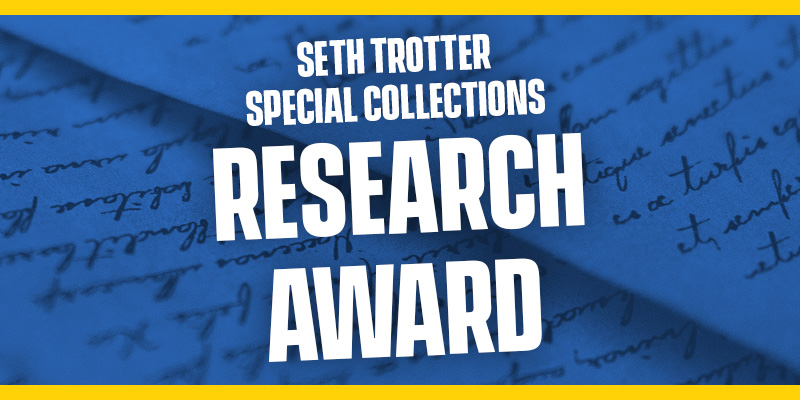 Have you used books, manuscripts, periodicals and other materials from Special Collections in your academic or professional life? If so, consider submitting your original research for a chance to cash in on your hard work.
The contest is open to all University of Delaware students, faculty and staff.
As many as three prizes are offered annually, with a first prize of up to $1,000
Guidelines
Entries must feature the holdings of Special Collections and include appropriate citations.
Essays can be of any length and may take the form of papers written for course work at any level, conference presentations or lectures, printed or online articles, books and book chapters, blog posts, and websites. Communications on social media and Powerpoint (or similar) files are not eligible.
Applications
To apply, please submit:
A cover sheet with your name, contact details, status at the University of Delaware, title of work, and explanation of why the essay was written.
A copy of the work (including illustrations) with indication of Special Collections materials used.
The due date is January 1, 2024.
Please send questions and application materials to John Quintus at jquintus@udel.edu.
The contest is sponsored by the Friends of the University of Delaware Library, an organization dedicated to expanding and enriching the research collections of the UD Library.
2023 Winners
First Prize: Margaret W. Hughes, Pomp, Circumstance, and  Silence: Slavery and Race in the Early Years of Delaware College"
Second Prize: Anisha Gupta, The Antebellum Foundations of New London's Road Free Black Community in Newark
Third Prize: Claudia Marion Stemberger, Manuscript Leaf Description: 183v / Book of Kells
---
A Word about Seth Trotter '94
Seth Trotter, who passed away suddenly on November 7, 1995, graduated from the University of Delaware in 1994. While a student at UD, Seth was heavily involved with the Friends of the UD Library. As a member of the Friends, he readily enjoyed visiting the Library's Special Collections exhibitions, attending Library lectures and going to the Friends' Annual Dinner.
To honor his legacy, Seth's parents created the Seth M. Trotter Memorial Fund in 1995 to keep alive not only his memory, but the values of scholarship and intellectual excitement that the Friends of the UD Library kindled within him.
In the summer of 2019, Joseph Trotter, Seth's father, gave his blessing to the Friends of the UD Library to name its Book Collecting Contest and Special Collections Essay Contest after his son. The Friends are honored to pay tribute to Seth in such a meaningful way. To directly support this fund, please specify the "Seth M. Trotter Memorial Fund" when making a gift.