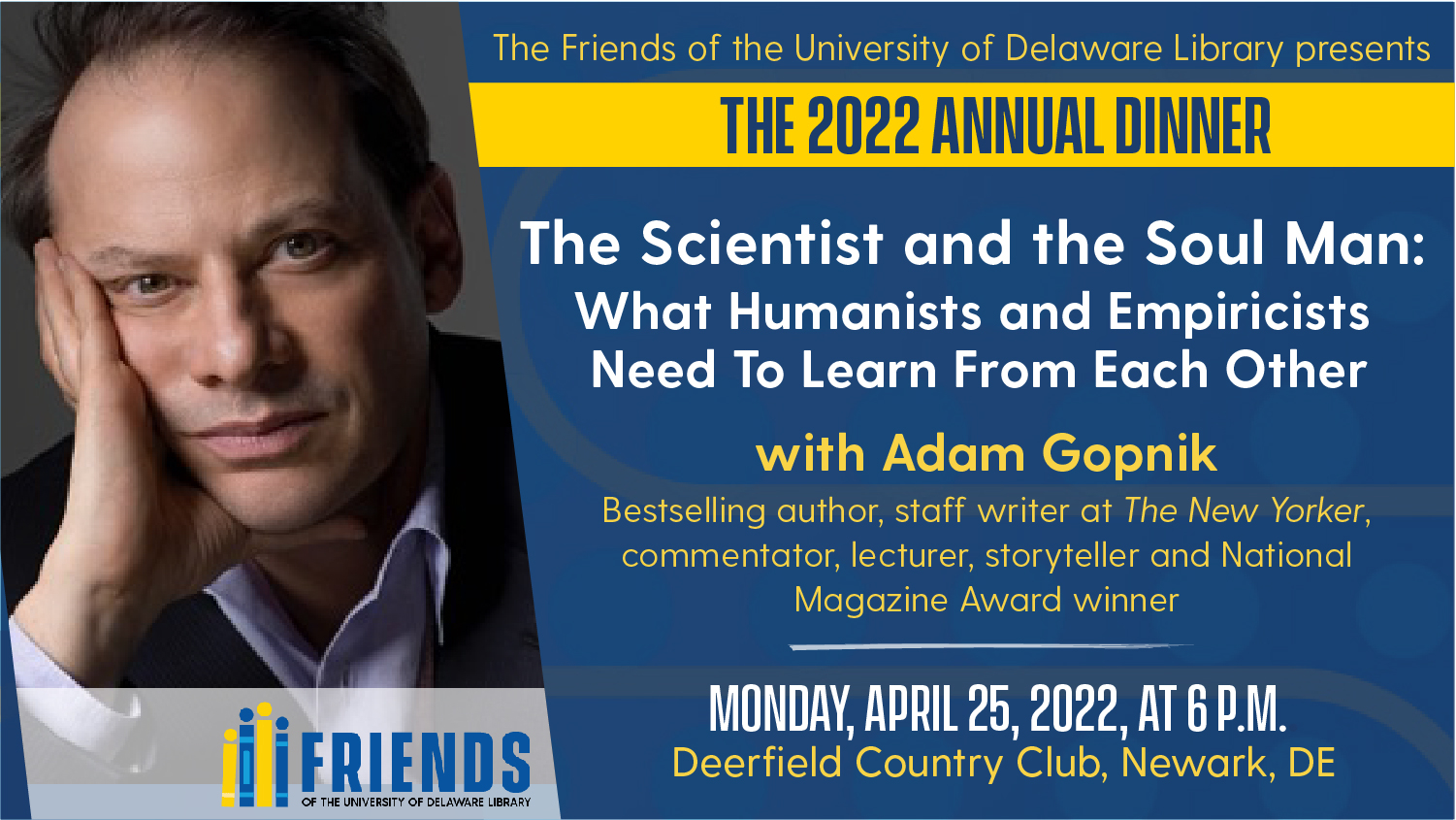 This event has ended.
University of Delaware Library, Museums and Press
$125 per person, $50 UD students
About this Event
What's the relationship between science and the humanities? Adam Gopnik, staff writer at The New Yorker, will delve into this age-old question during the annual dinner of the Friends of the University of Delaware Library.
Over the past few decades, we have seen aggressive assimilation by scientists who are eager to explain what seems subjective, such as our love for stories. In turn, humanists often question the objectivity of scientific research. So should the humanities be held to the same kind of intellectual scrutiny as science, or are the arts to be treated differently because they are not objective by nature?
Join us to explore these questions by examining the likes of Galileo Galilei and William Shakespeare; George Eliot and Charles Darwin; and Albert Einstein and Georges Seurat–individuals who bridged the worlds of science and the arts.
The event begins with a cocktail hour at 6 p.m., during which Gopnik will autograph books that attendees can purchase on-site through the UD Barnes and Noble Bookstore. Dinner will follow at 7 p.m., and the evening will conclude with a Q&A session with Gopnik.
Learn more about the menu and sponsorship opportunities on the registration page.
Adam Gopnik has been a staff writer at The New Yorker since 1987. During his three decades at the magazine, Gopnik has written fiction, humor, memoirs, critical essays, and reported pieces from at home and abroad. He has received three National Magazine awards for essays and criticism, as well as a George Polk Award for magazine reporting.
Gopnik has also authored numerous books, including his latest, A Thousand Small Sanities: The Moral Adventures of Liberalism (2019). In collaboration with composer David Shire, he wrote the musical The Most Beautiful Room in New York. He also developed his own one-man show, The Gates, based on material developed with The Moth, a nonprofit dedicated to the art and craft of storytelling.
—-
All attendees will need to complete UD Daily Health Check and show the green icon reflecting health clearance upon arrival.
Given the evolving nature of the pandemic, these protocols may change. All attendees will receive the latest requirements and necessary health clearance forms to complete via email closer to the event.
Friends Group
Special Event