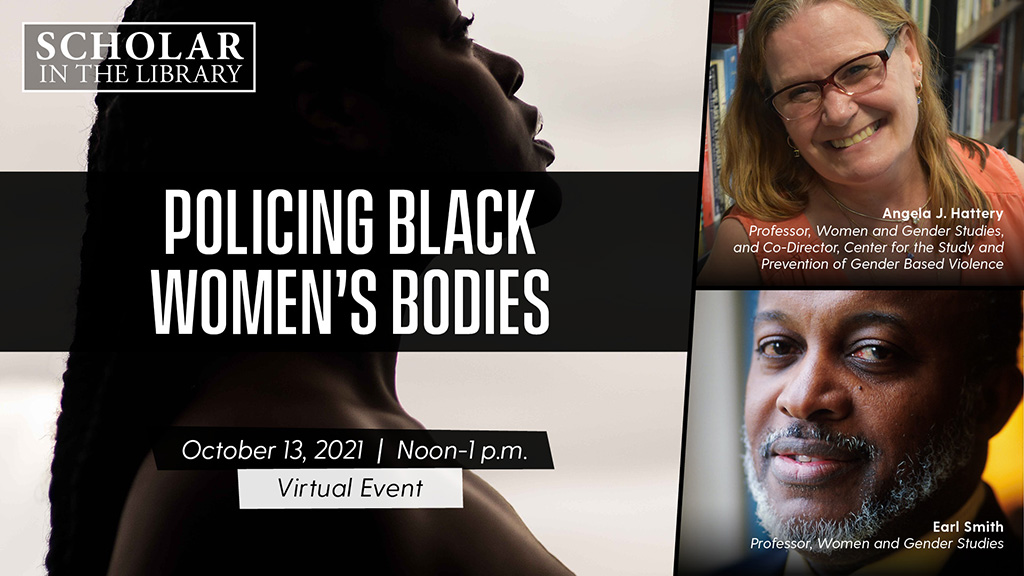 This event has ended.
University of Delaware Library, Museums and Press
About this Event
Explore the many ways in which Black women's bodies are policed, both literally and figuratively, with Professors Angela J. Hattery and Earl Smith. The discussion will include the killing of Breonna Taylor; the non-consensual, experimental gynecological surgeries performed on enslaved women like Anarcha, and more.
Hattery and Smith will also share insights from their ethnographic research in solitary confinement in a women's prison. They will discuss the non-consensual use of long-acting reversible contraception (LARC)—especially among teenagers—and the criminalization of pregnancy and mothering.
Angela J. Hattery is a professor of women and gender studies, and the co-director of the Center for the Study and Prevention of Gender Based Violence at the University of Delaware. Earl Smith is a professor of women and gender studies at the University of Delaware.
Together, Hattery and Smith authored Policing Black Bodies: How Black Lives Are Surveilled and How to Work for Change, which was released in March 2021. Their forthcoming book, Way Down in the Hole: Race, Intimacy and the Reproduction of Racial Ideologies in Solitary Confinement explores the ways in which the particular structures of solitary confinement exacerbate racial antagonisms.
Registration is required. Once registered, you will receive an email with details on how to join the event via Zoom.