Scholar in the Library Series "Fake News and Attack Ads: Political Psychology Tells Us Why Neither Will Disappear"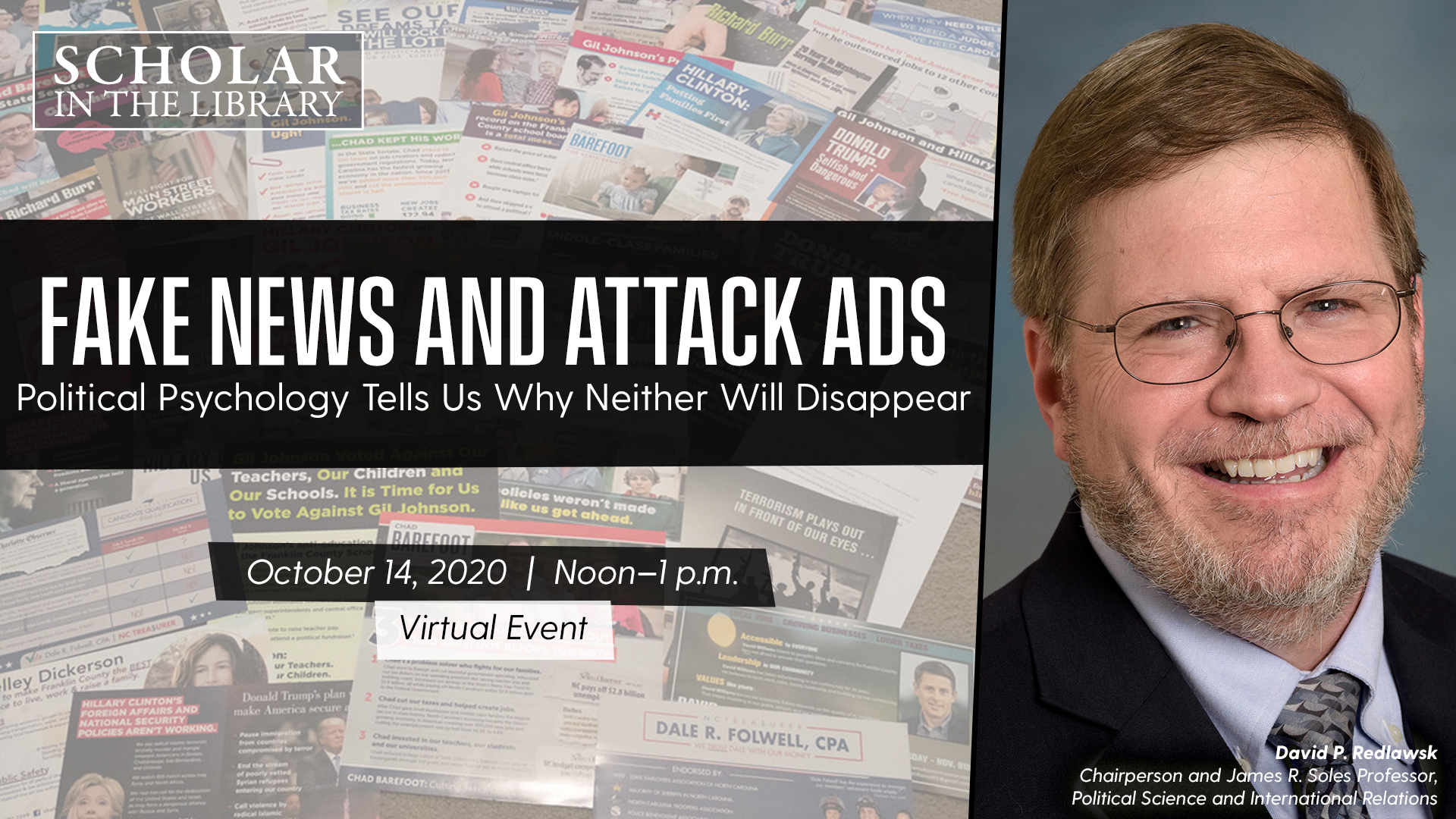 This event has ended.
University of Delaware Library, Museums and Press
About this Event
This event was recorded and can be viewed at the following link:
https://capture.udel.edu/media/t/1_w0ibarcp
_____________________________________________________________
In recent years, the political environment seems overwhelmed with two phenomena: "fake news" and negative campaigning. While few would agree that fake news is a legitimate part of campaigning, it is hard to stop because we won't stop looking at it. We're attracted to negativity as well, but perversely, negative campaigns may actually be valuable to voters.
During this talk, join Professor David P. Redlawsk to explore insights from political psychology research that help explain why both phenomena are ubiquitous and unlikely to end any time soon.
This lecture is in conjunction with the exhibition Trail to the Voting Booth: An Exploration of Political Ephemera, which is now available online.
David P. Redlawsk is the James R. Soles Professor and the chair of the Department of Political Science and International Relations at the University of Delaware. He is the author or editor of nine books, and has published more than 50 peer-reviewed articles and book chapters. His research focuses on campaigns, elections, the role of information in voter decision making, and on emotional responses to campaign information.
Redlawsk calls himself a "recovering politician" due to his experience in "real-world" politics. He has lost and won local elections in Pennsylvania and New Jersey, served as a county's Democratic chairperson during the 2004 Iowa Caucuses, and was selected as a delegate to the 2008 Democratic National Convention.
Registration is required. Once registered, you will receive an email with details on how to join the event via Zoom. Please register at:
https://udel.zoom.us/webinar/register/WN_xwYNNi99SJaeE9SPVAIMYg
Lecture
Scholar in the Library