Screen Time: The Complex Relationship Between Humans and Their Digital Gadgets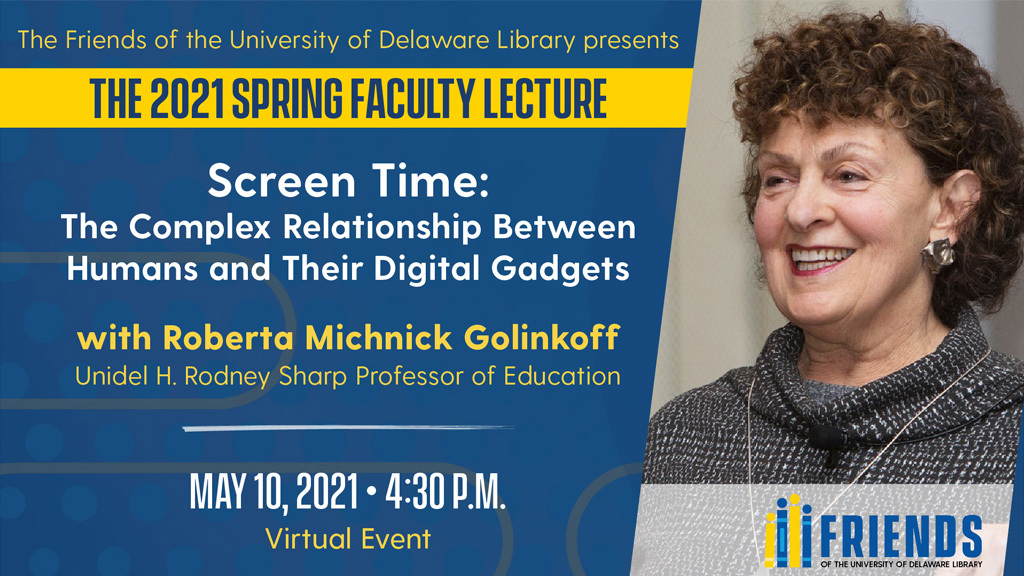 This event has ended.
University of Delaware Library, Museums and Press
About this Event
In the United States, children under the age of 8 spend more than 2 hours a day on screen media. There has been a dramatic rise in the use of mobile devices by children since 2011. More than 70% of parents report giving children an e-book to read alone when they're busy. (Vaala & Takeuchi, 2012)
The digital media revolution is altering the landscape of early childhood, prompting questions about its impact. Do children learn equally well from e-books as traditional books? Is it possible that e-books can help children catch up from learning loss during the pandemic?
Dive into these and other questions with Professor Roberta Michnick Golinkoff during this virtual event hosted by the Friends of the University of Delaware Library.
Roberta Michnick Golinkoff, Ph.D., is the Unidel H. Rodney Sharp Professor of Education at the University of Delaware's School of Education and the University of Stavenger in Norway. Her wide-ranging research is in language development, media and playful learning. She is passionate about transforming formal and informal education to align with the science of learning and development. Her latest book, Becoming Brilliant, which reached The New York Times best seller list, provides a framework for transforming education based in science.
Registration is required. Once registered, you will receive an email with details on how to join the event via Zoom. Please register at:
https://udel.zoom.us/webinar/register/WN_akxriBJFQ0Cd45GEuzfpsA
This event is sponsored by the Friends of the University of Delaware Library.
Friends Group
Special Event