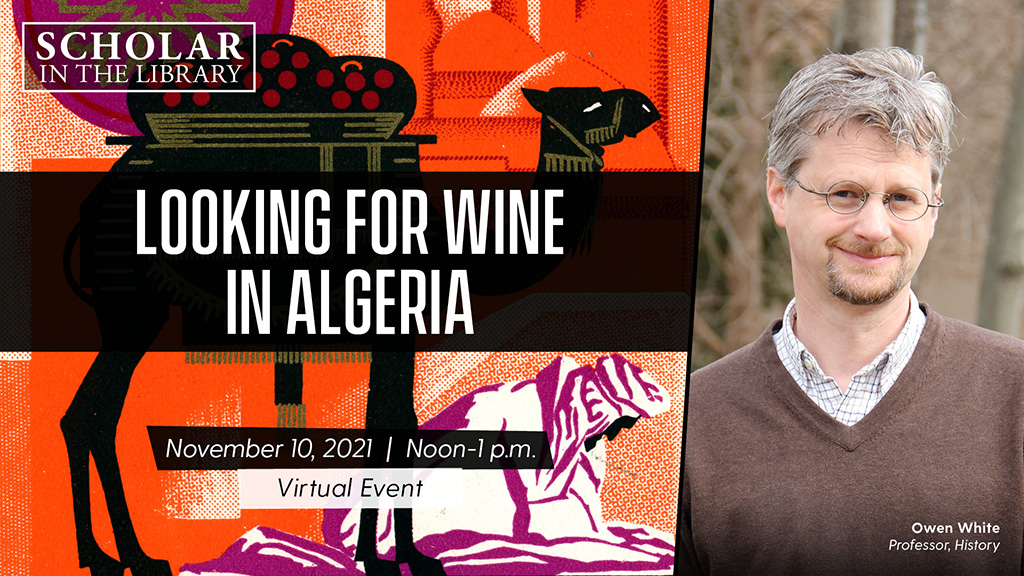 This event has ended.
University of Delaware Library, Museums and Press
About this Event
In the 1960s, Algeria was the world's fourth biggest producer of wine. Vineyards occupied as much as one million acres of land, and most of the wine left Algerian ports in specially designed tankers. Today, it is difficult to find Algerian wine for sale either inside or outside the country.
Join Professor Owen White to learn how France's conquest of Algeria and Algeria's subsequent colonization by settlers of European descent gave rise to an industry that once employed hundreds of thousands of people. You'll also discover how Muslim-majority Algeria managed wine production after the country gained its independence in 1962.
White will also talk about his search for wine and its historical traces in Algeria along with other research that went into his book The Blood of the Colony: Wine and the Rise and Fall of French Algeria.
Owen White is a professor of history at the University of Delaware. He is also the author of Children of the French Empire: Miscegenation and Colonial Society in French West Africa, 1895-1960 and co-editor of In God's Empire: French Missionaries and the Modern World. Since arriving in Delaware in 2000, he has received the Francis Alison Society Young Scholar Award (now called the Gerard J. Mangone Award) and, in 2020, the University of Delaware Excellence in Teaching Award.
Registration is required. Once registered, you will receive an email with details on how to join the event via Zoom.