Curators' Tour: Art, Artifacts and Specimens from the Collectors Cabinet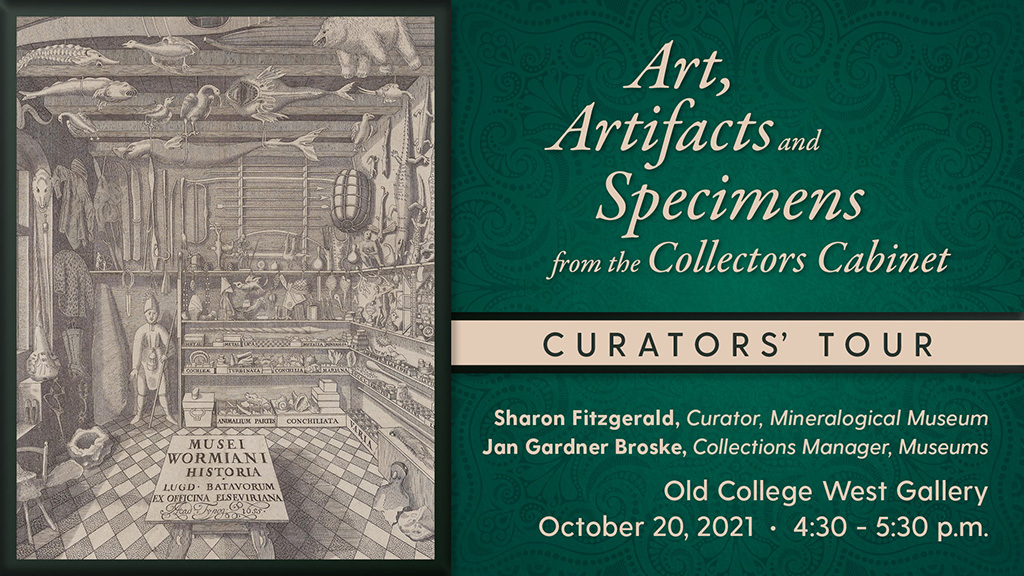 This event has ended.
University of Delaware Library, Museums and Press
About this Event
Join the curators of Art, Artifacts and Specimens from the Collectors Cabinet for a behind-the-scenes tour of the exhibition.
Curators Sharon Fitzgerald and Jan Gardner Broske will lead a small group of visitors through the exhibition. The tour will highlight an array of objects, ranging from a 19th-century sewing machine to meteorites and gemstones.
First organized during the Italian Renaissance, collectors cabinets began as rooms full of various works of art, natural history objects and antiquities. In the years to follow, cabinets became a popular way for collectors to display objects of interest; and collectors evolved into curators who would classify and interpret their wide-ranging collections. On this tour, you'll learn more about the history of collectors cabinets, and hear how the exhibition's curators reinterpreted the concept for a 21st-century audience.
This in-person event is free and open to the public. Registration is required.
This event is limited to 12 participants to ensure appropriate social distancing. If the event is full, you will be added to the waiting list. The tour is also offered on November 10.
Important Information for In-Person Events:
All event attendees must RSVP and will need to show ID upon arrival. In addition, all attendees will need to complete the UD Daily Health Check the day of the event, and show the green check display reflecting health clearance upon arrival. Regardless of vaccination status, everyone must wear face masks at all times while indoors.