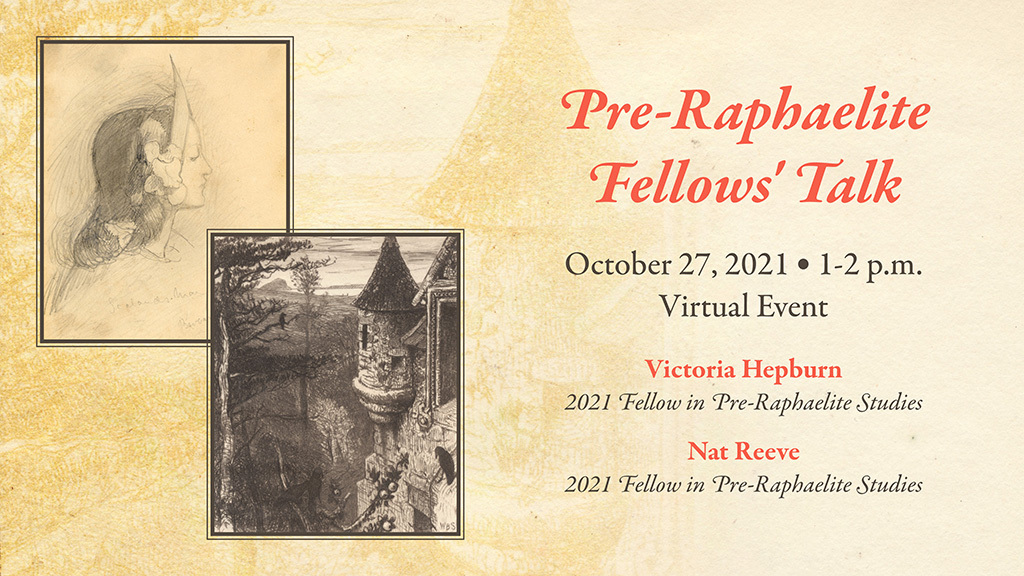 This event has ended.
University of Delaware Library, Museums and Press
About this Event
Join Victoria Hepburn and Nat Reeve, the recipients of the Amy P. Goldman Fellowship in Pre-Raphaelite Studies, for discussions around their recent research.
A "Living Scroll of Human Progress": William Bell Scott's "The King's Quair" Mural at Penkill Castle
"The King's Quair" by William Bell Scott corkscrews up the walls of the spiral staircase at Penkill Castle, the family seat of artist Alice Boyd. The monumental mural is a singular work in the catalogue of 19th-century British art.
Join Pre-Raphaelite Studies Fellow Victoria Hepburn to explore the project's profound personal significance for Scott. You will consider the project in relation to the artist's shifting conception of progress from when he completed the mural in 1868 to the end of his life in 1887, when he distributed a series of etchings based on his designs.
Victoria Hepburn is a doctoral candidate in the history of art at Yale University. Her doctoral research centers on the Scottish artist, poet and art educator William Bell Scott, and his visual engagement with ideas of progress. A specialist in 19th-century British art, Hepburn has contributed to the exhibition William Morris: Designing an Earthly Paradise at the Cleveland Museum of Art (2017), and was co-curator of the traveling exhibition Unto this Last: Two-Hundred Years of John Ruskin, which was on view at the Yale Center for British Art (2019) and the Watts Gallery (2020).
"Assuming in Her Costume the Character of a Flower": Queering Plants with Elizabeth Siddal and the Art-Sisters
Pre-Raphaelite Studies Fellow Nat Reeve works with queer theory and creative close reading to explore and illuminate the unruly landscapes, medieval objects and spectral beings in Elizabeth Siddal's art and poetry. Join Reeve to delve into the eerie landscape art of Siddal's contemporary Barbara Leigh Smith Bodichon.
Nat Reeve is a doctoral candidate at Royal Holloway, University of London. They are a novelist, whose debut novel, Nettleblack—a queer Neo-Victorian adventure following a runaway heiress and a chaotic group of detectives—will be published by Cipher Press in 2022. A sequel will follow in 2023. Nat also has forthcoming essays in the journal Word and Image and the Pre-Raphaelite Sisters edited collection about Elizabeth Siddal's queering of medieval iconography.
Registration is required. Once registered, you will receive an email with details on how to join the event via Zoom.