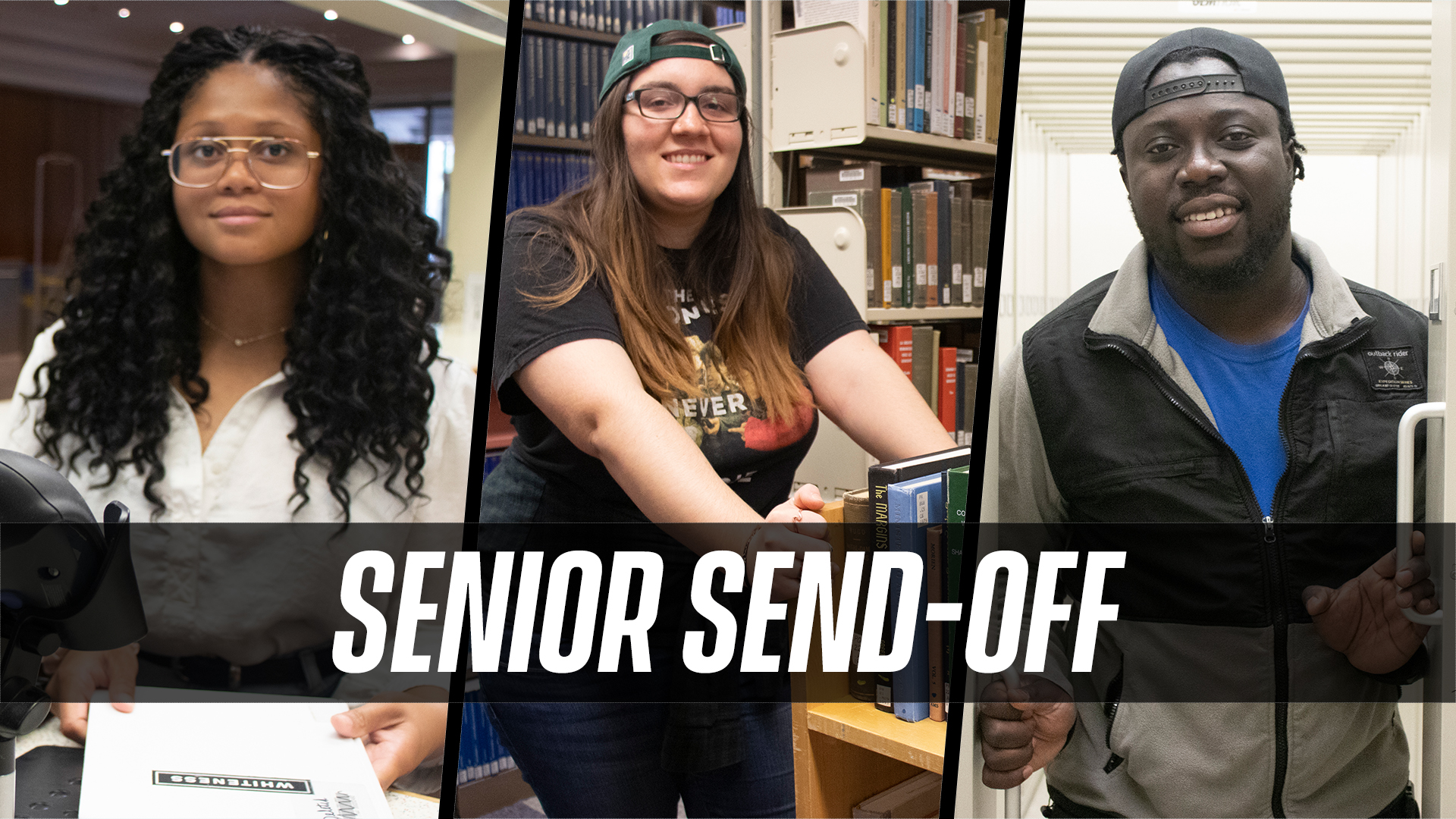 Senior Send-Off: A Shout Out to Our Student Assistants
Article by Allison Ebner | Photos by Sean Diffendall
Did you know there are more student assistants who work in the Library, Museums and Press than full-time employees?
Many have public-facing roles, interacting with Library users and Museums visitors every day, while others do behind-the-scenes work that helps to preserve and make resources available. All of them are Library advocates, championing the resources available to all of their friends and classmates.
Suffice to say, student assistants are essential to the Library, Museums and Press.
Each student brings a shared passion for learning along with their unique interests, talents and personalities. Inside the Library, they do tremendous work. Outside the Library, they do even more.
As another school year comes to an end, we highlight a small sample of the Library's superstar senior student assistants. Take a look at the exciting projects they are working on now and in the future.
Jeffrey Attakorah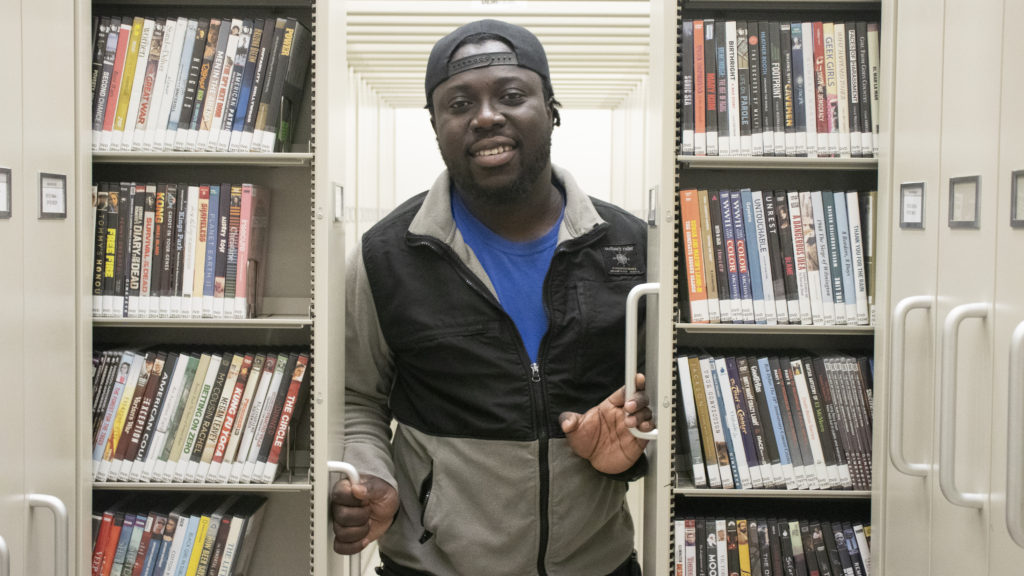 Talk to Jeffrey for five minutes and you'll be hard-pressed to believe he's shy. The Africana Studies major has worked in the Film and Video Collection since his freshman year when he came to campus as part of the UD Scholars program. Aside from working here and with Campus Admissions, Jeffrey devotes his remaining time to his band, the Blues Reincarnation Project, where he plays guitar and sings. Performing blues-influenced music akin to Led Zeppelin and Jimi Hendrix, the band frequently plays shows in the Delaware area and this summer looks to branch out to neighboring states.
His experience in class and working at the Library helped him learn skills that would be useful when recording the first album for the band. For his Intro to Sound Engineering class, Jeffrey often worked with the software in the Student Multimedia Design Center and the Sound Studio to record songs. When it came time to record his band, he was well versed in how to do so.
When he graduates later this year, Jeffrey plans to pursue a career in education or counseling, but for now he's looking forward to the summer, which is filling up with music festivals and gigs for the Blues Reincarnation Project.
Vivien Barnett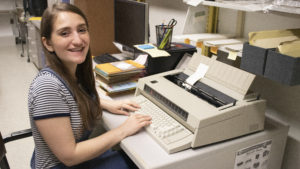 If you visit Winterthur's exhibition Costuming The Crown, you'll see some of Vivien Barnett's handiwork on display. In January, Vivien helped mount costumes for the exhibition as assistant conservation technician. This summer, she'll be at the Maryland Historical Society in Baltimore, mounting costumes and doing condition surveying. It's the perfect fit for someone who believes that everyone can connect with textiles and costumes.
From cleaning and repairing taxidermy ducks and toads to organizing curtains and spoons from Winterthur's collection, Vivien has had an array of experience in the conservation world already, including her time spent working in Special Collections. Still, her heart lies with textiles, which all began with her love for crocheting.
After she earns her bachelor's degree in art conservation and art history, with a minor in museum studies, this month, Vivien will return to UD for a final year of graduate work before earning her Master of Arts as part of the 4+1 Graduate Program in Art History for Museum Professionals
Heather Bianco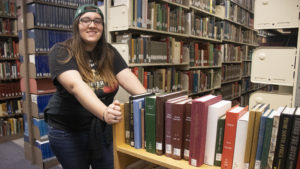 She won't brag about it, she might not even mention it, but Heather Bianco is fluent in French. She even dreams in it. So it should come as no surprise that when Heather graduates this month with a degree in exercise science, she'll also have a minor in French.
But her passion for exercise science is what will lead her to upstate New York's Clarkson University for graduate school in the fall. The two-and-a-half-year-long program will further her along the path to becoming an occupational therapist, where she will have the opportunity to help people stay independent after different surgeries and injuries. It's a field she's passionate and excited about. It will force her to be creative with how she treats patients, rather than the repetition of doing the same treatment on repeat.
At the Library, Heather works in Stacking, which keeps her moving throughout the building as she reshelves books. During the summers, Heather stays on the move with internships and career shadowing, and will continue to stay on the move in her graduate program, working in the field for her last two terms.
Benet Burton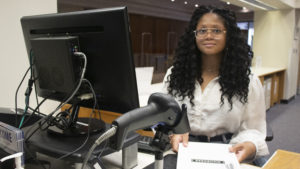 Graduating this month with a bachelor's degree in anthropology and minor in museum studies, Benet Burton has been hard at work on her thesis on how diverse bodies perceive diversity at University of Delaware. She's also working on a project that expands her thesis beyond UD to other universities. But she won't get much of a break after she defends her thesis—she recently received a prestigious position.
Benet was one of only eight students named as a Winterthur fellow this coming semester. As part of the 22-month Winterthur American Culture Program, Benet will work in a museum; learn how to analyze artifacts; be a tour guide; work with the collection; learn different material culture designs, formats and decorative culture practices; and go to Great Britain to learn more best practices. And that's just the first year. The second year will be dedicated to narrowing in on a thesis topic.
A hardworking, multitasker by nature, Benet has worked in Circulation and Reserve since her freshman year, and joined Stacking in her sophomore year.
Hannah Merachnik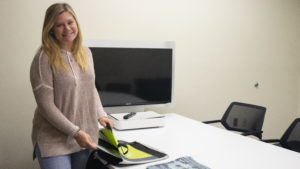 Hannah Merachnik will be the first to tell you she likes to stay busy. "There's nothing better than just having somewhere to be all the time," she said. And her actions back up her statement.
Not only has Hannah worked for the Reference Department since her sophomore year, but she is also a peer mentor for freshman. This means meeting with three classes of 30 students twice a year and during regular office hours. She's also the vice president of the Women in Business Club, which she and her friends grew from 40 members to 300, and the executive vice president of the National Society of Leadership and Success.
When she works the Reference Desk in the Library, she loves to interact with incoming freshman to share her story, talk them through the decision process and stay in touch in case they need anything. In her downtime, which she swears she has, she likes to read murder mysteries.
When she graduates this month, she will earn her bachelor's degree in marketing and management, with minors in medical humanities and professional selling and sales equipment. Remaining true to her desire to stay busy, a day after moving out, she will begin her full-time job as a sales account manager for a business management company.