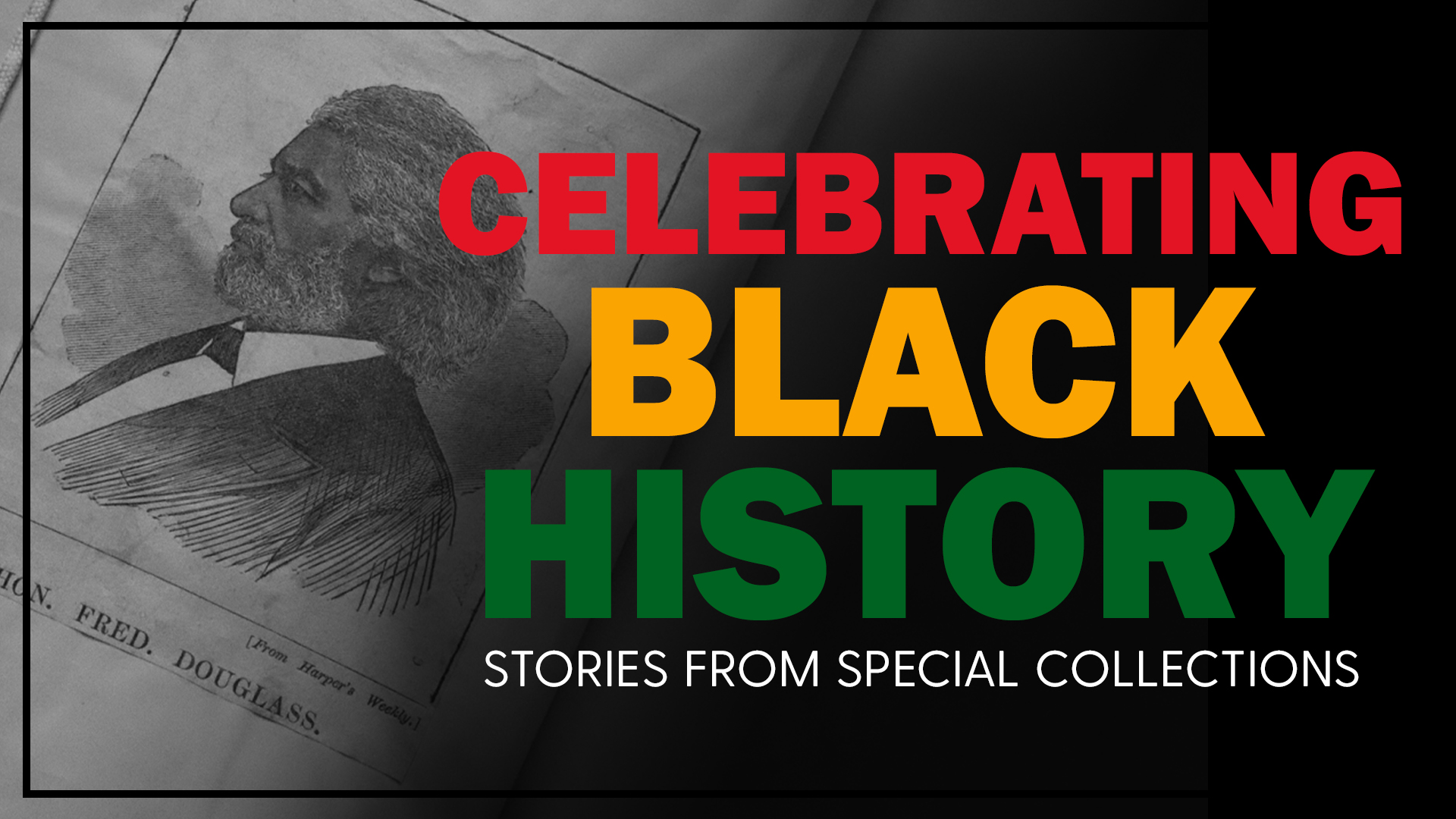 Celebrating Black History: Stories from Special Collections
Article by Allison Ebner | Photos and graphics by Sean Diffendall
Too often throughout American history, the stories of African Americans have gone untold or unrecognized.
Special Collections librarians work to ensure those stories are preserved.
Within Special Collections, you can find the most important documents on emancipation, including copies of the Emancipation Proclamation and the 13th Amendment. You can get up close with signed editions of quintessential African American literature, like Ralph Ellison's Invisible Man. You can even discover rare and historic photographs of African Americans through the Baltimore Collection and Civil War-era tintypes.
But those resources barely scratch the surface of the incredible history you'll find within the rare book and archival collections.
In honor of Black History Month, we've highlighted just a few of the remarkable stories and achievements of African Americans that are preserved and made accessible for researchers to further explore, acknowledge and celebrate.
Selected by Special Collections librarians Jesse Erickson, Curtis Small and Alex Johnston, these materials don't just share the personal stories of their subjects but provide insight on the greater story of African Americans throughout history.
Solomon Bayley
There are several slave narratives within the printed works of Special Collections. These autobiographical accounts, such as A Narrative of Some Remarkable Incidents in the Life of Soloman Bayley, Formerly a Slave in the State of Delaware, North America from 1825, are invaluable in learning the story of enslaved African Americans.
Through Soloman Bayley's book, readers and researchers discover the story of his enslavement and the fight for his family's eventual liberation. Bayley's enslaver violated state law, selling him and his family in Virginia. After suing his enslaver, Bayley was kidnapped and imprisoned. He escaped, eventually purchasing freedom for himself, his wife and his children.
But Bayley's narrative is not the end of his story.
He was an acquaintance of the Bringhurst family, who had great influence on life in 19th-century Wilmington and once owned Rockwood Mansion. In letters Bayley wrote to Joseph Bringhurst Jr., he discusses his time in Liberia, having emigrated there to escape the threat of re-enslavement and racial oppression.
These letters—accessible through the Shipley-Bringhurst-Hargraves Family Papers in Special Collections—reflect Bayley's life as a freedman in Liberia with his wife, including the difficulties he and other settlers faced as they sought to establish themselves in their new homeland.
Combined, these materials in Special Collections help provide insight into Bayley's lifelong story.
Alice Dunbar-Nelson
The Alice Dunbar-Nelson Papers are the most heavily used material in Special Collections. People come from across the country to research them. "Alice Dunbar-Nelson is an incredibly important historical figure," Erickson explained. "She was a writer, teacher, educator, poet, journalist, activist and suffragist."
In the early 1900s, she moved to Wilmington, Delaware, where she lived and taught for decades. While she had been active in social, political and cultural organizations throughout her life, she became extremely active in Delaware and regional politics, as well as the emerging civil rights and women's suffrage movements. In fact, in the Votes for Delaware Women exhibition on view through June 15, 2020, in the Special Collections Gallery, you'll find an entire case devoted to Dunbar-Nelson's suffrage work.
Through a mix of literary, professional and personal papers as well as letters, manuscripts of her writing, and portions of the daily diary she kept as an adult, the Papers provide incredible insight into Dunbar-Nelson's life.
Of particular note is her extensive correspondence to and from her first husband, Paul Laurence Dunbar, the most famous black poet of the 19th century. Dated between 1895 and 1904, the letters provide insight into their tumultuous and tragic relationship, which included a rocky four-year marriage and ultimate separation in 1902.
Special Collections also holds materials from Dunbar, including a copy of his book of poetry Lyrics of the Hearthside inscribed to Dunbar-Nelson. This item complements the correspondence in the Alice Dunbar-Nelson Papers and sheds continued light on their story.
In his inscription, he excerpts one of his poems, showing that the poem was dedicated to her. Dated 1899, this would have been during a time they lived apart during their marriage, meaning this inscription also doubled as an apology.
Materials from the Alice Dunbar-Nelson Papers will be on view in the first retrospective exhibition on Dunbar-Nelson, opening October 30 at The Rosenbach in Philadelphia. There will be accompanying programs, including a two-day symposium this fall on UD's Newark campus. The symposium will also celebrate "Alice Dunbar-Nelson: A Vision for Wilmington," a Whiting Foundation Fellowship project by Professor David Kim in the Department of English that focuses on Dunbar-Nelson's local legacy.
David Fox Nelson
Born into slavery, David Fox Nelson escaped in 1862 at the age of 12 by making his way to a group of approaching Union troops during the Civil War. After that, he held a number of jobs—a powder boy for the Navy, an office boy for one of the founders of The New York Times, an office messenger for the New York City postmaster, and a clerk in the New York Post Office. Along the way, he built relationships and friendships with many influential individuals.
Nelson has no published slave narrative. So how do we know his story? He preserved his own history through an incredible artifact: a series of five scrapbooks assembled between 1869 and 1890.
His scrapbooks are filled with newspaper clippings. Some of those clippings illuminate important topics for African Americans following the Civil War, such as congressional debates about protecting African Americans from discrimination and violence as well as African American living conditions in the United States.
Other clippings follow the achievements of his influential acquaintances, like friend and politician Roscoe Conkling, while still others highlight poetry and drawings. He even includes a clipping of an article profiling himself that details his escape from slavery and life in the city.
The scrapbooks include more personal touches as well. As one example, he includes personal and private letters from his powerful friends and acquaintances, such as the postmaster of New York City and the first African American to serve a full term in the U.S. Senate.
But perhaps the most personal scrapbook is the one he made for his future wife, Cassie E. Day, which reflects their love story. Its tone and style is different than the others—more akin to a scrapbook we would make today—complete with die-cuts and clippings that are clearly tailored to Day's interests.
John Stephens Durham
Pennsylvanian John Stephens Durham was an African American dignitary, serving as U.S. minister to Haiti in the 1890s. He was also an author.
While he was involved in some publishing ventures, he didn't publish much fiction. One fictional work he did publish was the novel Diane, Priestess of Haiti. The novel, however, has only been published in one format: within an issue of the monthly magazine Lippincotts, which Special Collections recently acquired.
Durham's complete novel takes up 80 pages of the 128-page magazine, the remainder filled with advertisements and a few short stories and articles. Not only is it unique that the complete novel was printed in a single issue—at the time, it was common practice to print pieces of a novel across multiple issues to increase subscriptions—but Lippincotts was a mainstream magazine. It wasn't just marketed toward the African American community; everyone read it.
Not only does this rare artifact provide a glimpse into the publishing of the time, but the content of the story is particularly notable and relevant to Durham's life and position given his role to Haiti. Through his novel, he provides insight on his thoughts and feelings about the country beyond his governmental role.
Madam C.J. Walker
Within the Saul E. Zalesch Ephemera Collection, you'll find materials such as catalogs, pamphlets, calendars and advertisements. Pieces like these were not designed to last and often ended up in the trash, but when preserved, can provide rare and unique glimpses into history.
One of those items is The Key to Beauty, Success, Happiness, a trade catalog for Madam C.J. Walker's beauty business from 1929.
"Madam C.J. Walker was a self-made woman and developed hair products for black hair that paved the way in the 20th century," Erickson explained of the revolutionary entrepreneur who created the products after she began to lose her hair.  "She's kind of the first Oprah figure."
But Walker was more than just an entrepreneur. She endlessly supported the black community. Walker provided African American women the opportunity of financial independence by training them to sell her products. She used her platform for activism, speaking out against issues of the day like lynching. She provided educational sponsorships for women and made generous donations to charities including the NAACP and the YMCA.
While the catalog in Special Collections was published 10 years after Walker's death, it goes to show Walker's lasting legacy. The primary intent of the catalog was to sell Walker products, but it went beyond a typical sales tool. It features snippets of black history alongside the products, simultaneously promoting the beauty products and African American culture.
—
There are thousands more stories to be told from the materials within Special Collections. To further explore our print and manuscript holdings, start with the African American studies research guide. From there, you can dive deeper into the resources listed with Finding Aids that include descriptive inventories of materials within the collection.
Want to view these materials for your own research? Stop by the Special Collections Reading Room in Morris Library, and staff will be there to assist you. In many cases, one item will lead to another. You'll be researching a book in the Reading Room, spot a name, and discover we have a letter from that person. Through this connection of primary source material, your research can tell a layered story that's waiting to be told.