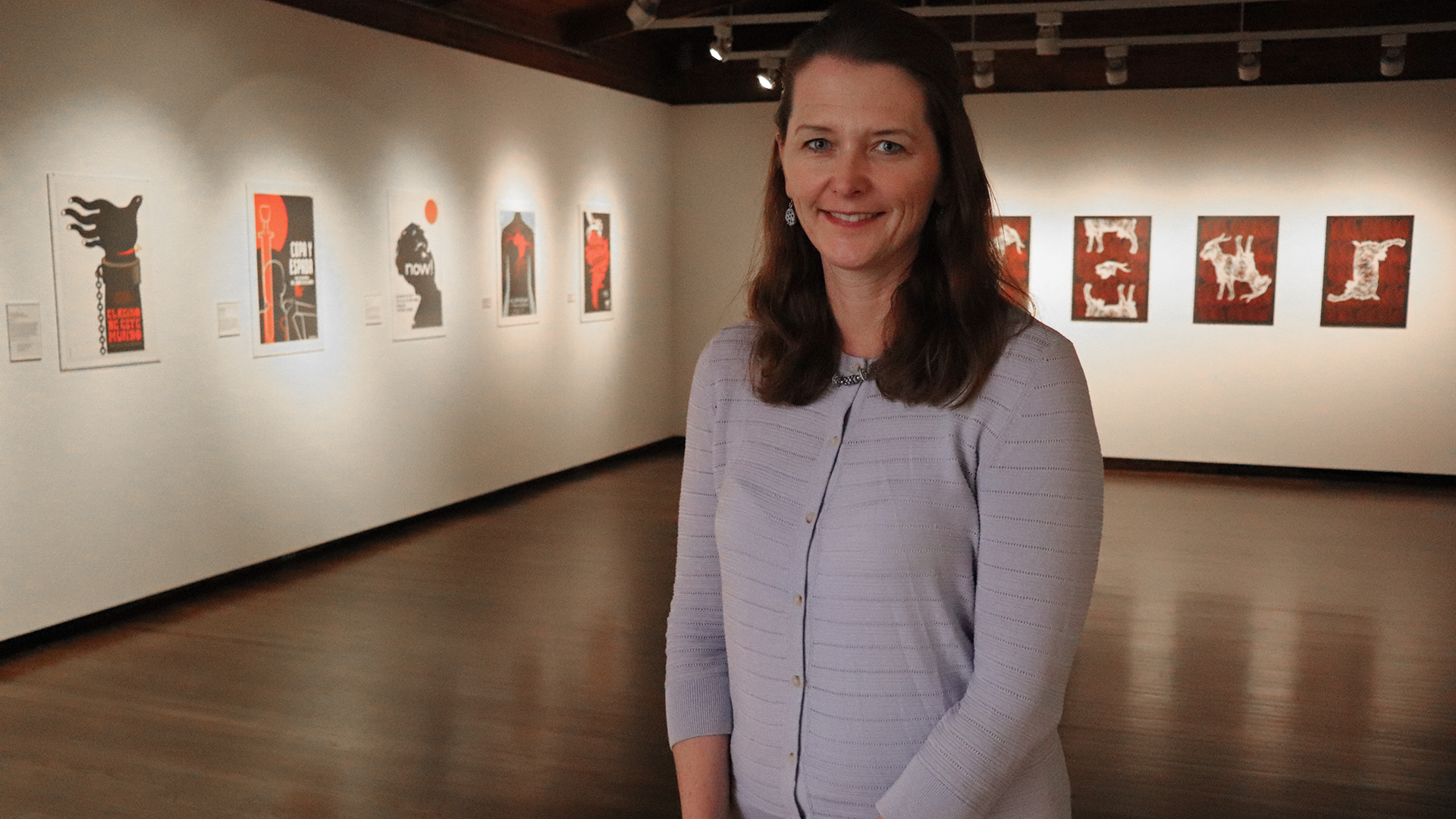 Tiarna Doherty and the Museums staff were essential in bringing the Contemporary Cuban Posters exhibition to life.
Fostering Connections: Doctoral Student Helps Visitors Engage with Art
Article by Allison Ebner | Photos by Sean Diffendall
When Tiarna Doherty quit her job as a professional art conservator to head back to school, it was a big deal.
After 18 years of restoring paintings at institutions like the Getty Museum and the Smithsonian American Art Museum, she wanted to expand her skillset. She sought the intellectual stimulation of a Ph.D. program, and enrolled in the Art History program at the University of Delaware.
To bolster her studies, she also applied to be the graduate research assistant for the Museums.
"It's great because I'm learning the skills of other professional disciplines within museums," Tiarna said, explaining how the position allows her to gain experience with other careers in museums. "Ideally, in the future, I will move into a position in senior management where I supervise other people, and now I'll have a better understanding of the work they do."
Alongside Museums staff, Tiarna has been hard at work in preparation for the recently opened exhibition in Mechanical Hall Gallery, Black with a Drop of Red: Contemporary Cuban Posters.
The exhibition communicates the vibrancy of contemporary Cuba's visual culture. It touches on many themes—iconic aspects of Cuban culture, diverse cultural practices, the nature of life in an "underdeveloped" country—with a large focus on posters created by Cuban artists for films from the United States, including familiar titles like Silence of the Lambs and Bonnie and Clyde.
While the posters on view were selected by Claudio Sotolongo, designer and professor in the Department of Art History at the University of Havana, Tiarna and the Museums staff are essential in bringing the exhibition to life and providing opportunities that engage visitors with the artwork in meaningful ways.
"Every exhibition is exciting because it offers opportunities to do research," Tiarna explained. "Learning about the history and culture of the artists in an exhibition is always exciting to me."
This particular exhibition has allowed her to delve into the Cuban Revolution of 1959. Ask her about the revolution's impact on artists, and she'll buzz with excitement about how the government set up an institute to promote film and supported artists in producing posters for the films. Ask her how the poster designs changed over time, and she'll walk you through Cuban history, explaining artists' limited access to inks following the revolution, which made for many black, white and red designs.
She takes her role in the museum seriously. She wants to ensure she can provide visitors with a solid introduction to the material and an opportunity to explore further on their own.
One way she has worked to do this is by writing labels for some of the posters on display, a task often done by curators and educators. The labels provide short and digestible pieces of information for visitors so they can connect with the art in their own way.
Cuban posters are very conceptual and artistic, so the label has to explain what the artist is trying to achieve while providing historical and cultural context. In the case of the film posters, the label also has to
summarize the salient parts of the movie so visitors who haven't seen it can still connect with the artwork. It's a tall order to synthesize so much information, but a challenge that Tiarna has enjoyed tackling.
She has read books, looked through exhibition catalogs with similar themes, and spoken with specialists and those who have experienced Cuban culture. She also watched the films she hadn't seen from the posters on display.
"It's been really nice to work on an exhibition in a University context with access to film and media," Tiarna said. When she needed to watch a Cuban film that would be harder to find in America, she went to the Film and Video Collection and it was available there. If she needed something that wasn't available in the Library's collections, librarians were able to acquire it for her through Interlibrary Loan. "Being at a University is so important for getting access to materials like these," she noted.
Being at a University also proved important for fostering connections.
Cuba's culture is so different from America's that it was essential to speak with those who could share their firsthand knowledge. She found many people on campus willing to share their experiences, including Colette Gaiter, a professor in the Department of Art and Design, who has led the study abroad program to Cuba several times.
Tiarna also connected with Karen Yarnall, an art teacher at Newark High School, after reading an article Yarnall wrote on how to teach poster design and engage students with foreign movies. Yarnall's insight inspired Tiarna to pitch the idea of hosting a poster-making contest as a way to encourage visitors and community members to fully immerse themselves in the artwork and themes of the exhibition.
The contest—one for UD students and another for local high school students, including Yarnall's classes—encourages participants to watch a foreign movie and create a poster that captures the movie through a single image, the same principle used by Cuban designers.
Tiarna, who has taken the lead on the contest, has never organized or judged an art competition before. She has been learning from community members like Yarnall and Gaiter as well as staff in the Museums to foster this unique opportunity to engage students with the material in a creative, hands-on way.
Her passion for fostering and learning about a visitor's personal interactions with art is evident. So it comes as no surprise that what excites her most about this exhibition is the opportunity to directly interact with visitors through tours.
In some cases, a tour is tailored to a class with a particular focus, be it history or literature of the time period. With that focus, Tiarna and the Museums staff consider how to talk about that particular angle of the artwork and how the artwork can support what the students are learning.
But the tours aren't just for students. Whether it's a faculty member, staff person, student or community member, she enjoys introducing everyone to the artwork and inspiring them to explore more on their own.
"Different people bring different experiences to looking at art, and they have different stories," Tiarna said. "It's always really satisfying to see someone respond to an image because maybe they loved that movie, or like the design, or it reminds them of an experience they had in their life."
While her exhibition prep work turns her into an in-house subject expert of sorts, tours enable her to continue her learning and discovery process throughout the exhibition.
Through her tours, Tiarna plays a crucial role in enabling the visitors to connect with the art. But they impact her too. Through the visitors and their stories, Tiarna is able to see and experience the art in new ways, just as the graduate research assistant position allows her to expand her experience and knowledge of working in museums.
Black with a Drop of Red: Contemporary Cuban Posters is on view through May 15, 2020, in the University of Delaware's Mechanical Hall Gallery. The exhibition is free and open to the public. Additional details regarding the poster competition and how to submit entries will be available soon.