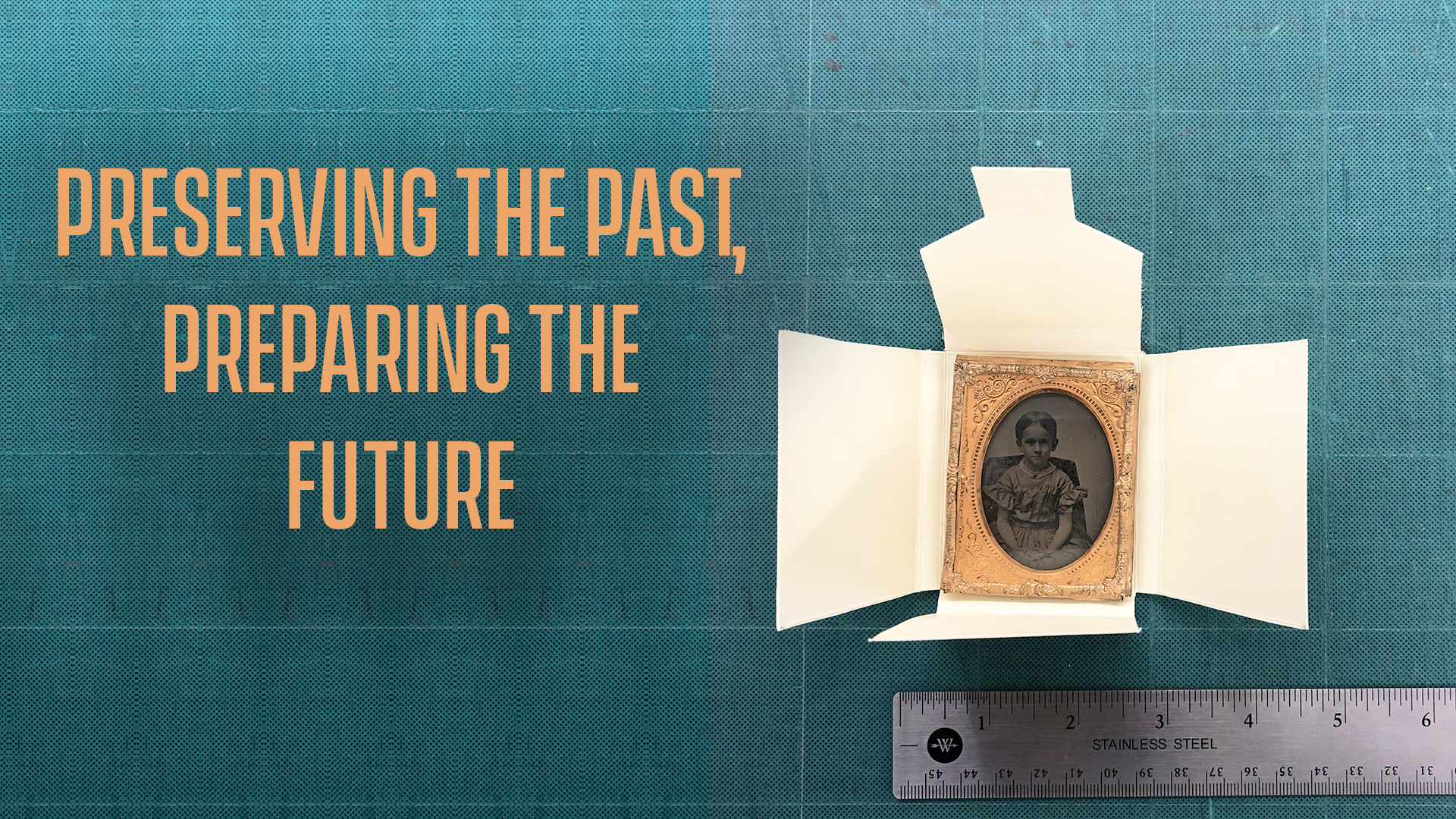 As a student assistant, Sara Leonowitz created custom binding for fragile photographs. The daguerreotypes she worked with ranged in size, with the smallest being just two inches, pictured here. "It was the cutest thing ever," Sara attested. "It was a lot of fun to work on that small scale, to perfect it that way. Mastering something on a small scale is a geeky yet endearing thing people in my field love to do."
Preserving the Past, Preparing the Future
By Allison Ebner
When Sara Leonowitz handled an 18th-century Quran in the Special Collections Reading Room, she was in awe of its beauty and history. "It was a happy day," she said, recalling her excitement for the research opportunity.
A recent University of Delaware graduate, Sara is well acquainted with the array of unique material available within the Library's Special Collections. In addition to using the materials in research and class projects, for the past two years, she has helped preserve and organize the manuscripts and archival collections as a student assistant.
"You don't even need an excuse to look at [the Special Collections materials]," Sara explained. "You don't need to be doing research. You can just look at them if you want to look at them. That's really special."
Her desire for others to access—and have access to—these resources is driven by her passion for preserving the rich culture and history of each book, photograph and physical item. In repairing, restoring and conserving these resources, she ensures current and future generations can engage with, learn from and be inspired by them.
Like many of our student assistants, Sara's work at the Library is indicative of her professional interests. Her journey toward a career as a conservator has included a number of hands-on, object-based experiences; and will include more in the next year before she attends graduate school.
Sara has interned in the Smithsonian National Museum of American History's paper conservation lab, where she repaired oversized World War I propaganda posters while learning about document preservation and exploring book conservation.
As an intern and volunteer researcher at Winterthur Museum, Garden and Library, she has conducted elemental analysis on books in its collection to determine if and to what extent the book cloths contained poisonous elements, like arsenic or chromium. With those analyses, Winterthur can create an online database for other institutions to compare with their own collections to ensure proper health and safety procedures are in place to protect their staff and patrons.
Presently, Sara is in Boston doing repairs on books from Franklin Delano Roosevelt's collection through an internship with the National Park Service. Due to the pandemic, she is in the labs part time, so when she's not working on full-book treatments, she is writing up reports, editing treatment photographs and continuing her work from home.
During her two years working with the Library's manuscripts and archival collections, Sara also gained practical experience and built on her education.
"When a collection arrives into our custody, steps need to be taken to preserve the arrangement of the materials as an aggregate while moving them into archival housing for long-term preservation," explained Dustin Frohlich, processing archivist and Sara's former Library supervisor. "Students like Sara, who are trained with an eye toward conservation, can move through 30 boxes of materials efficiently while flagging items in need of extra conservation and care."
In addition to the day-to-day responsibilities of pre-processing collections—think sorting, filing, rehousing and labeling materials—Sara has brought her expertise to a number of larger projects.
Using a sonic welder, Sara has encapsulated fragile and oversized materials, which involves placing these items in conservation-grade plastic casing. With this layer of protection, the objects are stabilized so students in classes can handle them, researchers can study them in the Special Collections Reading Room, and we can mount them in an exhibition with less danger of damaging the object in the process.
Sara also prepared materials for display in other ways. To slow the degradation of weathered political signs—many of which had grass stains and were caked in mud—she cleaned off the dirt, grime and rust, subsequently enabling their use in the upcoming exhibition Trail to the Voting Booth.
She has also created custom binding for a fragile collection of photographs—cased daguerreotypes, ambrotypes and tintypes that were sensitive to light and couldn't be held due to exposed or broken glass, broken hinges and other issues. After careful assessment, research and experimentation, Sara made custom, individual enclosures that have assisted in the storage, ease-of-use and long-term preservation of the photographs.
For the Library, Sara's work is key to our mission to provide access to diverse collections and information resources.
"Access is paramount, and these projects are fundamental to enhancing access to Special Collections resources," Dustin said.
Sara's background in art conservation is also key to these projects' success. Between her education and the hands-on experiences she has had with the Library and other cultural institutions, Sara has been able to develop and hone an approach to working with rare cultural objects and documents.
"There is a warranted fear of damaging or decontextualizing materials that must be overcome to do both archival and conservation work," Dustin explained. "Because Sara understands the properties and differences of, for instance, resilient handmade paper as opposed to fragile wood-pulp paper, she can move with confidence in approaching an item for treatment."
Working with our manuscripts and archival collections has not only bolstered Sara's aptitude for confidently and expertly working with large cultural heritage collections, it has also expanded the types and conditions of the materials she is familiar with.
"A lot of the work I have done in my conservation-based internships has focused more on intervening with an unstable object and working to arrest the damaging issues," Sara explained. "So, dealing with already-stable objects [at the Library] and trying to work out how best to keep them that way in the long run has been great."
As Sara moves forward on her path toward a career in conservation, she enters the next phase with a strong education and a bevy of hands-on learning opportunities through internships and work experiences. While we won't see her around Morris Library anymore, her work lives on, having helped preserve the many stories found within our Special Collections for future students and researchers to explore and discover.