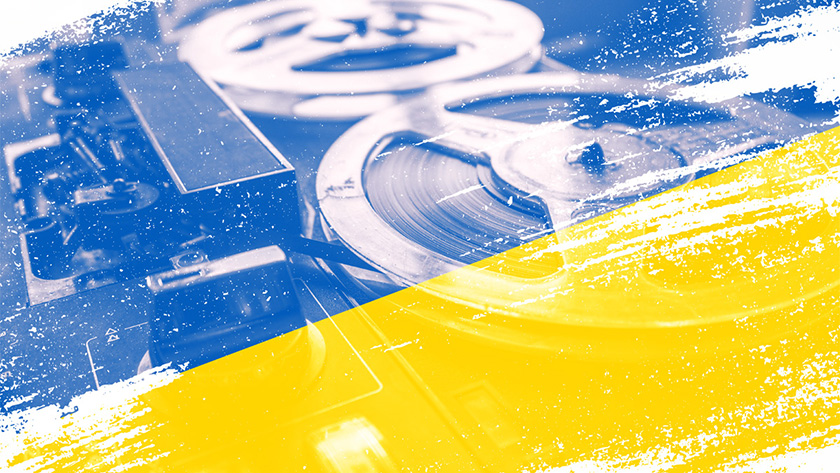 Ukraine in the Archives: Oral Histories of Ukrainian Immigrants
By Rebecca Johnson Melvin
In the early 20th century, 150 families lived in "Little Ukraine," an immigrant community in Wilmington that was anchored by two Ukrainian churches* and an active National Ukrainian Association on Heald Street in Southbridge.
Ten of the men and women who made the pre-World War I emigration from Ukraine to the United States and eventually settled in Wilmington are represented in the Delaware Oral History collection. The collection is a result of a 1970s project by UD's Department of History, directed by John Munroe and funded by Robert H. Richards Jr. The digitized audio recordings and transcripts of more than 300 interviews are available online in UDSpace.
The Ukrainian oral histories in the collection represent the voices of one of Wilmington's important immigrant groups at the turn of the 20th century, connecting us to Ukrainian history. These voices include:
Born in the late 1890s, these 10 individuals arrived in the United States before 1914 when war broke out in Europe, which made return to the "old country" difficult. Several planned to stay only a few years, gaining experience and money to take back home while they were young.
All but one of these interviewees were youth from family farms. There were typically six to ten children in their families, and from about the age of seven, all would work in the fields to plant and harvest potatoes and wheat, or herd cows and horses in pastures. Their schooling was seasonal. They averaged about six years of schooling, with often no more than three hours per day in order to finish morning chores.
Eva Markow said she came to America "to make a better living." Steven Synczyszyn said his "reason was very simple. We didn't have anything to live on. All we had was what we could grow on our land. We had no money for buying salt, no money or oil for the lamps. If a chicken laid an egg, we had to sell it. Life was very difficult. It's much easier here."
In addition to aunts, uncles, older siblings and village friends who sent letters home, agents actively recruited villagers to immigrate to Germany or the United States. These agents coordinated tickets and traveling companions, sometimes four or five from the same village, while relatives often paid for passage. Mary Macey said her cousin told her that life was good in New York. "You don't have to carry water there," she recalled, and that houses had electricity and gas.
Most of the Ukrainians interviewed in this oral history project came from small villages in Galicia on the border of Poland, near Przemsýl, which has recently been in the news for its train station that has served as a major refugee gateway from the Russian invasion. These individuals told stories of long train rides to port cities, such as Bremen or Hamburg, where they began ocean travel that lasted from six to 14 days before arriving in New York.
Goldie Kagel, a Jewish Ukrainian immigrant and the only interviewee who came after 1914, arrived in Montreal, Canada, before making her way to Wilmington via West Chester. She had departed from Constanta, Romania, where she had waited two years before a Jewish immigration society aided her family, who were escaping Russian pogroms.
Other interviewees mentioned political oppression and losing track of families back in the villages during the war, sometimes never learning where their relatives were. Mychailo Zaniczkowsky explained his decision not to go back to Ukraine after the war. "The Soviets were very hard on Ukrainians," he said. "I had brothers there, and they had no freedom. They have a hard life there."
Many of the immigrants learned the English language through night schools in Wilmington. When night school conflicted with her custodial shift in the duPont office buildings, Catherine Szotkiewicz joined five other women who had arranged for a daytime language tutor.
The individuals all worked, even when raising large families of their own in America. They worked for the railroad and in a felt factory (in Newburgh, New York). They would tan leather, roll cigars, clean the Hotel du Pont, do laundry, and take in boarders. Harry Kosowsky worked as a butcher before establishing his own store, which became a cornerstone of the community.
As more African Americans moved into the area in the late 1960s, "Little Ukraine" in Wilmington came to be called "Black Ukraine." Both of the Ukrainian churches relocated to other parts of the city, representing a population shift. There was a second wave of Ukrainian immigration after the Second World War, and another wave after the breakup of the Soviet Union in the 1990s.
The churches continue as cultural centers for the community, responding to the recent Russian invasion with acute knowledge of a long history of tension in the region.
* St. Nicholas Ukrainian Catholic Church, a Byzantine Catholic Church in spiritual communion with the Pope of Rome, was established in 1909. A schism in the 1920s led to the establishment of a second church, Saints Peter and Paul Ukrainian Orthodox Church, which held spiritual communion with the Ecumenical Patriarch of Constantinople, successor to the Apostle Andrew.