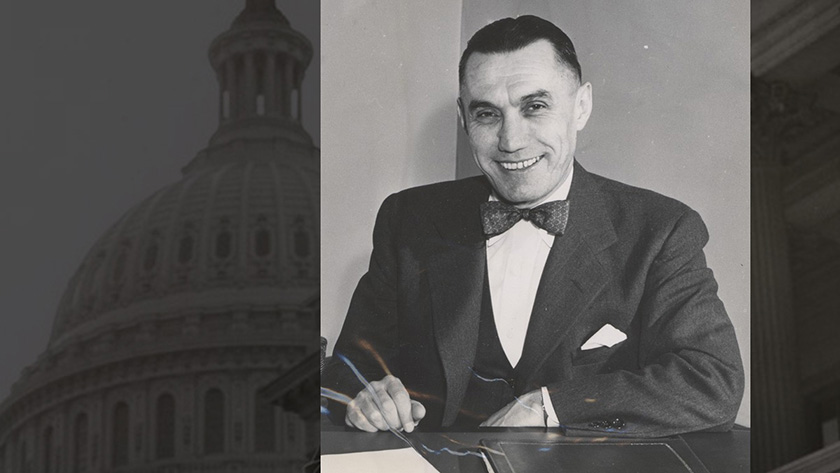 Publicity photo of J. Allen Frear and background photo of the U.S. Capitol from the Senator J. Allen Frear Jr. Papers in Special Collections.
The Week in Congress with Sen. J. Allen Frear
By David Cardillo, Digital Initiatives and Preservation Department
It's that time of year! During midterm elections, people across the country elect politicians to represent them and their state in the House of Representatives and the Senate.
The University of Delaware Library, Museums and Press serves as a repository for the legislative work of several senators sent by the people of the State of Delaware to the U.S. Senate, including Sen. J. Allen Frear.
Frear was a Democrat from Kent County who represented Delaware from 1949 to 1960. One thing that stands out about him was his use of media to reach his constituents. He had a weekly radio address, called "The Week in Congress," which aired on Delaware's WDOV. While nowadays Frear may have opted for a longer, more detailed format like a podcast, at the time he only had five to seven minutes for each address.
Today, these radio talks give a primary source view into life in 1950s America, showing the faults and all of a time that is often romanticized. As a member of the Senate Finance and Banking committees, Frear spoke on internal finances as well as foreign affairs, the war in Korea and, most often, thwarting Communist aggression.
He also discussed the chapter of American history-in-the-making when the 49th and 50th states were admitted to the U.S. In a 1958 radio address, Frear talks about Congress approving Alaska's statehood, and in another address from 1959, he walks through Congress' decision to approve Hawaii's statehood. Frear had been advocating for the admission of Hawaii into the Union since 1953, as demonstrated in this radio address from six years earlier.
Frear used his radio addresses to solicit feedback from his constituents on issues as well, asking them to call his office or write to him. He was often happy to have classes from Delaware schools visit his office while on a field trip to Washington, D.C. If his radio addresses were any indication, he was a personable and humanitarian person.
"The Week in Congress" radio address recordings are part of the Senator J. Allen Frear Jr. Papers in Special Collections. The full set of audio recordings and transcripts are publicly available online, as are the materials in the Senator J. Allen Frear Jr. Photograph Collection. In addition to the recordings, the papers consist of correspondence, memoranda, reports, legislation, speeches, clippings, photographs and more. The wealth of material in the Senator J. Allen Frear Jr. Papers, which covers from 1917 through 1963, is particularly relevant for researchers interested in the history, culture and politics of the mid-20th century at both state and national levels.