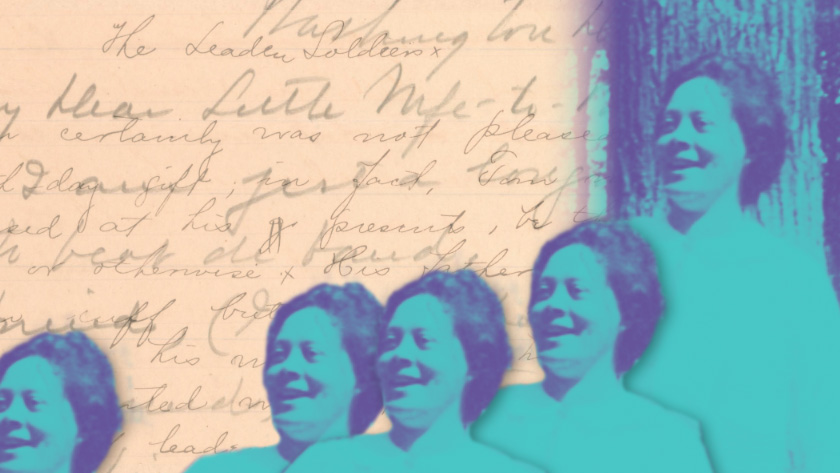 From, Alice: The Annals of African American Activist and Artist Alice Dunbar-Nelson
By David Cardillo, Digital Initiatives and Preservation Department
Alice Dunbar-Nelson – born Alice Ruth Moore in New Orleans, Louisiana, in 1875 – was an advocate for Black rights, women's rights and Black women throughout her lifetime. The daughter of a fisherman and a seamstress, Dunbar-Nelson was of mixed heritage and born into the Louisiana Creole community. She traveled up and down the East Coast for her education and occupations, eventually settling in Wilmington, Delaware, where she lived for almost 30 years.
Dunbar-Nelson wrote stories, novels and plays. She also was a journalist, which was a significant outlet for her activism.
The University of Delaware Special Collections serves as the primary repository for the papers of Alice Dunbar-Nelson. Due to the collection's popularity among researchers, the Library, Museums and Press has digitized the collection, making a majority of the materials publicly available and readily accessible.
Within the digitized collection materials, you will find unpublished and published works, including novels, short fiction, dramatic works, essays and nonfiction, poetry, articles, scrapbooks, manuscript notebooks and more.
You will also find an extensive collection of correspondence between Dunbar-Nelson and her first husband, noted African American poet Paul Lawrence Dunbar. The two wrote to one another consistently throughout their courtship and marriage. As seen in a letter from Dunbar to Dunbar-Nelson dated September 1897 (pictured at right), these notes often were part travel recap, future planning and love letter. (Apropos for February, yes?)
More than 700 items from the Alice Dunbar-Nelson Papers have been digitized and are now publicly available, including the approximately 380 items from the extensive collection of correspondence.
The Alice Dunbar-Nelson Papers are made freely and digitally available by the Library, Museums and Press in UD's institutional repository, UDSpace. By providing digital access to this important collection, the Library, Museums and Press hopes to contribute to the scholarship related to this important author and activist. Dunbar-Nelson's papers may be particularly useful for researchers interested in African American rights, women's rights, literature, Delaware history, and the late 19th and early 20th century.