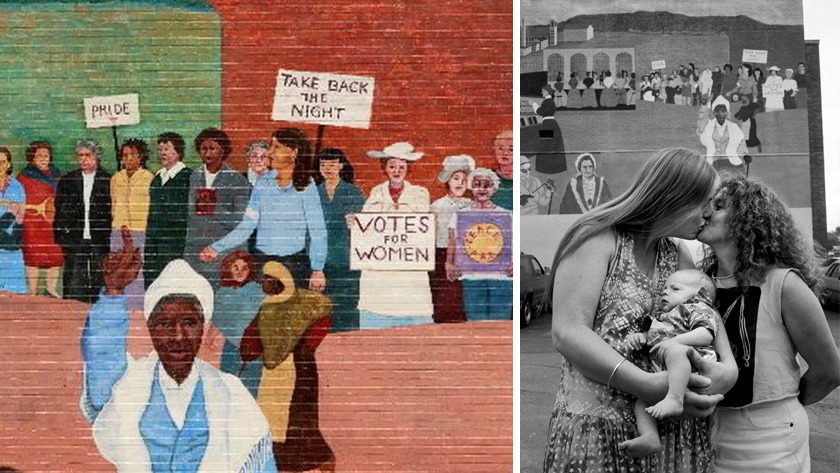 A View from the Vault: Immaculate Conception Northampton Photograph by Donna Ferrato
By Britney Henry, Special Collections Graduate Assistant
"A View from the Vault" showcases some of the unique, notable or rare items that are a part of the Special Collections and Museums holdings at the University of Delaware. Each month, we highlight a different work and share interesting facts or intriguing histories about it. If you are interested in seeing any of the materials featured in person or want to learn more about any work showcased in the series, please contact Special Collections and Museums at AskSpec or AskMuseums.
Donna Ferrato (American, b. 1949)
Immaculate Conception Northampton, 1994
Holy series
archival pigment print
Museums Collections, Gift of Erica F. Baker, Class of '96
Immaculate Conception Northampton is a photograph by internationally acclaimed photojournalist Donna Ferrato. Here, Ferrato photographs Ketta McGraw and Jaye Pope in Massachusetts in 1994, kissing while holding their first child. The Hestia Mural is behind them. The mural was completed in 1980 by five artists—Lisa Bond, Mariah Fee, Susan Pontious, Rochelle Shicoff and Wednesday Sorokin— who were part of the Hestia Art Collective. The mural illustrates the history of women in Northampton from 1600-1980.
Both the mural and photograph are significant in considering the importance of queer history and women's history to Northampton. The town in central Massachusetts has long had a strong and proud LGBTQ+ community and a culture centered around women's intellectual life. It is home to Smith College and is near Mount Holyoke College, two women's colleges with their own significant places in women's history.
Thumbnail-sized images of copyrighted works are displayed under fair use. As a service to the public and the scholarly community, the Museums may make larger images of copyrighted works available in the online collection catalog. If you wish to use such images for commercial purposes, you must seek permission from the copyright holder.