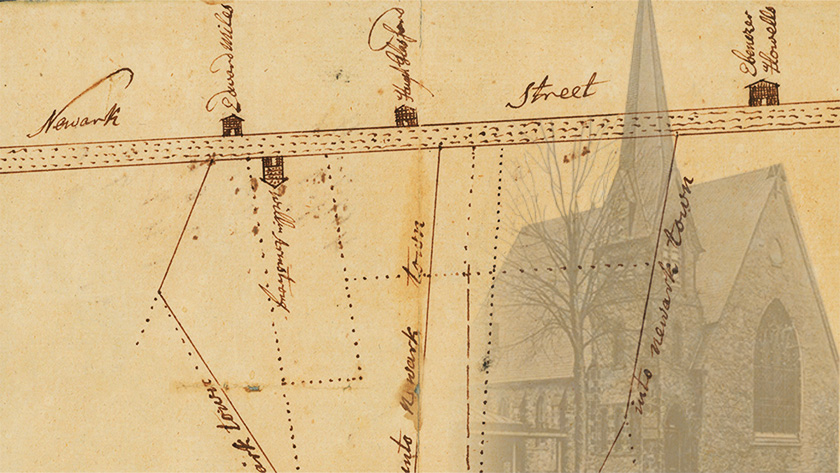 A photograph of First Presbyterian Church, which still stands as part of the University of Delaware's Trabant Student Center. The photo is overlaid with a hand-drawn map of New Ark at the crossroad of Lenni Lenape trails.
Celebrating Newark's Founding and Development
By David Cardillo, Digital Initiatives and Preservation Department
Newark officially became a recognized city on April 13, 1758 – then known as "New Ark" – when it was chartered by King George II. Originally located at a crossroads of two Lenni-Lenape trails, New Ark was a village of farms, mills, churches and other industries that expanded over several years. It primarily consisted of English, Welsh and Scottish immigrants.
New Ark's fairly rapid expansion was due partially to the relocation of the New London Academy from New London, Pennsylvania, to Newark. The school was founded in 1741 by Francis Alison, who eventually took a position with the Presbyterian Church in Philadelphia and turned the school over to Andrew McDowell. It was McDowell who moved the Academy to Newark in 1761, located on what is now Academy Street.
The school eventually was named Newark Academy and then Delaware College, which became the University of Delaware in 1921, and merged with the Women's College in 1945. As the University of Delaware has expanded, its impact on the city of Newark has been significant.
At the University of Delaware Library, Museums and Press, we have digitized many collections that reflect the connection between the city of Newark and the University of Delaware. Several of our digital collections focus on specific groups or people who lived, worked and otherwise contributed to the growth and development of the city of Newark.
From personal journals to economic records to civic meeting notes, the following collections in UDSpace showcase local primary source material:
We also have oral histories from people who lived and worked in Newark at various points in time that give a firsthand account of what life was like. These collections have been made publicly available in Artstor with accompanying transcripts available separately in UDSpace:
Historical images related to Newark can also be found in Artstor through both the Historic Map Collection and the Postcard Collection.
With the recent financial support of the Friends of the University of Delaware Library, the Library, Museums and Press remains committed to digitizing additional material that focuses on Newark and the University of Delaware.
The collections highlighted above are available within Special Collections, and many items from each are publicly available via Artstor and UDSpace. Those with research interests related to local history, culture and politics; African American studies; and Delawareana may find these resources especially useful.
For a concise account of Newark's found and history, check out Newark by Theresa Hessey, which ties together many of the themes and events found within the materials in our collection.