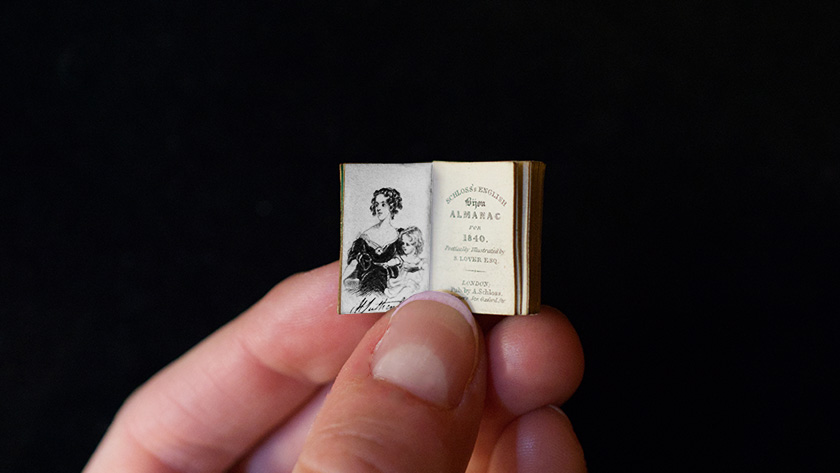 Each issue of Schloss's English Bijou Almanac, including this one from 1840, measures just 3/4 x 9/16 of an inch.
A View from the Vault: Schloss's English Bijou Almanac for 1840
By Petra Clark, Special Collections
"A View from the Vault" showcases some of the unique, notable or rare items that are a part of the Special Collections and Museums holdings at the University of Delaware. Each month, we highlight a different work and share interesting facts or intriguing histories about it. If you are interested in seeing any of the materials featured in person or want to learn more about any work showcased in the series, please contact Special Collections and Museums at AskSpec or AskMuseums.
Schloss's English Bijou Almanac for 1840
Poetically illustrated by Samuel Lover
Marnie Flook Miniature Book Collection – AY754. S3 1840
This charming curiosity is the 1840 volume of Schloss's English Bijou Almanac, which was published annually from 1836 – 1843 by London bookseller Alfred Schloss. The Bijou Almanac's tiny size and dainty embellishments live up to the name bijou, or jewel, making it a highly prized collector's item then and now. This copy was issued in gilt-stamped covers with a matching slipcase and a miniature magnifying glass, all housed in a velvet-lined leather box.
Inside are six engraved portraits of contemporary celebrities, "poetically illustrated" with verses praising the portraits' subjects. For the first four years of publication, the popular English poet L. E. L. (Letitia Elizabeth Landon) lent literary credibility to the Bijou Almanac by writing the poems that accompanied the portraits. Irish writer Samuel Lover took over composing these verses for the 1840 volume following Landon's sudden death on October 15, 1838.
The section of portraits is followed by more standard almanac components, including a calendar with important dates and a list of the current royal heads of Europe. All portraits and text were delicately engraved on steel by Benjamin Rees Davies.
This book is part of the Marnie Flook Miniature Book Collection, which consists of more than 2,000 mini books from approximately 1780 – 2006. In addition to the Bijou Almanac for 1840, the Flook collection also holds volumes of the almanac for 1837, 1839 and 1841, presenting a fascinating point of comparison for those interested in 19th-century publishing, Romantic and early Victorian literary culture, and miniature books.