Special Collections librarians welcome opportunities to collaborate with faculty and promote the use of our primary sources. Requests for instruction or faculty recommendations for new acquisitions can be sent to Special Collections: https://library.udel.edu/special/contact-us/askspec/
Collections Committee
Special Collections and Museums
April 2022
Artists' Books
African American History
History
Literature
Politics and Public Policy
Women and Gender Studies
Artists' Books
Enos, James. Disney's Tarzan / Disney's Tarzan and Jane. Booklyn Artists Alliance (distributor), 2020.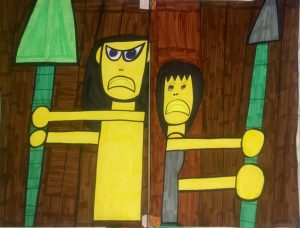 A re-imagining of the Tarzan story via James Enos's appropriation of the abysmal, feature-length Disney animated film. From James' unique perspective and practice the book offers a new twist on an admittedly very problematic part of racist American popular culture. The enigmatic treatment that James Enos gives the story further challenges that perhaps inescapable paradigm.
 James Enos creates epic, monumental, one-of-a-kind art books that often take place in his self-constructed world he calls the "Kid Stuff Universe." Each book features a linear story, complete with fold-out pages with hand-drawn illustrations that can extend to 12 feet. His books are mash-ups that form a body of artwork inspired by James' life experiences and the pop culture of the late 80s and early 90s.
Mitchell, Sauda. Finding Aid. Brooklyn Artists Alliance (distributor), 2021

"In 2016 I was sifting through hundreds of archival collection materials from the W.W. Law Collection, a collection dedicated to prominent Civil Rights leader Westley Wallace Law (1923–2002). I began to contemplate the challenges that patrons often encounter when conducting archival research for the first time. Finding Aid is my creative response to sharing stories and connections pertaining to local Civil Rights activists in Savannah utilizing QR code technology and digitized primary sources." – Sauda Mitchell
The book is constructed with wood, cotton fabric, and metal elements.
African American History
Dickenson, Anna, and Arthur Dickenson. Herbarium: analyses made and specimens mounted by Anna Dickenson and Arthur Dickenson. Xenia, Ohio: B. Chew & Son, 1911.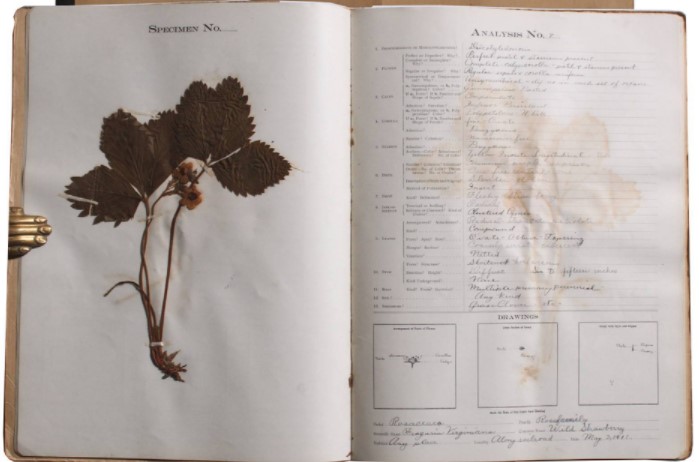 These two volumes are commercially-produced herbarium books completed by the Dickenson siblings, who were African-American students at Xenia High School in Ohio in 1911.  For their science studies, the students collected botanical specimens and mounted them on blank pages facing printed forms, which they completed with analytical descriptions for each plant. Most of the samples gathered by each sibling were the same, allowing for comparison of their work. The descriptions also note the location of acquisition, allowing scholars to retrace the paths taken by Arthur and Anna. When cast in the light and timeline of George Washington Carver's career, the books are especially interesting: in 1894, Carver became the first African American to earn a Bachelor of Science after studying botany at Iowa State Agricultural College and these books show the Dickenson siblings' immersion into botany less than 20 years later.
A Verbatim Transcript of A Forum: The Black Revolution and the White Backlash. New York: The Association of Artists for Freedom, 1964.  
This forum featured Lorraine Hansberry, LeRoi Jones [Amiri Baraka], Ossie Davis, Davis Susskind, Ruby Dee, John Killens, Paule Marshall, Charles E. Silberman, and James Weschsler.
History – General
Dustan, Charlotte A. R. Scrapbook of an American Red Cross Commission stenographer, 1915-1926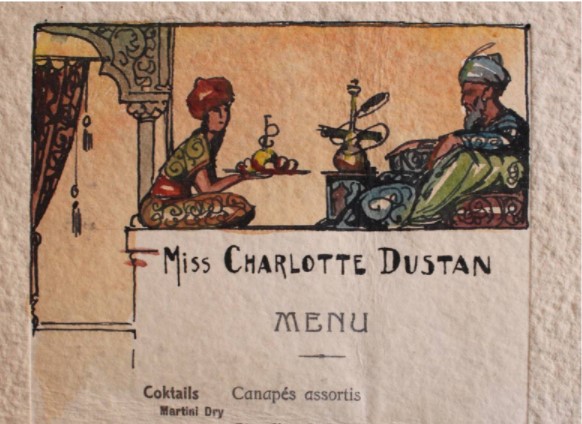 This colorful, wide-ranging and multilingual scrapbook documents the experience of an American woman working to aid refugees in Europe during and after World War I. Charlotte A.R. Dustan (born 1888 in Boston) worked as a stenographer for the American Red Cross (ARC), stationed in at least 16 different countries in Europe beginning in France in July 1918. She documented every aspect of her work and social experience as she collected over 475 newsletters, items of correspondence, menus, news clippings, event programs, trade cards and other ephemera while she worked in France, Poland, the Czechoslovak Republic, Germany, Georgia, Greece, Armenia, Italy, England, Belgium, Holland, Austria, Romania, Turkey, and Russia. Travel documents show that Dustan traveled in the war zone in Poland and excerpts of refugee requests describe desperate situations.
Great Central Fair in aid of the U.S. Sanitary Commission. To be held in Philadelphia, June, 1864. Circular of the William Penn Parlor Committee. Philadelphia: 1864, with A Ground Plan of the Great Central Sanitary Gair, Logan Square, Philadelphia, 1864.
The William Penn Parlor Committee was "organized for the purpose of furnishing a room as nearly as possible after the style of the days of William Penn, for exhibition at the Great Fair." This broadsheet features an engraving of William Penn, and a list of 29 men and a "Committee of Women" (15 names), all from Philadelphia and environs, who sponsored the exhibition. The chair of the women's committee was Miss Ellen Price; Miss Elizabeth Pennock was secretary; and Miss Elizabeth S. Garrett was treasurer. The ground plan of the Fair has number codes corresponding to the various exhibits. The Great Central Sanitary Fair raised funds for the relief of Union soldiers and was also the event at which Library's copy of the Emancipation Proclamation signed by President Lincoln was sold.
Wilkinson, Thomas P. Civil War diary, August 1862-August 1864.
Wilkinson, of Newark, Delaware, was a soldier in the 114th Pennsylvania Volunteer Infantry Regiment, a Union Army regiment also known as the "Zouaves d'Afrique," which served under Colonel Charles H. T. Collins, recognized by their colorful Americanized version of the uniform worn by certain French light infantry units during their colonization of North Africa. Private Wilkinson carried this diary with him during many important Civil War battles, including the Battle of Balls Bluff, the Battle of Chancellorsville, the Battle of Gettysburg, the Battle of Buckland Races, the Battle of Mine Run, the Battle of Spotsylvania Courthouse, and the Battle of the Crater.
Inghirami, Curzio. Ethruscarum antiquitatum fragmenta. Frankfurt [i.e. Florence], [Giovanni Battista Landini], 1637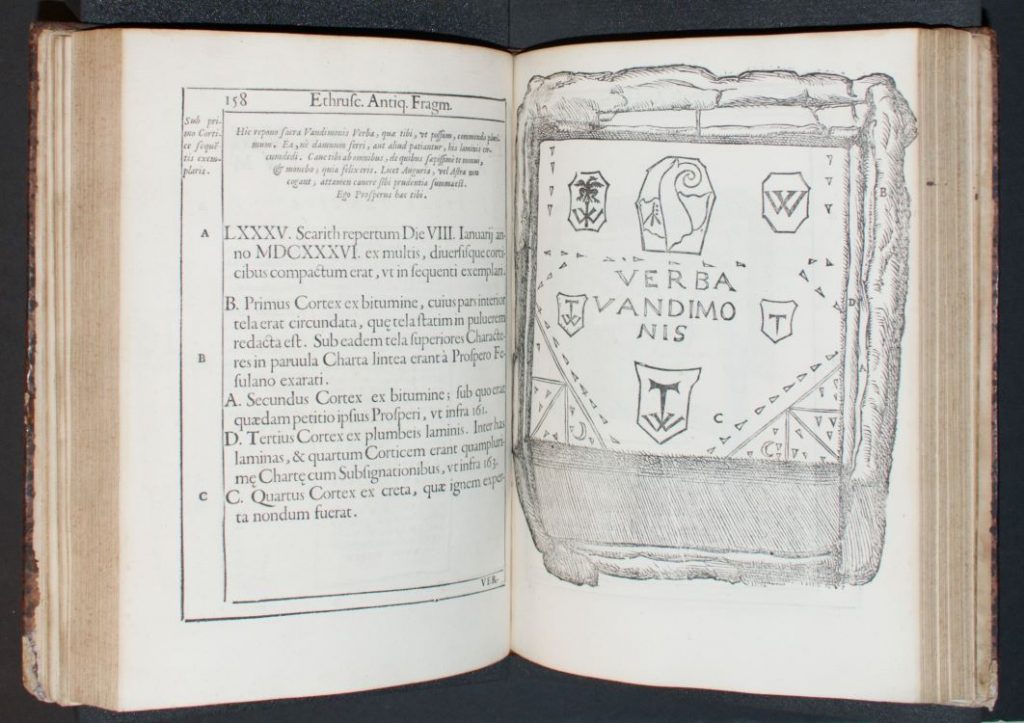 First and only edition of Curzio Inghirami's Ethruscarum antiquitatum fragmenta, including all the original folding plates. The book presents a series of Etruscan artifacts that Inghirami allegedly discovered near his family's villa at Scornello, in the countryside south of Volterra. In reality, all of the artifacts had been forged by Inghirami as part of an elaborate hoax.
Literature
Barker, George. George Barker papers, 1948-1991
George Granville Barker (1913-1991) was a British Catholic author and poet, declared by T.S. Eliot a genius. Barker was an associate of American expatriate Emily Holmes Coleman, whose extensive papers at UD include 30 years of correspondence with Barker as well as manuscripts of his work. This small collection of letters, manuscripts, and photographs reflects literary and social activities.
Brenner, Summer. Additions to the Summer Brenner papers, 2006-2019
Summer Brenner is an American writer and poet. These additions to her papers include drafts of her crime novel I-5, her young adult novels Richmond Tales: Lost Secrets of the Iron Triangle and Oakland Tales: Lost Secrets of the Town, and her short story collection My Life in Clothes, among other works. The papers also contain records of her work with homeless and at-risk youth in the San Francisco Bay Area. With these additions, Special Collections now holds papers spanning Brenner's life and career from the 1960s through 2019. 
Dove, Rita. On the Bus with Rosa Parks: Poems. New York: Norton, 1999.  
How she sat there,
the time right inside a place
so wrong it was ready.
First edition in dust wrapper.
Williams, Tennessee. A Streetcar Named Desire [typescript]. 
A working copy of the script for the 1995 production of A Streetcar Named Desire directed by Glenn Jordan that aired on national television. This singular copy, which contains rewrite pages, is signed by the entire cast and gifted to Jordan. Among the signers are Jessica Lange, who played Blanche DuBois, Alec Baldwin who played Stanley Kowalski, John Goodman as Mitch, and Diane Lane as Stella.
Politics and Public Policy
Evans, Thomas B. Congressman Thomas B. Evans, Jr., papers, 1968-1982
Congressman Tom Evans represented Delaware in the U.S. House of Representatives for three terms (1977-1983). This collection documents the Congressman's work in Congress, as well as his work with the Republican National Committee and his advocacy work, particularly in environmental issues, after his time in Congress. With the addition of the Evans' papers, we now have a record of forty years of Delawareans in the U.S. House of Representatives (1977-2017). 
Women and Gender Studies
University of Delaware Department of Women and Gender Studies poster collection, 1973-1987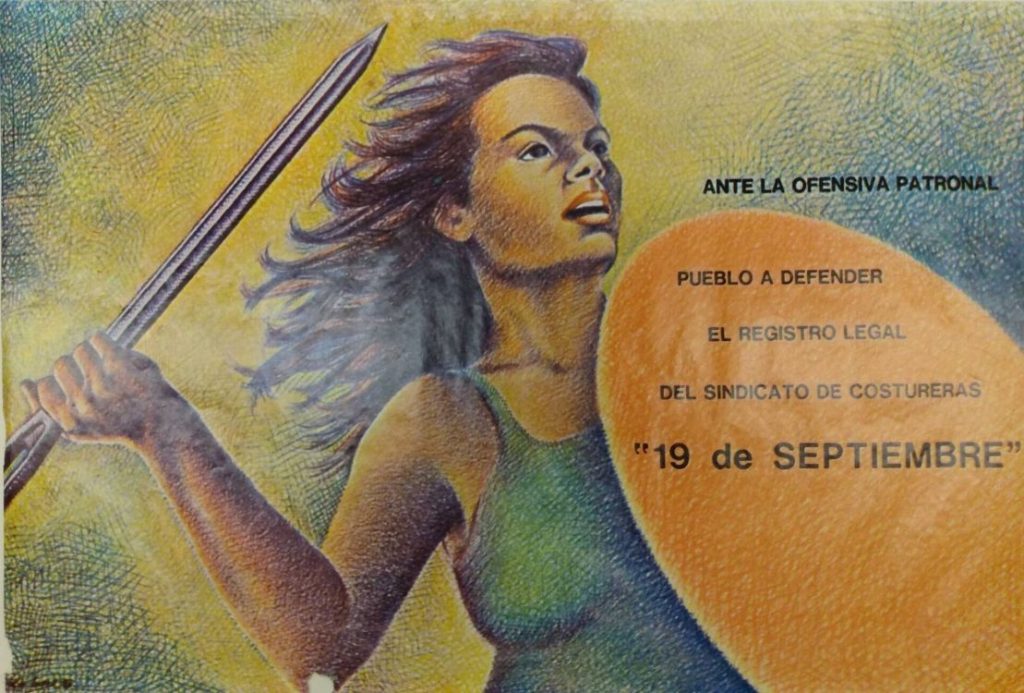 A variety of posters presumably collected by faculty members during the 1970s and 1980s. The small collection is international in scope and reflects the relationship between women's issues and broader sociopolitical movements such as nuclear disarmament and unionization.
"Miss Northam." Herbarium and scrapbook, 1859 – 1872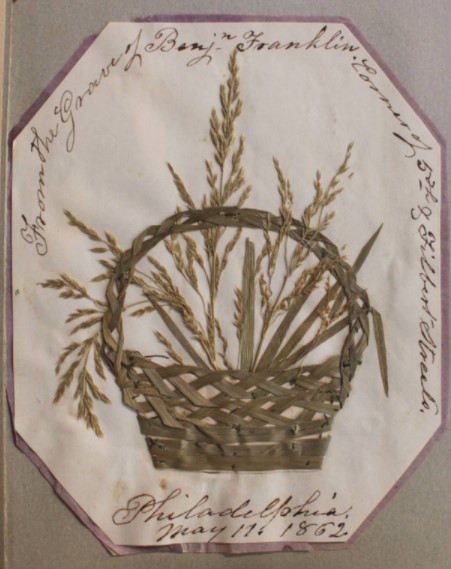 Apparently compiled by an American woman, this volume of plant specimens, notes, and decorative stationery from various locations is also an unusual sort of friendship album. The scrapbook includes 72 plant samples, 60 pieces of ephemera, eleven photographs and a peacock feather, all decoratively mounted on 108 pages, collected from dozens of cities in twelve states, two Canadian provinces, Italy, and Switzerland. The plant and flower specimens are sometimes collaged creatively, and the stationery letterheads are trimmed to feature architectural showcases such as grand hotels or prominent city buildings, altogether yielding an aesthetically fascinating work. One display includes at least eight different plants, all from Italy, including two different flowers from the grave of Elizabeth Barrett Browning. Another entry is a presentation of flowers from the grave of Benjamin Franklin with a "basket" made of straw to hold the plant sample. With dates and locations, this herbarium is illustrated by the beautifully printed views of the areas where the specimens were collected.