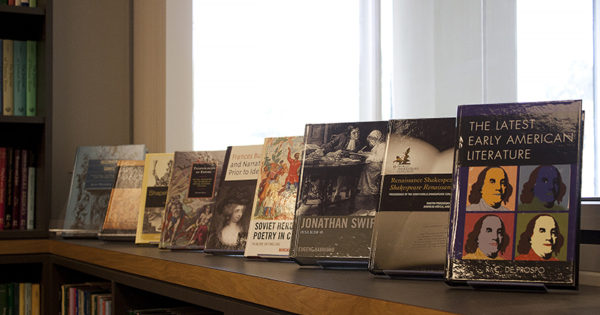 Books on display in the UD Press office.
UD Press partners with University of Virginia Press
Partnership will allow for new growth opportunities
The University of Delaware Press has formed a new partnership with the University of Virginia Press, effective July 1, 2018. With this partnership, UD Press will retain its independent editorial office and board of directors, which consists of UD faculty; and will remain part of the UD Library, Museums and Press, with its administrative home in Morris Library. UVA Press will provide manuscript editorial, design and production services, bringing about new sales, marketing and digital publishing opportunities for UD Press.
"The UD Press is excited to enter into this partnership with UVA Press, a well-respected publisher in fields that complement our own list," UD Press Director Julia Oestreich said. "Our presses share a commitment to publishing rigorous, innovative scholarship, while understanding the positive impact university presses make on their campuses and in the scholarly ecosystem as a whole. This partnership will allow both presses to increase their own such impact, and will provide Delaware with new … opportunities, including access to UVA's groundbreaking Rotunda platform [for digital scholarship]."
Mark H. Saunders, director of UVA Press, shares this excitement for the opportunities that will result from this partnership.
"For many years, university presses have banded together to achieve the advantages of scale in fulfillment and other services while maintaining the quality and integrity of their individual editorial programs," Saunders said. "The current publishing landscape provides exciting opportunities to extend this tradition to include digital publication tools and platforms. Partnering with UD Press exemplifies the enduring spirit of mission-driven scholarly publishing characterized by quality content, technical innovation and sound business practice."
With more than 90 years of history, UD Press specializes in publishing scholarship from the arts and humanities, particularly in the fields of literary studies, art history, material culture, and early modern and 18th-century studies. These specialty areas complement the scholarship of UVA Press, which focuses on the humanities and social sciences, especially American history, African American studies, southern studies, literature, architectural and environmental history, and regional books. As part of the partnership, all UD Press titles will be marketed and sold alongside UVA Press titles, with a UD section highlighted in the UVA Press seasonal catalog.