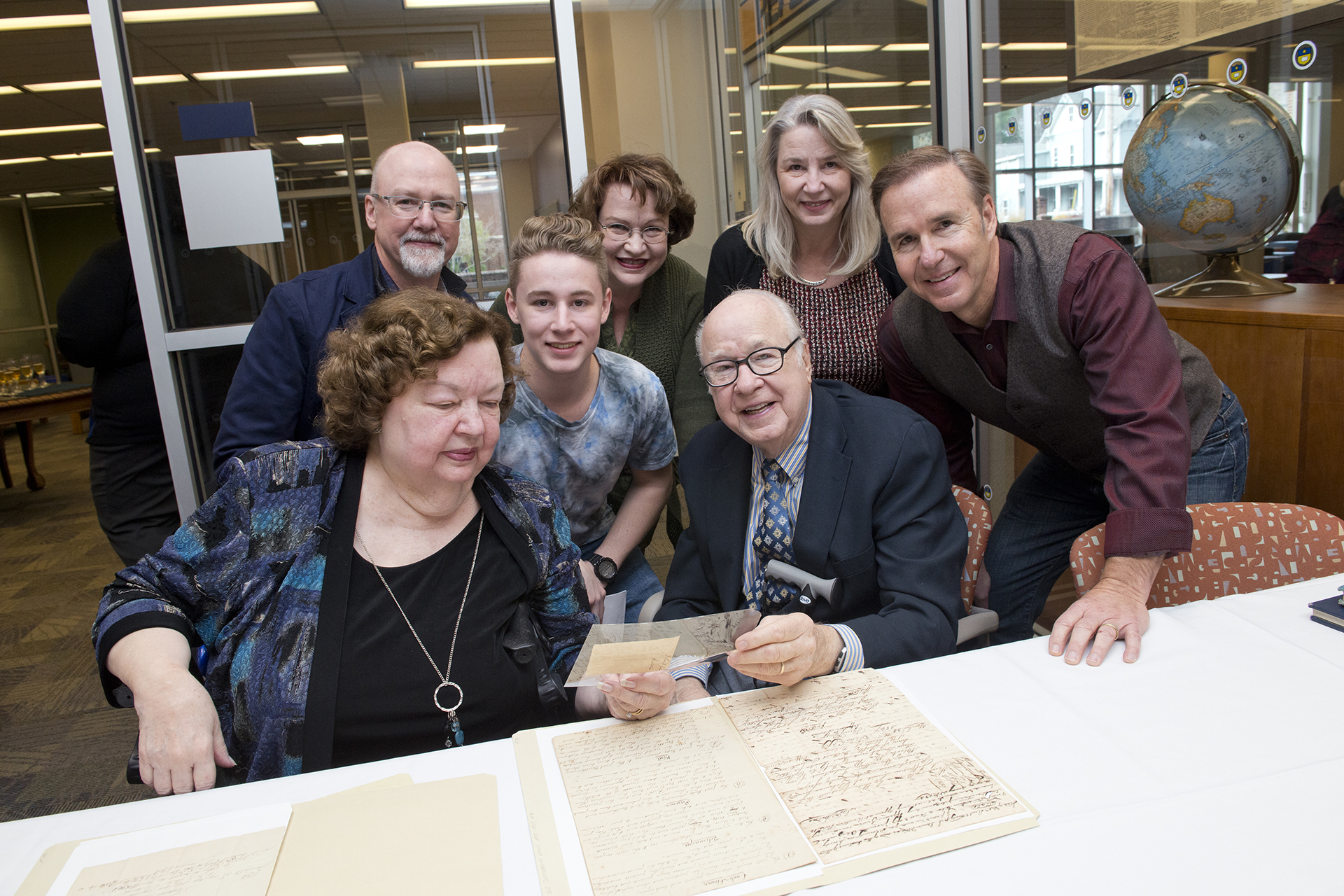 The Lewis family examining objects from the their family papers, housed in Special Collections.
A Legacy in the Library: Generations of Love and Learning
Article by Allison Ebner | Photos by Sean Diffendall
When James P. Lewis earned his master of business administration from the University of Delaware in 1976, life was different than it had been during his undergraduate education 22 years earlier. A Vietnam veteran, husband and father of four, James had new priorities and life experiences, but pursuing education remained essential.
During his graduate studies, James would come study at the Library on a regular basis with his family in tow. For hours at a time, they'd sit together in the stacks—studying, working and browsing the children's literature section. For the family, it's a cherished memory that fostered their love of learning.
"It would be a cold winter night and we would walk over," Howard Lewis, James' oldest son, said. "I could tell you exactly how the doors [of the Library] sounded, what it smelled like, felt like. It was impactful to me as a child."
Local to Newark, Howard recalled how this early interaction with the Library shaped his later habits. "We lived here in town and, from that point forward, I'd come over here to study," Howard recalled. "When I was in high school, I'd come here to study … I've earned my master's and my [doctorate], and libraries were always a place I could go. And it all started here."
James' other three children—Dyane Carrere, Brian Lewis and Jennifer Frasher—hold a similar affinity for libraries and the quest for education. Graduating with their bachelor degrees from the University of Delaware, the three Blue Hens each hold a master's degree as well.
"My wife always said to the children, 'You get your education. No one will ever be able to take that away from you,'" James explained. "They've done me proud."
It's clear that pride goes in both directions. Recently, the Lewis children made a gift to establish an endowed scholarship for veteran students at the University, and named a group study room on the first floor of Morris Library in honor of their father, James, and mother, Ann Weldin Lewis, a UD graduate from the Class of 1957.
The group study room now stands as a testament to the support and guidance James and Ann provided their family of learners.
But it's not the only place on campus you'll see the Lewis name. On a brick wall outside the UD Barnes and Noble Bookstore, you'll find a plaque that honors James' ancestor, Albert Gallatin Lewis, who previously owned the land where the bookstore stands today. In fact, Albert owned the land between Academy Street and South College Avenue, up to Main Street and down to East Park Place, which means he owned the land where Morris Library stands as well.
Maps showing the land once owned by Albert and his family are part of the official Lewis Family papers within Special Collections. The papers also highlight correspondence, land deeds, checks and mortgages of the Newark-based farming family.
When James and family visited Morris Library in November 2018 for the group study room ribbon-cutting ceremony, they had the opportunity to explore the papers and dive deeper into their roots.
Joined by his wife and four children, James also got to share this time in Morris Library with the next generation of the Lewis family—his grandson, Dylan Frasher.
Dylan, an engineering student in UD's Class of 2021, is no stranger to Morris Library. He is, after all, a Lewis. He studies in the Library all of the time, and spoke with pride about the reservable group study room that now bears his family's name.
While James may not bring his kids in to study anymore, this beloved family memory is aptly preserved through a group study room—a room that extends their support beyond family and to all learners within the University community.
Did Morris Library play a role in your life? Do you have a special memory or nostalgic moment from your days—and all-nighters—here? We want to hear your story! Email lib-stories@udel.edu with your name, class year and brief story summary, and we'll be in touch.