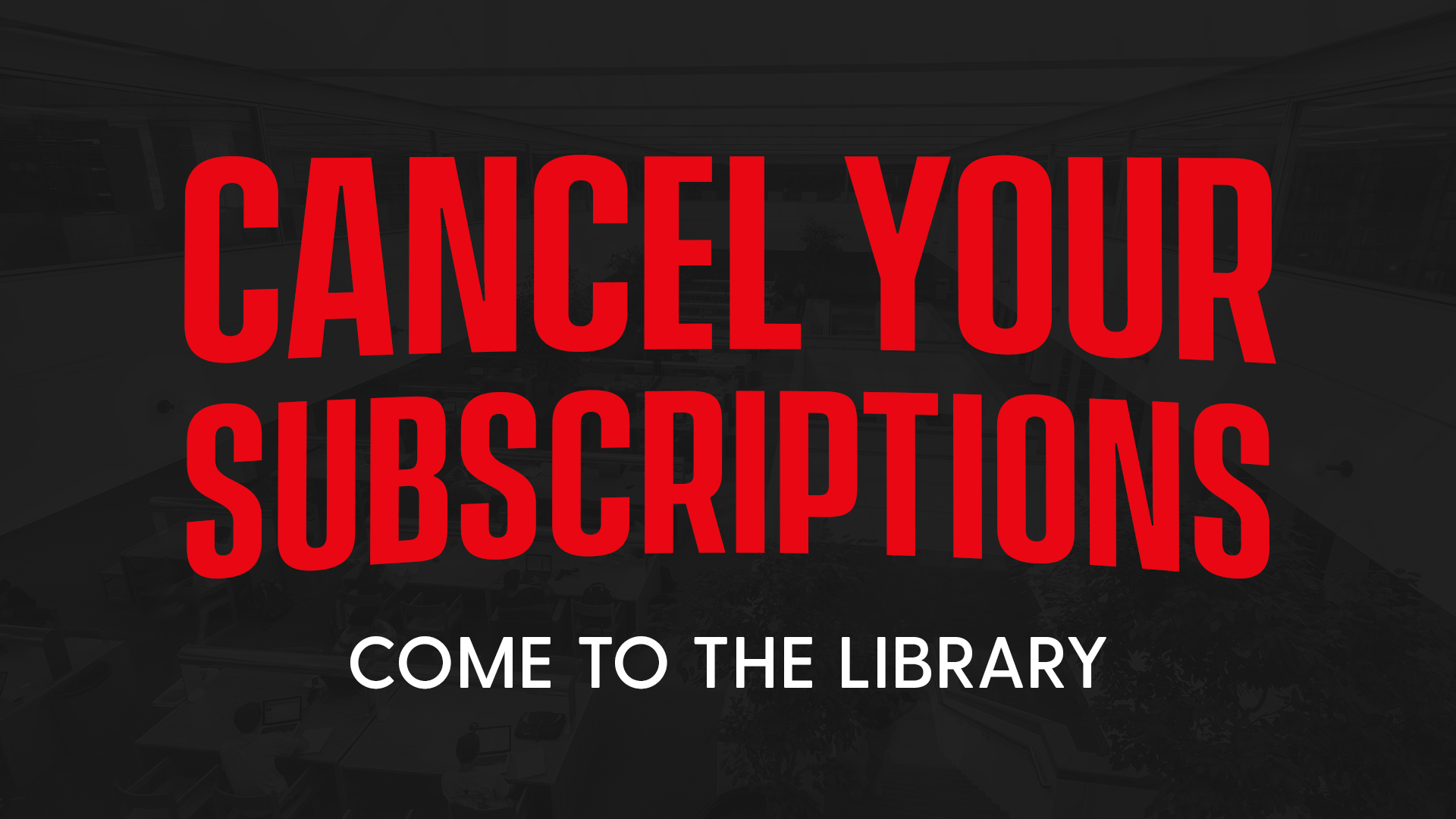 Cancel Your Subscriptions, Come to the Library: How to Save Money on Monthly Expenses
If you're working on a research project, the Library is likely one of the first resources that comes to mind. But is it the first place you think to visit for movies or video games?
It should be. The Library, Museums and Press provides free access to things people pay for regularly.
Whether you're a UD student, faculty or staff, everyone could benefit from saving a few dollars. Here are five popular subscriptions you can cancel and turn to the Library for instead:
1. The New York Times and The Wall Street Journal
It's important to stay up to date on the latest news, but there's no sense in paying for what you can access for free. UD students, staff and faculty can read, watch and consume all material from both publications for free. It is one of the Library's unintentionally best-kept secrets.
To gain access, follow the instructions on the database pages for The New York Times and The Wall Street Journal. Register for an account with your UD email address, and from there, log in anytime, anywhere to keep apprised of what's going on in the world.
2. Netflix and Redbox
It feels like Netflix is always increasing its monthly rate, doesn't it? Pocket that change for your next meal on Main Street, and make use of the Library's extensive collection of movies, TV series and streaming media instead.
In the Film & Video Collection on the Lower Level, you'll find thousands of classics, blockbusters and new releases waiting to be borrowed. Search for what you're in the mood for or browse the list of latest acquisitions. Don't have a DVD player? Check out an external drive from the Student Multimedia Design Center next door and watch the movie from your computer.
You could also stream thousands of videos online. In Kanopy, a fan-favorite database, you'll find thousands of movies and documentaries, including plenty of independent, classic and foreign language films. Safe to say, you'll never run out of things to watch.
3. Audible
Early-morning workouts and commutes to work can seem even longer when you don't have anything to listen to. But don't make your pockets suffer too. Browse our selection of audiobooks to find something that will keep you and your wallet happy.
You'll find audiobooks in the Library's online catalog, as well as a number of the most popular audiobooks available through OverDrive. There, UD students, faculty and staff also have access to some of today's most popular ebooks for additional on-the-go entertainment on their eReaders or mobile devices.
To check out a title, all you need is your UDelNet ID and password
4. Ancestry
Are you tempted to join Ancestry but turned off by the price tag? Do you currently have a subscription but are not sure how much longer you want to sustain it?
Keep digging into your roots with Ancestry Library Edition. Library visitors can use this genealogical database to search census, vital, church, military, court and immigration records as well as city directories and reference and finding aids.
Connect to the database through the Library's website and start building your family tree.
5. Gamefly
Guess what, gamers? We have something for you, too. Whether you're an XBOX, PlayStation, Nintendo or SEGA person—or all of the above—the Film & Video Collection has plenty of titles for students, staff and faculty to borrow.
Whether you want to play Super Mario Party on the Nintendo Switch, Red Dead Redemption II on PlayStation 4 or throw it back to Disney's Aladdin on SEGA Genesis, our selection has something for whatever your interest.
Want to try a different console or play one of your favorite legacy consoles from growing up? You can play any of the games on site in our special gaming carrels as well.
BONUS: Museums
We would never encourage you to cancel a museum membership. Every museum tells a distinct story and provides a unique cultural experience. But we'd be remiss not to mention that you have a free "membership" to all of our museums, which highlight art, minerals and rare materials.
All exhibitions and events at Mechanical Hall Gallery, the Mineralogical Museum, Old College Gallery and the Special Collections Gallery are free and open to the public.
Our spring exhibitions open this week, so swing by sometime soon to discover something new.
The Library provides countless ways for UD students, faculty and staff to explore their interests beyond their next research projects.
Curious what other resources you have access to through the Library? Stop in and ask any of the staff! Our goal is to ensure the UD community has access to engaging and enriching information in all the formats it is available—and that they can create their own content too.