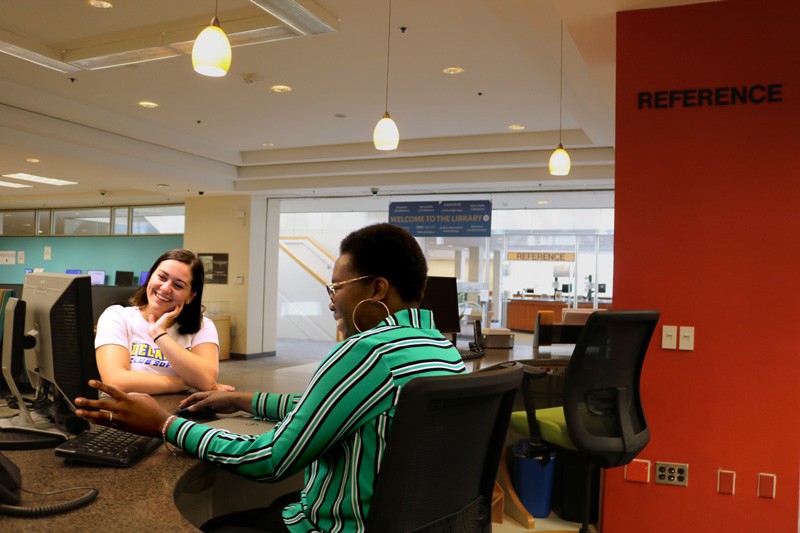 While exploring Morris Library during Gaining Ground: A Self-Guided Library and Museums Experience, first-year students will complete small, interactive activities to help them learn how to use available resources throughout their academic careers. One activity encourages the students to select a topic of interest, then speak with a librarian to develop a research strategy.
Gaining Ground the First Semester
Setting up first-year students for success
Everyone enters college with different backgrounds and experiences, as Tara Westover explains in Educated: A Memoir, the first-year Common Reader for new University of Delaware students. When first-year students arrive on campus, they find themselves in new, exciting and, at times, overwhelming environments.
To help ensure first-year students are set up for success, the UD Library, Museums and Press staff created, Gaining Ground: A Self-Guided Library and Museums Experience. The interactive program introduces students to resources and spaces that will benefit them throughout their academic careers.
In conjunction with the First Year Seminar course, Gaining Ground is designed to make first-year students feel comfortable and confident within the libraries and galleries on campus.
By completing small activities throughout this interactive program — whose theme meshes with the Common Reader — students gain firsthand experience and knowledge on how to use these resources for future courses and projects.
Guided by podcast recordings, students begin at Mechanical Hall Gallery, where they view artwork and think about their education — both inside and outside the classroom — growing up. They reflect on how those experiences have shaped their paths to UD, and how, as Blue Hens, they hope to build on their past education.
From there, students head to Morris Library, where they select a topic of interest — something they always wanted to learn about or something related to their potential major. Treating that topic as if it were the subject for a research project, the students search the library's catalog for related material, locate a book on the shelf, and ask a librarian about research strategies.
To show students how other resources can be useful in their research, the students also explore education-related exhibitions featuring materials from Special Collections, as well as films and documentaries available for borrowing. For the final stop of Gaining Ground, students visit the Student Multimedia Design Center — a technology-focused area with specialty studios, professional software and high-quality equipment for loan — to create images, videos, poetry or drawings using multimedia tools to reflect on their experience.
The entire experience moves them from reflection of their past educational experiences to excitement for their future ones, all while providing firsthand experience with tools and strategies that will support them throughout their college careers and beyond.
The college environment can be intimidating, no matter who you are or where you come from. Through Gaining Ground, students learn about the types of tools available to them, how to access those tools and how easy it is to ask for help when they need it. All three of these components are essential when it comes to setting up first-year students for success.
Last year's science-based experience, connected to Lab Girl by Hope Jahren, reached 33% of all students enrolled in the First Year Seminar course. First Year Seminar instructors interested in introducing their students to the resources available at the UD Library, Museums and Press as they adjust to the college environment can reach out to Lauren Wallis, First Year Experience and student success librarian, at lwallis@udel.edu for more information.