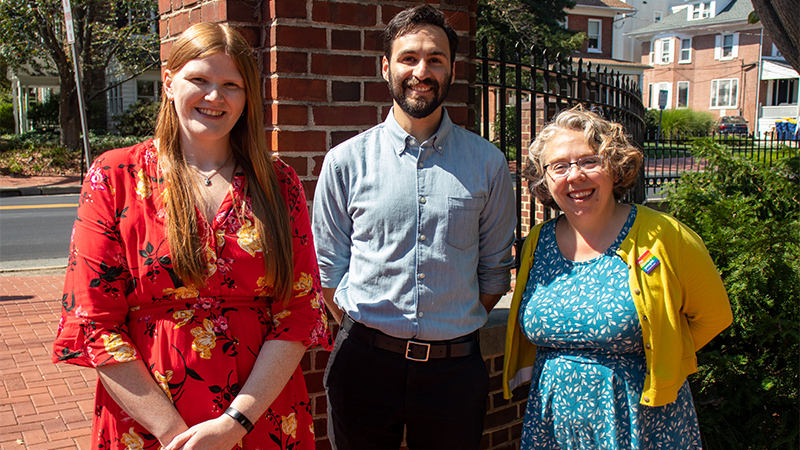 Left to right: Kayla Abner, Alex Galarza and Paige Morgan are the members of the new Digital Scholarship and Publishing Services team.
Let's Get Digital: Bringing New Dimensions to Your Research
Article by Allison Ebner | Photos by Sean Diffendall
Research projects are no small undertaking. It requires a lot of time, effort and planning in order to best conduct and present your research, and foster conversations around it.
Traditionally, research has been presented in text form, but incorporating digital elements can add new dimensions and allow for new interpretations of your research—and you don't have to be technologically savvy to do so.
This type of digital scholarship can take many forms:
You could present the story of your data in multiple formats by creating a digital map that encompasses video clips, images and text.
You could enhance your research by using web-based text reading and analysis, using text pulled from a website or other accessible data sources.
You could expand the impact and reach of your research by building a website with visual representations of your data and full-text search functionality that also serves as an archive, allowing both researchers and the public to easily access your research and your research materials.
With so many emerging methods and tools to bring your research to the digital universe, it can be tricky to know where to start—let alone which method may best serve your particular project.
At the Library, Museums and Press, we have a team to help with that: Digital Scholarship and Publishing Services.
Through individual, small group or course-based consultations, the team will work with you to learn about your specific goals and present options tailored to them, providing guidance so that you can make the decisions that work best for you and your project.
The Digital Scholarship and Publishing Services team can work with you to:
Find and consider new options and the most effective tools that support your specific research goals.
Tell the story of your data in a more visual manner by creating elements like interactive timelines and data maps.
Develop and learn new skills and digital methods that fit with your research goals.
Create a project management plan that details the scope, sustainability and amount of labor your research requires.
Learn about your intellectual property rights as a researcher, as well as your rights to use other people's materials in your research, dissertation or scholarship.
Design a course assignment that introduces students to easy-to-use tools and digital methods.
Determine how and where to share your work so it reaches the audiences that are best suited to act on your research.
Think about your own research. How can you tell the story of your research through more than just words? Can you incorporate interactive and engaging elements, tools and methods to transform the way you build your argument?
Whether you consider yourself tech-savvy or tech-averse, whether your research is focused in the humanities or the sciences, there's a digital tool or method you can use to add depth and dimension to your research.
The Digital Scholarship and Publishing Services team is here to be your sounding board as you move your ideas into reality. Reach out to discuss the best way to get started—and stay on track.