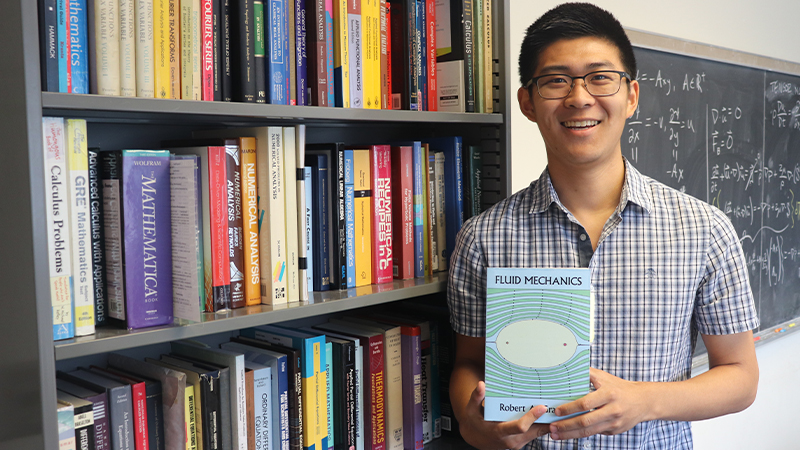 Adventures in Book Collecting
Article by Joseph Nakao
Joseph Nakao is a graduate student in the Department of Mathematical Sciences at the University of Delaware. His book collection won first place in the first annual Friends of the UD Library's Student Book Collecting Contest.
Each book carries two stories: one contained within the lines, the so-called "plot"; and one contained between the lines, the author's background and inspiration for the book.
Book collectors gather books with individual stories that weave together with our own passions, providing each collection with a personality found nowhere else. Forming such a collection is a wonderfully contagious activity that, once started, is nearly impossible to stop.
My collection of over 350 mathematical and engineering books began at the onset of my undergraduate research four years ago. These books are like time capsules, containing decades, if not centuries, of invaluable insight not only in the text, but in notes left in the margins by previous owners. These scribbled thoughts form conversations—corrections to incorrect statements, rephrasing of an author's confusing choice of words or references to other pages elsewhere in the book—treasures discovered only within physical copies of books.
The passion and adoration I have developed for my books was instilled by my first research advisor; hers instilled by her previous professors. Her excitement for her own collection was infectious, and what started as one book quickly grew into my collection of hundreds as I bought and inherited books. At times, I found myself prioritizing purchasing additional books over groceries—surely other book lovers can relate to this sensation.
Roughly half of my library was inherited from faculty at my undergraduate and graduate institutions. These books lay the foundation of my collection, carrying immense sentimental value. After all, the previous owners of these books spent hours reading and pondering. They entrusted me to ensure their books' survival for the next generation.
The other half of my collection are books I have purchased, built around the ones that have been passed down to me. Together, these halves form my collection's unique personality that combines stories from and for all generations: past, present and future.
Book collectors help ensure the knowledge, wisdom, personalities and stories sketched into books by former generations survive.
For those building collections of their own, focus on what makes you passionate about your collection. For me, it is preserving the insight of mathematicians throughout time. But a collection doesn't have to be academic in nature. It could be a growing collection of 20th-century mystery novels or the Harry Potter novels in every language. Find books that speak to your passion.
From there, your collection will develop a distinct personality unto itself. Here are a few closing pieces of advice I've learned so far to help you along the way:
Shape your collection around its personal meaning rather than a number of books. Understand what makes every piece in your collection unique and special, whether it's for historical context, personal use or sentimentality, to provide your collection with a strong focus. Allow your collection to grow at its own pace.
Search for your next book by making connections from the history and authors of books you currently have in your collection. Reach out to a librarian for recommendations or look up recommended reads online. Asking others about their favorite books within your subject can give your collection a variety of flavors.
Be open to different ways of acquiring books. Don't be afraid to buy used books. If you're satisfied with a book seller's business, continue to support them. Build a relationship with them, so they can contact you when other books come in that may be of interest.
Share your collection with others. Spread your enthusiasm for your subject and the art of book collecting. Encourage others to begin collections of their own. As book collectors, we have a responsibility to pass on our collections to the next generation of bibliophiles.
The seemingly abrupt technological shift to e-books has its upside, but it need not imply that we should forget the history left behind in physical books. And with that comes my most important piece of advice: Find that first book and never look back.