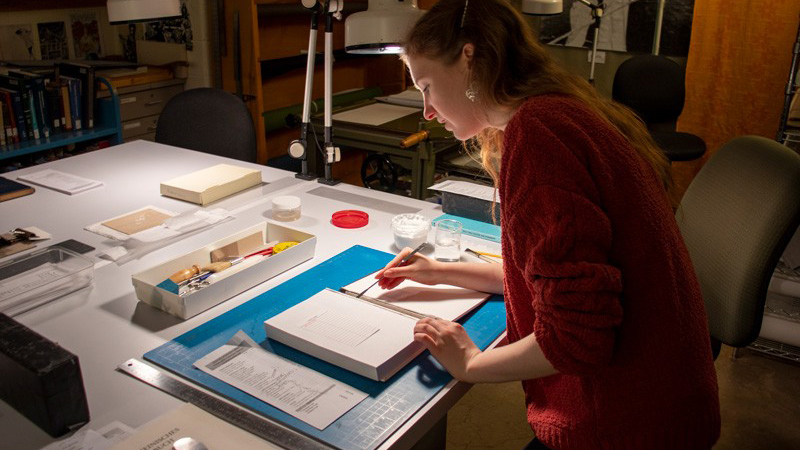 Collecting and preserving books are two ways to create resources for future generations to look back on. In addition to her collecting efforts, Miriam-Helene Rudd helps preserve and repair books as a student assistant in Morris Library.
Article by Allison Ebner | Photos by Sean Diffendall
Art conservation junior collects books to preserve the past and inspire the future
Editor's Note: This is the third installment in a series of articles highlighting the winners of the first Seth Trotter Book Collecting Contest, hosted by the Friends of the UD Library. Below, uncover the story of junior Miriam-Helene Rudd and her growing collection of mystery novels with heroines like Nancy Drew, Cherry Ames and Vicki Barr.
It's common to find Miriam-Helene Rudd in the University of Delaware's Morris Library. There, she helps preserve and repair books as a student assistant. This hands-on experience is another step in the junior's path to becoming a conservator. But her journey started long before college. For years, she has collected books — specifically, 20th century mystery adventure series about and for young women.
While preserving books and collecting them may seem like distinct activities at first, the connections between the two are organic.
"The urge to collect and preserve ephemera, to create resources for future generations to look back on, is very much aligned with art conservation," said Rudd, an art conservation and art history major in the College of Arts and Sciences. "I have always been excited about the material remnants of history and how we must work to save them."
It's true. Whether she was collecting pressed pennies or ticket stubs, Rudd has long been a collector. In second grade, she read her first chapter-book mystery and fell in love with the stories of teenage sleuth Nancy Drew, quickly accumulating them as she continued reading.
Accustomed to reading the novels in their iconic yellow binding, Rudd fell in love with the physical books after receiving a relative's collection of older editions with faded blue cloth covers. And so began her mission to collect the complete series in its various editions and printings.
But Rudd didn't stop with Nancy Drew.
Her collection — and reading list — quickly expanded to include Cherry Ames, Vicki Barr, Connie Blair, the Dana Girls and Judy Bolton, the leading ladies of other 20th century mystery adventure series for young women. Today, her collection of more than 350 books has expanded further to include lesser known, older, foreign and more boy-focused series as important counterbalances.
"This collection … provides a window into the social constructs of growing up as a girl in the mid-20th century," Rudd said. "Rather than dismiss these books as 'out of date,' reading them can serve to acknowledge the damaging social constructs our parents and grandparents grew up with, while at the same time embracing the positivity and empowering messages also found in the text.
"Nancy was a positive role model for young women who were seeing a female figure breaking free of these limiting expectations in a way that received praise and admiration, not contempt or scorn," she said, reflecting on the heroines of the other series in kind. "These mystery adventure series provide a connection to our past, and will continue to inspire young people into the future."
Rudd has always found joy from the stories she collects — just as she finds joy in uncovering a book that fills a gap in her collection. However, she refuses to shop for missing titles online. The thrill of uncovering a sought-after title at an antique mall or bookstore is too incredible.
Originally from New York City, Rudd has always had ample access to antique malls and flea markets growing up through her mother and grandmother's antiques business. When she was younger, she would travel with them to antique shows across the country to help and to continue her search. During her college years, she has found a few additions to her collection locally at Aunt Margaret's Antique Mall on Main Street in Newark.
By collecting what she finds in person, she is always discovering new editions of the series.
In addition to the titles and editions she already collects, Rudd is interested in collecting foreign editions of the series as well as books from the turn of the century that served as precursors to these types of series.
Another avenue she plans to explore is more personal: Her great-great uncle Julian R. Paul illustrated some of the cover art for various titles within these series. However, it was common for many of the authors and artists involved in the production of these books to be anonymous, making this mission more challenging. While she has one title in her collection that her great-great uncle designed the cover for, she plans to delve into research and find others.
"I think my collection will never be finished because there are so many avenues to explore," Rudd said. As her collection continues to expand, the size and number of bookshelves where she currently keeps her trove will grow too.
Seth Trotter Book Collecting Contest
Rudd earned second place in the 2019 Friends of the University of Delaware Library's Seth Trotter Book Collecting Contest. The other winners in the book collecting contest were Joseph Nakao and Sean McAllister. The Friends created the contest to encourage reading and research, the creation of personal libraries, and an appreciation of printed or illustrated works for pleasure and scholarship among UD undergraduate and graduate students. Students can learn more about the 2020 Seth Trotter Book Collecting Contest, including how to submit their applications, on this website.
National Collegiate Book Collecting Contest
In addition to being recognized by the Friends of the UD Library, Rudd won second prize in the 2019 National Collegiate Book Collecting Contest for her collection. In October, Rudd attended the awards ceremony at the Library of Congress alongside representatives from the Friends group and the University. As part of her prize, Rudd received a year's membership to the Grolier Club, America's oldest and largest society for bibliophiles, and will receive a mentor from the group.