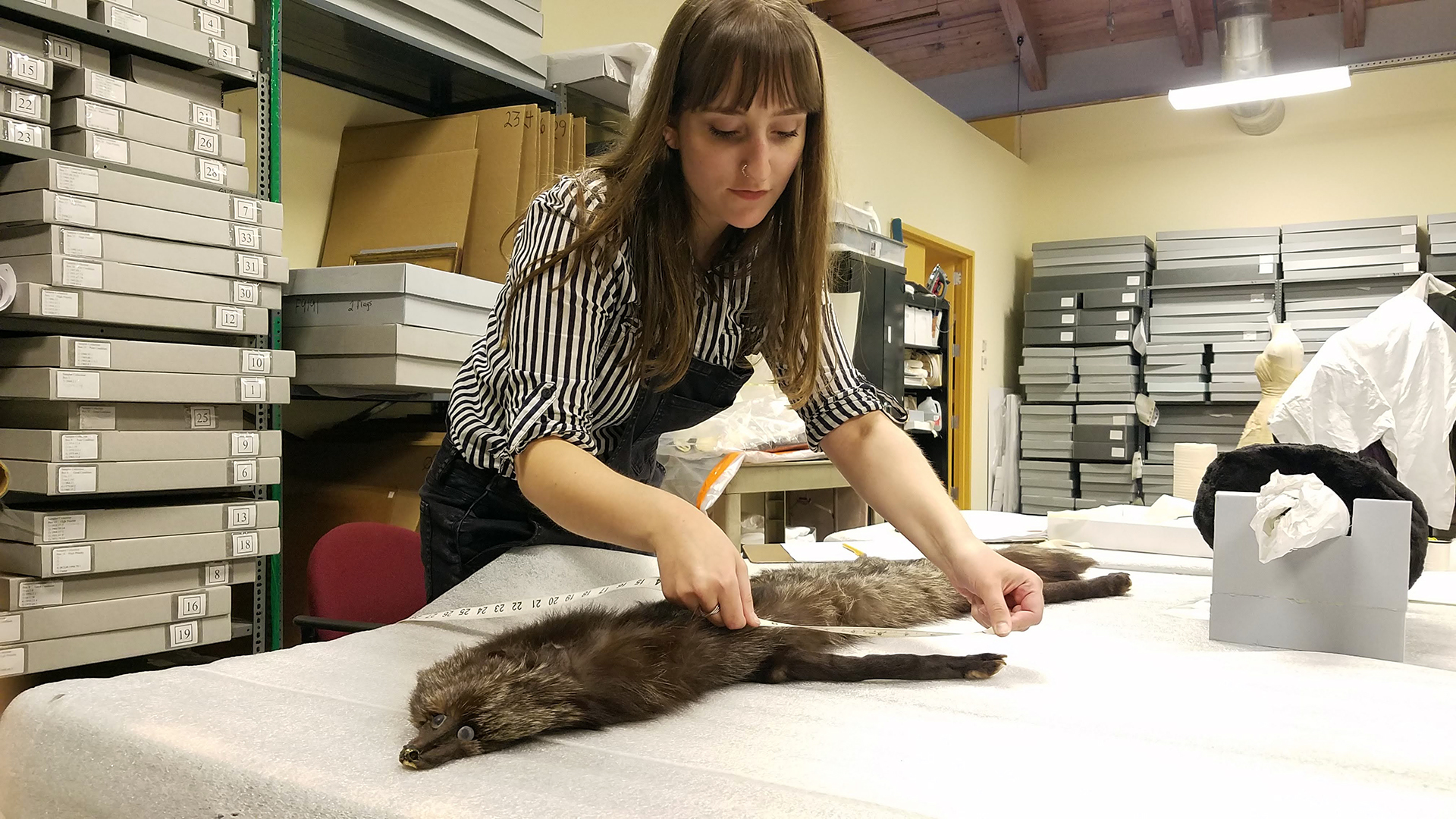 As an intern with the Fashion Archives of the Maryland Historical Society, Vivien Barnett surveyed the conditions of garments, including this 1920s silver fox stole. Here, she is measuring the stole in order to create its custom housing.
A Year in the Life of a Future Conservator
By Allison Ebner
Vivien Barnett loves to crochet. In fact, her passion for the pastime inspired a love for textiles that set her on a career path in conservation.
In pursuit of that dream, Viven will earn her Master of Arts in art history and her graduate certificate in museum studies this month from UD's 4+1 Graduate Program in Art History for Museum Professionals.
From mounting costumes for an exhibition to cleaning and repairing taxidermy ducks and toads, Vivien has filled her college career with a variety of job opportunities, internships and class projects within the conservation world. That includes her time as a student assistant in Special Collections, where she has worked for more than four years.
This year in particular, her graduate-level classes made her a regular in Morris Library even on days she wasn't scheduled to work. "I love to check out, like, 20 books to work on my research papers," Vivien laughed as she explained how her research this past year has allowed her to focus on historic fashion and art conversation, an area she's passionate about pursuing in further graduate studies.
Her graduate program has provided her with unique opportunities to narrow in on that interest. For a class on 19th century realism, Vivien wrote a seminar paper on the Edouard Manet painting Olympia, where she researched the history of the dress that is worn by a person of color in the painting. The research paper, which allowed her to engage with both fashion history and the representation of persons of color in historic art, also gave her the opportunity to delve into an aspect of the painting that had never been researched before—the dress.
"I got into this whole thing about the secondhand clothing market in France in the 19th century—apparently there was one; people were really thrifty!" She explained.  "I identified the dress as one probably made 20 years earlier that could have either been bought by the model herself or by Manet as a costume piece."
While the program has enabled her to focus on her specific interests, it also encourages students to embrace a broader perspective by providing insights into museum professions throughout the field—from curation to registration to collections management.
This year, Vivien has taken behind-the-scenes class trips to the storage area of the Smithsonian Institution, which doesn't frequently offer tours, as well as the National Museum of African American History and Culture.
Her work outside of the classroom has been a similar source of unique inspiration and opportunity. While most of her coursework this year focused on research, Vivien continued building her portfolio of hands-on conservation work during the summer and winter sessions with opportunities that involved the type of the textile work she ultimately wants to do in her career.
She spent her summer in Baltimore as an intern at the Fashion Archives of the Maryland Historical Society. There, she worked with more than 75 historic garments in less-than-ideal storage conditions at the historic Enoch Pratt House. For each garment, she would survey its condition, process and clean it, and properly rehouse it in the main collections storage area.
While there, Vivien also researched the archival storage of furs in the collection, which had previously remained untouched, and wrote blog posts on aspects of fashion history, including one about her work with the furs. She learned from museum professionals as they installed a new exhibit, Spectrum of Fashion, as well.
During the winter, she volunteered within the Costumes and Textiles Conservation Department at the Philadelphia Museum of Art, an opportunity that allowed her to see a conservation lab at a large museum and the types of projects they do there.
When conservators do treatments to repair textiles, they often have to dye threads or fabrics. One of the essential tools in a conservation lab is a book of sample colors with instructions on how to create those colors on a given fabric. As a volunteer lab assistant, Vivien contributed to a dye project to create one of these important dye sample books.
"I was trying to make as many colors as possible to be used as reference for the lab," Vivien said. "It was a really cool project—and I got to keep my own samples, too!"
Through her education, internships and volunteer work, Vivien has been involved in an impressive array of cool projects, like these, that have significantly informed her future career in museums and conservation. These experiences have helped her determine her specific interests and career goals.
"Textile conservation is definitely my overarching career goal," she explained. "I would love to conserve historic costumes. I always say working in the Met Costume Institute is my dream job."
Earning her master's degree this month is another step toward that dream.
With her degree on the horizon, Vivien is applying for jobs and internships that build up her conservation experience, many of which overlap with the skills she's fostered from working in Special Collections.
"I really feel like the job has given me great experiences for my future career," Vivien said, specifically citing her experience matting and framing materials for exhibits, and her handling of rare, expensive and fragile books.
During her four years in Special Collections, she has handled paging duties, assisted in exhibition implementation, taken a lead role in processing and accessioning the rare book collection, and performed conservation projects to better house and protect the rare materials. This year, she's also gained experience answering reference questions from researchers using Special Collections materials. "It's really great to be able to sit at the front desk and help other people with their research," she explained. "It's good experience for dealing with the public in a museum-like setting."
After acquiring more conservation experience over the course of the next year, Vivien's plan is to apply for the Winterthur/University of Delaware Program in Art Conservation, a three-year, graduate-level program that leads to a Master of Science in art conservation.
"For being a practicing art conservator, you really do need a Master of Science, but one of the reasons I wanted to do this 4+1 graduate program is to get more experience and credentials to open up more doors in the museum field."
If you ask us, she's done pretty well at creating a trove of unique experiences for a promising future.
Vivien Barnett was the recipient of last year's Student Assistant Scholarship, which is awarded to a student assistant within the Library, Museums and Press who is pursuing a graduate education in librarianship or an allied profession. The scholarship is entirely funded by contributions from Library staff.